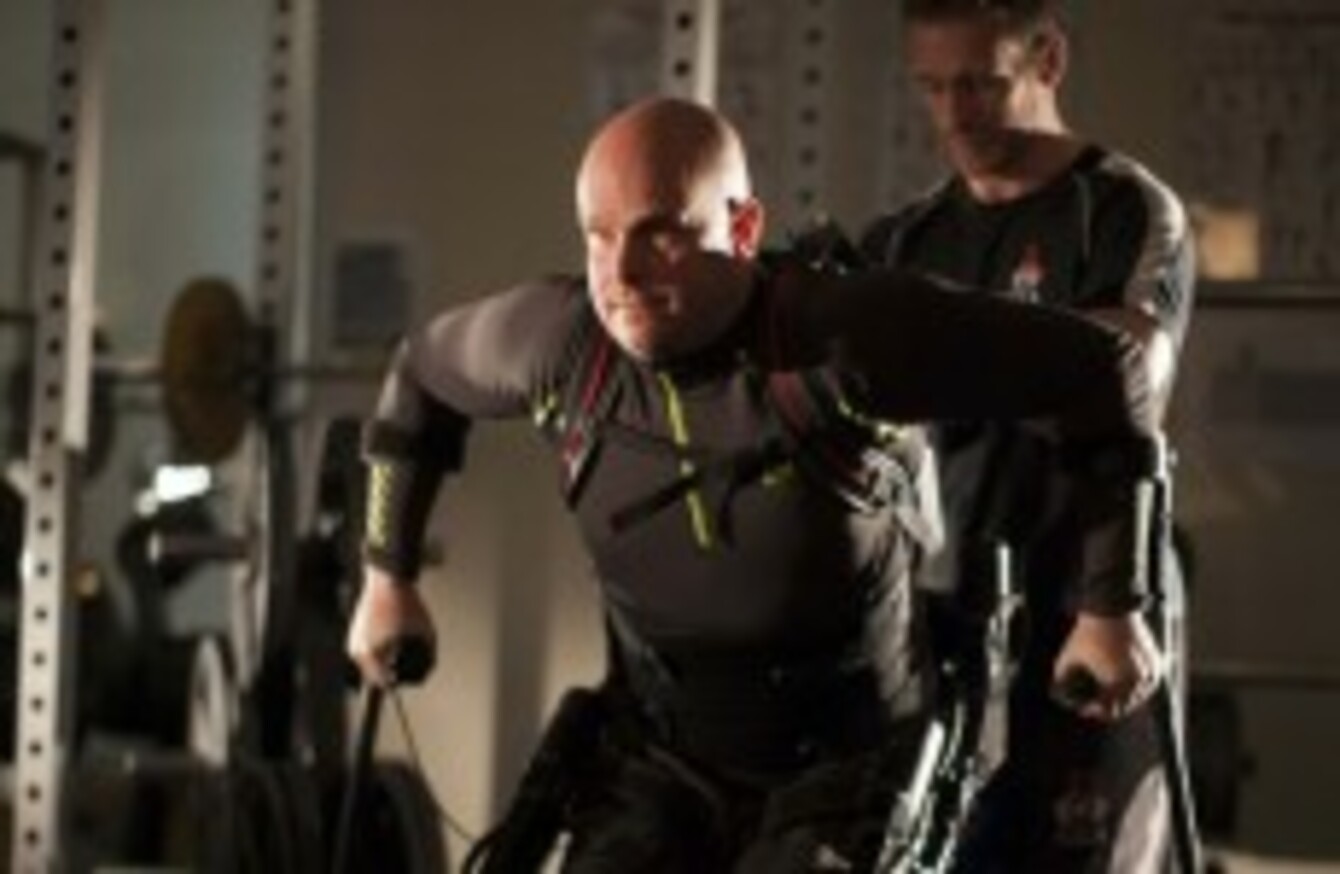 Mark Pollock and his trainer Simon O'Donnel
Image: UCLA
Mark Pollock and his trainer Simon O'Donnel
Image: UCLA
IRISH ADVENTURER MARK Pollock, who was paralysed in a fall four years ago, has been able to voluntarily move his legs.
UCLA scientists report that Pollock (39) – who is blind and has been completely paralysed from the waist down – was able to "voluntarily control his leg muscles and take thousands of steps in a 'robotic exoskeleton' device during five days of training, and for two weeks afterwards".
The situation is a remarkable one:
This is the first time that a person with chronic, complete paralysis has regained enough voluntary control to actively work with a robotic device designed to enhance mobility.
As well as the robotic device, Pollock was aided by a new "noninvasive spinal stimulation technique" that doesn't require surgery.
UCLA said that his leg movements led to other health benefits for Pollock, including improved cardiovascular function and muscle tone.
Pollock received a few weeks of physical training without spinal stimulation, and then five days of the stimulation training for one hour a day over a week.
"In the last few weeks of the trial, my heart rate hit 138 beats per minute," Pollock said.
This is an aerobic training zone, a rate I haven't even come close to since being paralysed while walking in the robot alone, without these interventions. That was a very exciting, emotional moment for me, having spent my whole adult life before breaking my back as an athlete.
Pollock, an adventurer and motivational speaker, said that stepping "was addictive. I wanted more".
The research on Pollock's movement can be found here.
Exoskeleton and walking
The exoskeleton is a battery-powered wearable bionic suit, which enables people to move their feet "in a step-like fashion".
Why don't researchers describe the voluntary leg movements as "walking"? UCLA explains that this is:
because no one who is completely paralysed has independently walked in the absence of the robotic device and electrical stimulation of the spinal cord.
UCLA reports that the data showed that Pollock "was actively flexing his left knee and raising his left leg".
During and after the stimulation "he was able to voluntarily assist the robot during stepping" – it wasn't just the robot that was doing the work in taking the steps.