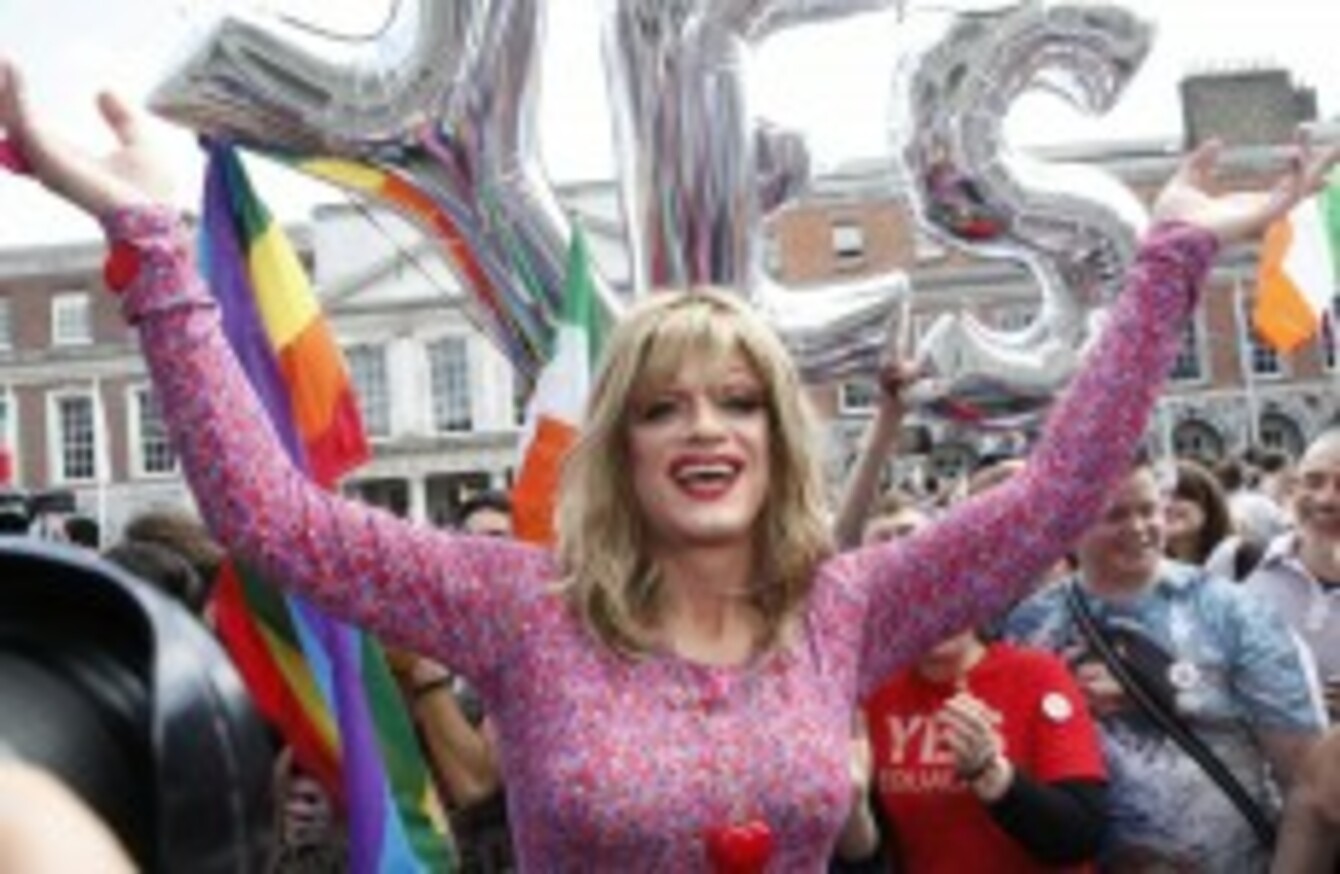 Image: Associated Press
Image: Associated Press
Updated 4.06pm
THE FIRST SAME-SEX marriages in Ireland could be set to take place as early as next month.
This follows the approval of the publication of the Marriage Equality Bill 2015 by the government today.
The Bill is set to be introduced to the Dáil next week but will be published tomorrow.
Speaking today the minister said, "I am delighted to be in a position to publish the Marriage Bill 2015 which will, when enacted, enable same-sex couples to marry in Ireland.
This Bill implements the strong desire of the Irish people that couples should be able to marry without distinction as to their sex. It will make Marriage Equality a reality in Ireland.
What else is included under the Bill?
Same-sex marriages that have taken place in other countries will be recognised under the new Bill.
Provisions have been made so that various religious organisations will not be compelled to recognise a particular form of marriage ceremony.
Same-sex couples that have already registered a notification to enter into a civil partnership will be able to convert this to a notification of their invention to marry.
Minister Fitzgerald has also said that she is working with the Department of Social Protection to bring down the cost for civil partners wishing to marry from €200 to €50.
Reaction 
There has been a positive reaction to the approval of the new legislation this afternoon.
In a statement John Lyons, TD and gay rights activist, said, "As a society, we have travelled a long way on the road to equality.
From the dark days of when being gay was a criminal offence, right through to May 22nd of this year, when the people of Ireland spoke powerfully and profoundly and said Yes – Yes to equality and Yes to love.
Jerry Buttimer, Fine Gael TD for Cork South Central and chair of Fine Gael LGBT, said, "I'm delighted that this important legislation has taken another key step towards enactment and it's my hope that we will see Ireland's first same-sex marriages take place before Christmas."
Isn't it already law? 
This will give effect to May's referendum on same-sex marriage when Ireland voted with 62% in favour.
Last month saw the update enshrined in the Constitution after Michael D. Higgins signed the Thirty-Fourth Amendment of the Constitution (Marriage Equality) Bill 2015.
This next step will see the law brought into reality.
The vote in May saw 1,201,607 people vote in favour of the amendment with 734,300 opposed.
This made Ireland the first country in the world to support same-sex marriage by popular vote. 
The referendum had been expected to be enacted into law sooner, but faced legal challenges to its legitimacy. 
- First published 07.43