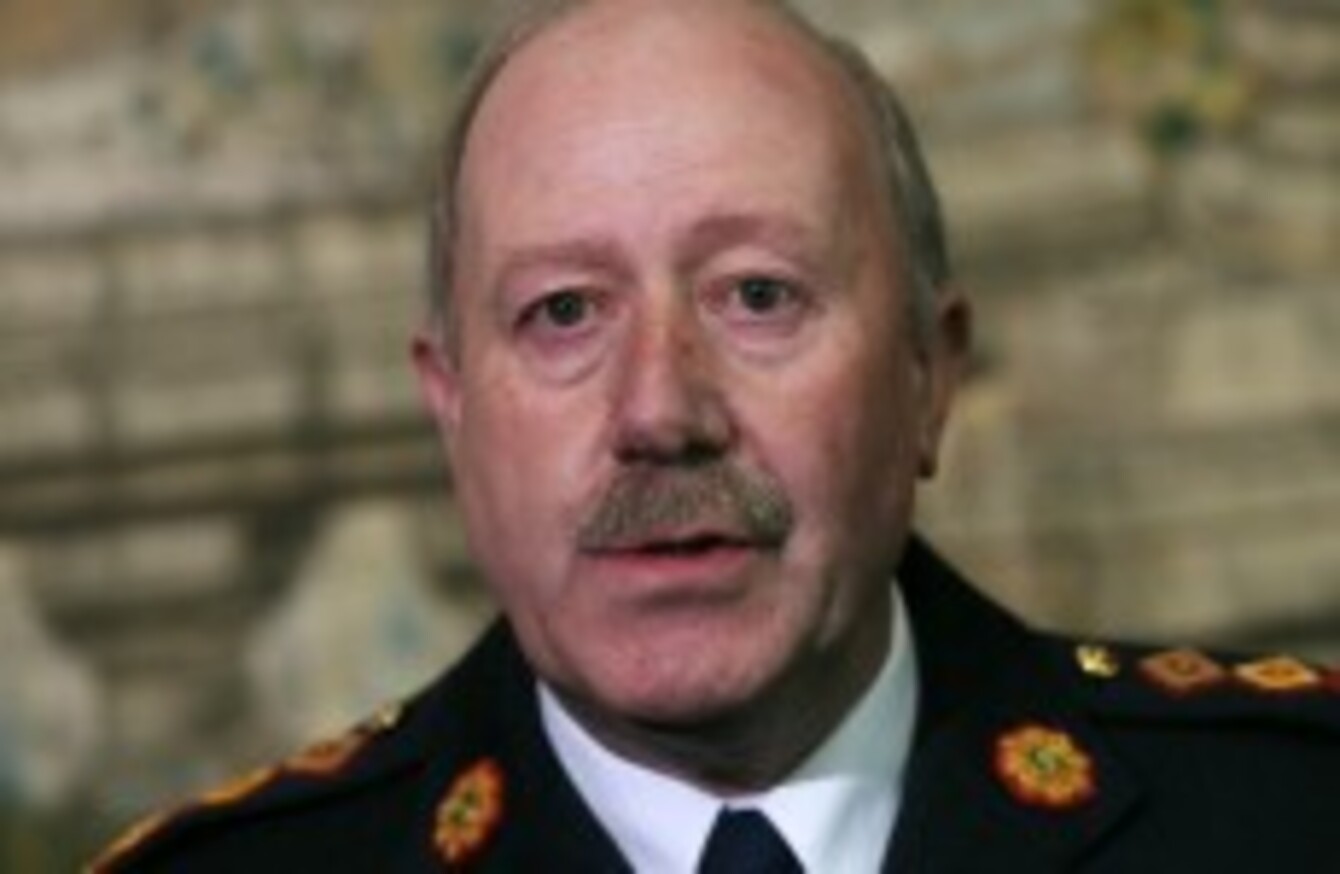 Martin Callinan (File photo)
Image: Photocall Ireland
Martin Callinan (File photo)
Image: Photocall Ireland
GARDA COMMISSIONER MARTIN Callinan has said he will not take legal proceedings against the Public Accounts Committee (PAC) despite having reservations about a serving garda sergeant appearing before TDs tomorrow.
Maurice McCabe is to come before members of the Oireachtas committee in private session tomorrow afternoon to answer questions over claims of malpractice in the administration of the fixed charge notice system.
Callinan said in a statement this afternoon that he continues to have reservations about the appearance of McCabe before the PAC tomorrow afternoon and is of the view that the Garda Ombudsman's investigation is the "proper manner" in which to address the claims being made about the cancellation of penalty points.
Last week, the commissioner expressed concerns and indicated possible legal action to stop the committee hearing from the whistleblower.
But he said today: "It would not be in the public interest for An Garda Síochána to pursue the question of legal proceedings against an Oireachtas Committee."
Callinan expressed concern that the implications for garda discipline of having a serving member of the force making allegations against colleagues "have not been fully thought through".
But he also noted the PAC's intentions to hold a private hearing, and limit its questions to issues concerning the Comptroller and Auditor General report into the penalty points system.
"While I continue to have reservations about this matter, I note that the meeting will be held in private," he said.
"I note too that it appears to be the intention to confine the questioning of the person concerned and, in particular, that person will not be able to make allegations against his colleagues or members of the public."
#Open journalism No news is bad news Support The Journal

Your contributions will help us continue to deliver the stories that are important to you

Support us now
Separately, the Sinn Féin TD and PAC member Mary Lou McDonald said this morning that the committee is acting in its remit.
"It is not the practice, nor has it ever been the intention of the PAC, to conduct what are called show trials," she told a press conference. "That has not happened on our watch. It simply has not happened."
Martin Callinan's full statement:
"At the Public Accounts Committee last week I expressed my reservations about the Committee hearing unsubstantiated allegations of wrongdoing against members of An Garda Síochána from a former and serving member of the Force. I was concerned that this would provide a platform for serious allegations to be made publically against members of the Force and, particularly, against members of the public, where there had not been an opportunity to examine these fully or respond to those allegations.

"Leaving aside issues of basic fairness, I have to be conscious too that the Garda Síochána is a disciplined Force and it clearly could have adverse implications for the maintenance of proper discipline if any member was free to make any allegations they wished against their colleagues using a Committee of the Oireachtas to do so. It is difficult not to conclude that during the present circumstances the implications of that have not been thought through fully.

"I am aware that the proposals in the Protected Disclosures Bill, 2013, and the changes which the Minister for Justice, Equality & Defence is proposing to the Garda Síochána Act, will provide procedures for dealing with allegations of wrongdoing in An Garda Síochána, which should prevent the type of situation we are now facing occurring in the future and I very much welcome that.

"I am aware that the Public Accounts Committee has decided to invite a serving member of the Force before it tomorrow.

"Despite my reservations, I believe that, in all circumstances, it would not be in the public interest for An Garda Síochána to pursue the question of legal proceedings against an Oireachtas Committee. Were such action to succeed it could have consequences that extend well beyond the present case. I have every respect for the role of the Public Accounts Committee and have no doubt too that it will act strictly in accordance with the legal advice it has received in dealing with this matter.

"Ultimately, I believe that the investigation that the Minister for Justice, Equality & Defence has asked the Garda Síochána Ombudsman Commission to undertake is the proper manner in which to investigate the allegations that have been made and the circumstances surrounding them. An Garda Síochána will, of course, co-operate fully with that investigation and will learn any lessons there are to be learned when that investigation has concluded.

"Finally, I wish to thank the Chairman of the Committee, Deputy John McGuinness, for the courtesy he has shown me in dealing with this difficult matter."