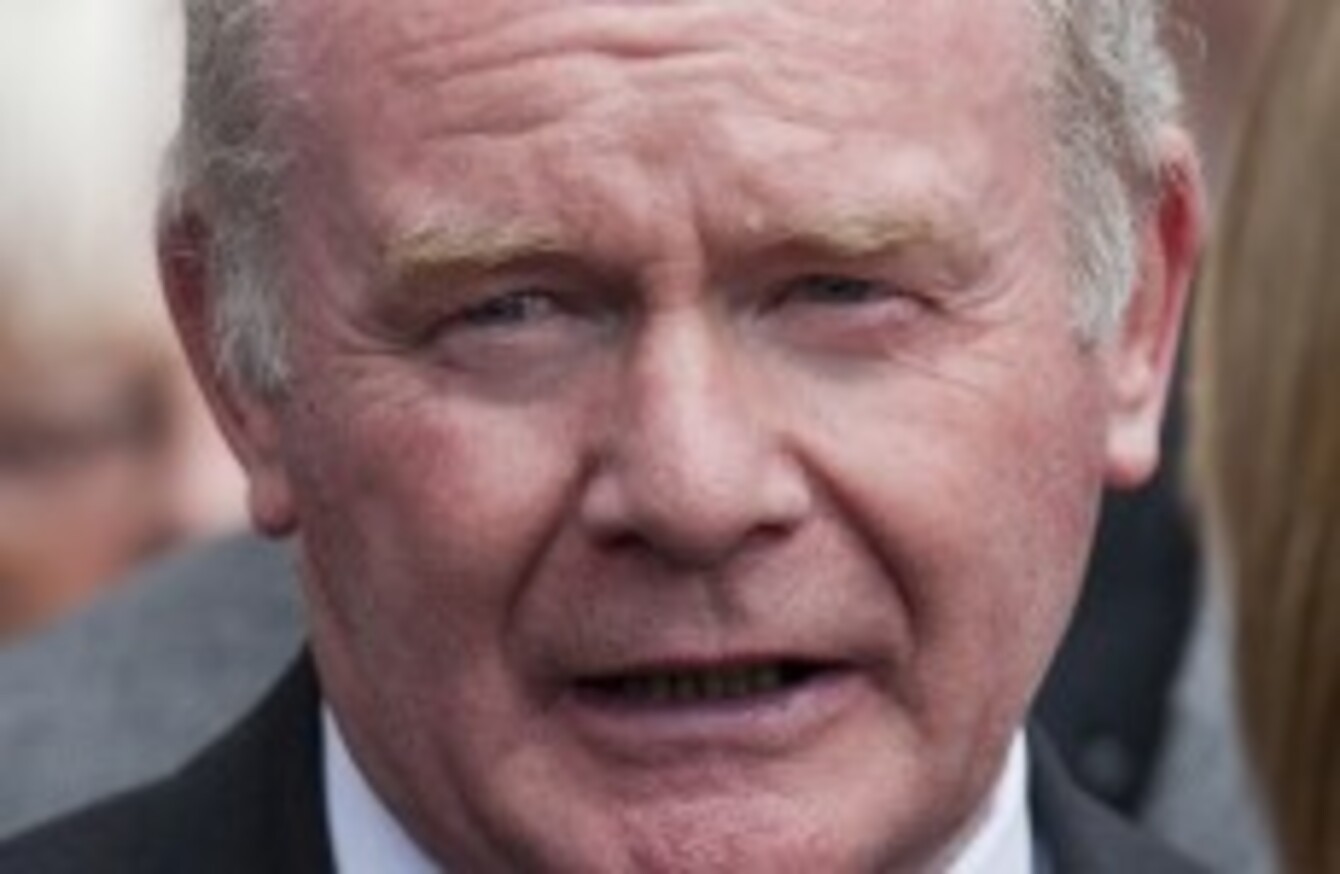 Image: PA Archive/Press Association Images
Image: PA Archive/Press Association Images
SPEAKING IN A wide-ranging interview with Marian Finucane on RTÉ Radio 1 this morning, deputy First Minister of Northern Ireland Martin McGuinness discussed his involvement with the IRA, the Troubles, and shaking hands with Queen Elizabeth,
McGuinness said that his mother was first tipped off to his association with the IRA when she found gloves and a beret in his bedroom in the family's Derry home. He said she had been "shocked" by the revelation but "more concerned for [his] safety than anything else".
"[My parents] were always worried but they were never angry with me, they understood the circumstances that existed in Derry at the time. My mother was always very strong in her support for me as her son… she was also a republican in her own right."
McGuinness explained that the situation in Derry during his youth not only led him to join the IRA but, ultimately, showed him that a political approach was essential in bridging the divide between communities in Northern Ireland. "We needed a political party that would represent the views of republicans in the North," he said. 
When asked how his fellow IRA members first reacted to his belief in a political process for peace, McGuinness said: "Some doubted it could happen… some people were sceptical, cynical and opposed. But myself and Gerry Adams travelled across the country talking about the ceasefire. We put focus on what many people thought was un-doable."
The peace process
McGuinness gave former British Prime Minister Tony Blair "enormous credit" for his role in the peace process.
"We're in or around the same age and I think we struck it off almost straight away. He understood he had an important role to play and we saw [the peace process] as our best opportunity to resolve injustices of the past. It saddens me that his achievements in Ireland have been sullied by [his role in] Iraq and Afghanistan."
McGuinness said he has a 'thunderbolt' moment when Blair told to him that he considered the British authorities were "as responsible for the conflict" in Northern Ireland as Irish republicans. "I'll always be grateful for his contribution and his honesty," said McGuinness.
As well as building a relationship with Blair, McGuinness said he also considered Ian Paisley a friend. "We actually get on like a house on fire. We treated each other with dignity and respect… for some reason we really hit it off, and we remain friends to this day," he said.
The Disappeared
McGuinness was quizzed by Finucane on the IRA's practise of 'disappearing' some of those murdered during the height of the Troubles – something McGuinness condemned as "terrible, shameful and wrong".
McGuiness said the practise was "one of the worse things to happen" in the context of an already very bitter conflict, and underlined that he had never been involved in such decisions. In fact, he said, he encouraged his colleagues to send families information about the fate and whereabouts of the deceased. 
Pushed by Finucane on the IRA's reasoning regarding the withholding of information about people who were killed, thereby compounding the grief of loved ones, McGuinness said that "only the people who took that decision can answer" why they did so.
For me there was no rationale. The arguments that they made [were] that the person [who was killed] was someone from the local area and, at a time of conflict, it wasn't something they wanted to be publicly associated with – which was public execution. They wanted the focus to be on the IRA and British army… [not on civilians]. It's not something I accepted and, to be quite honest, I was horrified. I think Republicans have to hold their hands up to one of the most shameful things that occurred in over 20 years' of conflict.
Shaking hands with Queen Elizabeth 
Speaking of his historic handshake with Queen Elizabeth last year, McGuinness said that the British monarch was "a woman who recognised she could play an important role in reconciliation" and actively wanted to do so. 
"I had many reasons not to meet with Queen Elizabeth… and of course she could come up with many reasons too… but we had a meeting and it was obvious to me that this was a woman who would [continue to be involved with the peace process]. I have no doubt that she believes she has a role to play in the process of reconciliation," he said. 
When asked by Finucane what was going though his head as he attended a function with the British Queen, McGuinness replied: "That it was a first. For me, it was the decent thing to do. I wasn't going for a half-baked approach to it."
Looking to the future, McGuinness said that things were difficult at the moment due to a the need for a "comprehensive agreement on the past" – naming issues such as flags and parades as points for discussion. However, he added: "I think there's a window of opportunity now that the elections are over and before the marching season in July and I am looking forward to discussions with Peter Robinson."
Listen to Marian Finucane's interview with Martin McGuinness on Radio 1 >