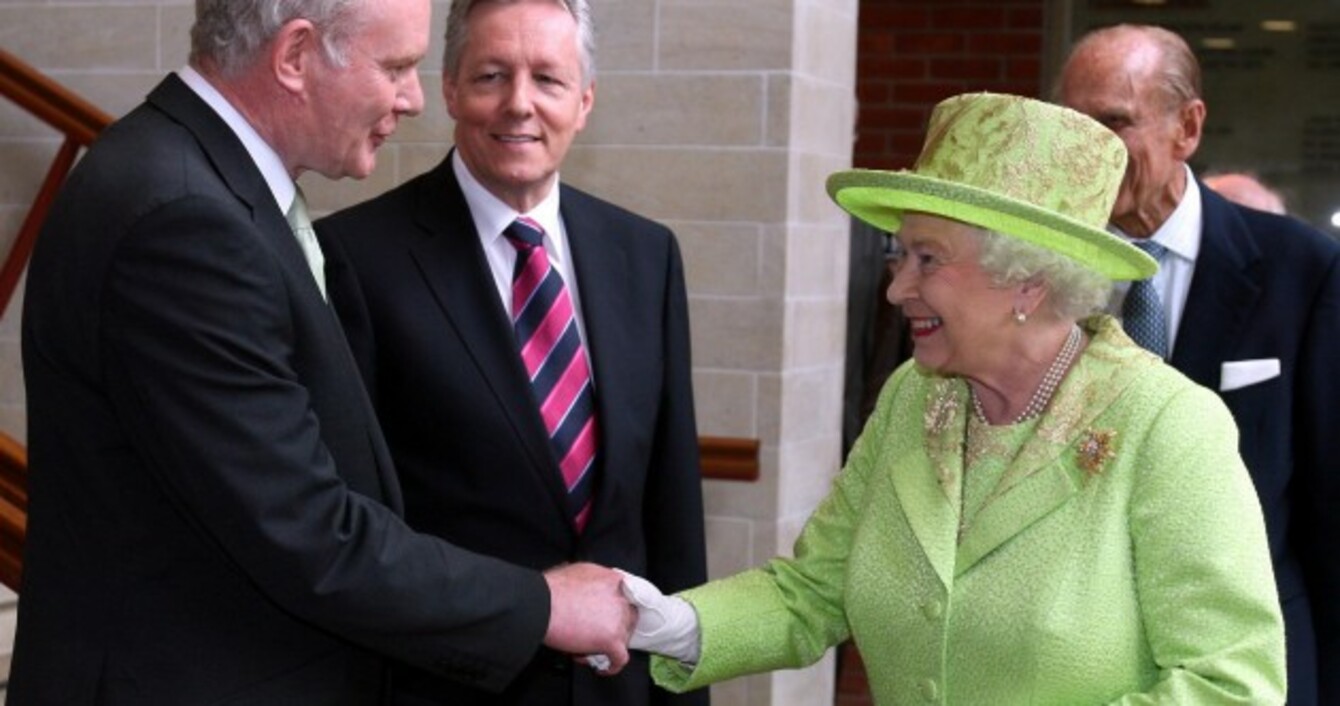 Image: Paul Faith/PA Wire/Press Association Images
Image: Paul Faith/PA Wire/Press Association Images
Updated 1.13pm
MARTIN MCGUINNESS, a former senior member of the IRA and the North's Deputy First Minister, has met and shook hands with Queen Elizabeth II in a historic and symbolic moment in the peace process.
The pair met at a Co-Operation Ireland event in Belfast, attended by the Queen while she was in the North on a two-day Diamond Jubilee visit.
Later the pair – along with First Minister Peter Robinson, the Duke of Edinburgh, Irish president Michael D Higgins and his wife Sabina Higgins – took a walking tour of the Lyric Theatre in Belfast where the handshake has earlier taken place behind closed doors.
At that behind closed doors meeting, McGuinness welcomed the Queen and the Irish president and commented on her visit to Dublin last year particularly her comments at a State dinner at Dublin Castle relating to all the victims of the conflict.
He emphasised the need to acknowledge the pain of all the victims and families of the conflict in the North and spoke of the significance of today's charity event and the need for it to be built upon in the time ahead.
The Sinn Féin MLA said that the fact it was happening was a powerful signal that peace building requires leadership and he praised the role of the Irish president.
Following the tour, and as the Queen departed, the pair shook hands for the second time and this time in public – while McGuinness also shook hands with the Duke of Edinburgh, whose uncle Lord Mountbatten was murdered by the IRA in 1979.
He is reported to have said "Slán agus Beannacht" to her Majesty as she departed.
Speaking to the media as he left the theatre earlier today, McGuinness was asked how it went, responding: "Good, it went really well," before adding with a smile: "I'm still a Republican."
Queen-McGuinness

Queen-McGuinness

Queen-McGuinness

Queen-McGuinness

Queen-McGuinness

Queen-McGuinness

Queen-McGuinness

Queen-McGuinness

Queen-McGuinness

Queen-McGuinness

Queen-McGuinness

Queen-McGuinness

Queen-McGuinness
All Pictures: Paul Faith/PA and screengrabs via Sky News