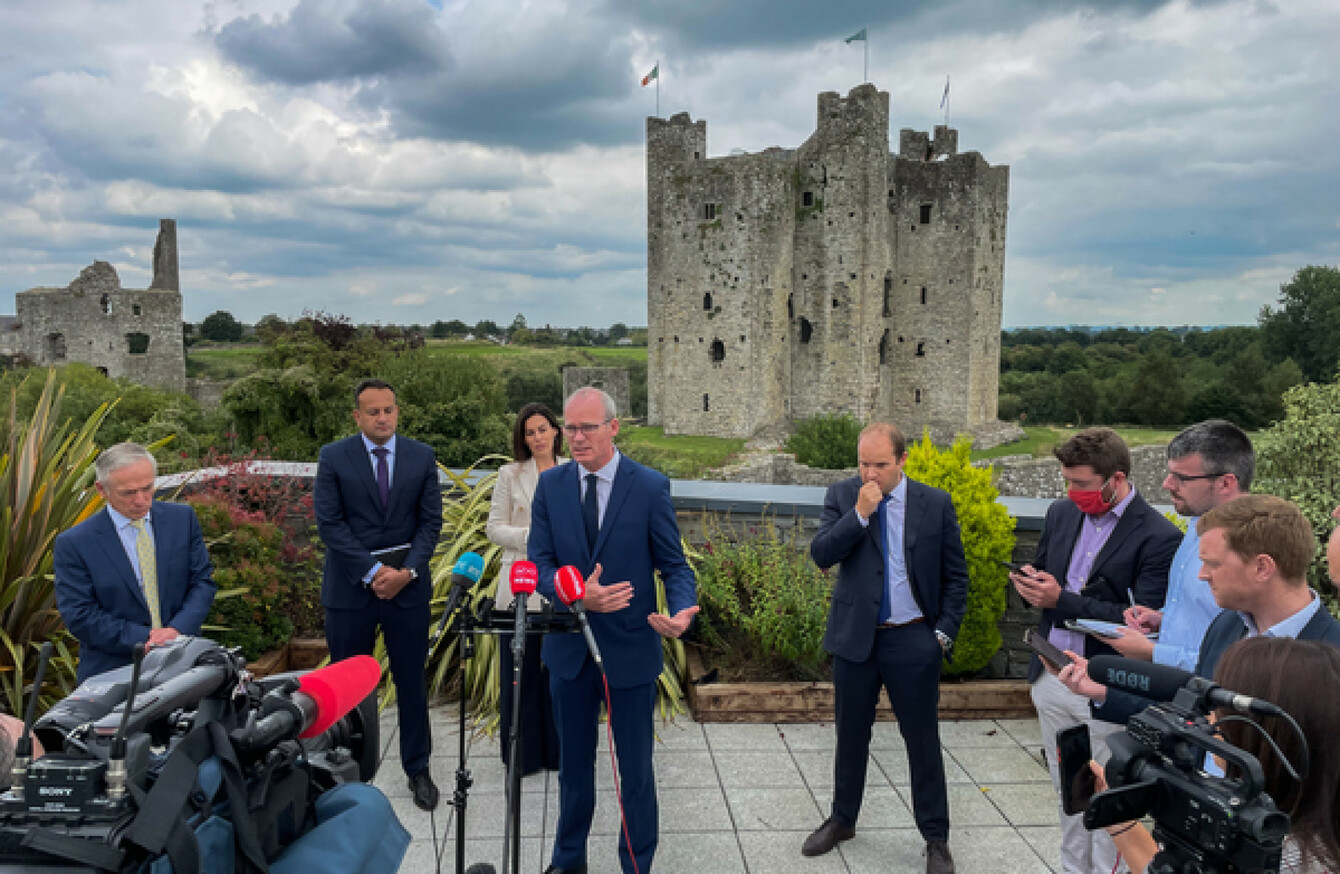 Simon Coveney speaking to the media in Trim this afternoon.
Image: Eamonn Farrell
Simon Coveney speaking to the media in Trim this afternoon.
Image: Eamonn Farrell
Updated Sep 14th 2021, 4:50 PM
MINISTER SIMON COVENEY has said he is "embarrassed" by the Katherine Zappone fiasco, admitting it has not been his finest month in politics.
The Minister for Foreign Affairs said he regrets not being more transparent when the appointment first emerged publicly at the end of July.
The long-running saga has been dragging on for almost eight weeks when it was revealed that Zappone was to be appointed as a UN special envoy.
Coveney admitted that how he handled the subsequent fallout contributed to it becoming a political story.
He denied, however, that he did not take it seriously at the time it emerged nor that he was "out of touch" with how people perceived the controversy.
"I'm embarrassed about this, I mean this has been a fiasco since the issue was brought to Cabinet to appoint a special envoy for freedom of expression.
"I think the motivation behind that appointment was appropriate," he said at Fine Gael's think-in in Trim, Co Meath.
"This hasn't been my finest month in politics since this issue became a political issue.
"I should have dealt with a lot earlier, with a lot more detail and a lot more transparency and I think we could have answered questions in a way that wouldn't have turned this issue into an August story that has now moved into September as well," he said.
"So I regret a lot of those things, and certainly my role in this has contributed to this becoming a political story that it didn't need to become."
Coveney said he hopes to move on from the saga following the vote, and said he believes he will have enough support from across government parties to see the motion fail.
"It became, subsequently, a political controversy that was handled, in my view, poorly by me, initially, that allowed it to grow into something that it didn't need to grow into.
"And I regret that," he added.
Coveney also claimed that the Taoiseach "wasn't particularly annoyed" that he was not made aware of the appointment ahead of the July 27 Cabinet meeting.
"He was just surprised.
"I had that conversation with him, I don't think there's any disrespect there, to be honest," the Fine Gael minister added.
Mary Lou McDonald has defended Sinn Féin's no-confidence motion in Simon Coveney, saying the Zapponegate controversy of recent weeks is a mess of Fine Gael's own making.
Sinn Féin is set to table a motion of no confidence in the Foreign Affairs Minister in the Dáil tomorrow as the controversy surrounding the planned appointment of former minister Katherine Zappone as a special envoy to the United Nations rumbles on.
The motion states that the proposed appointment of Zappone amounted to cronyism and fell below the standard of government expected by the public. It will be flipped by the government to a motion of confidence in Coveney and is expected to pass.
Speaking ahead of Sinn Féin's annual think-in today, McDonald told RTÉ's Morning Ireland: "The issue here is around the entire culture of Irish politics now for a century, as exemplified by Fianna Fáil and Fine Gael.
"They've run this place for 100 years and they believe that that is their right and entitlement, and they believe that they are entitled to create a post, a position, for one of their friends, a former colleague. They got caught, they sought to, you know, cover up their tracks.
"This thing has rumbled on and on, and this is a mess of their making, not mine. So are we prepared to look the other way and tolerate that kind of crony politics? No is the short answer, and I don't believe that there is a public appetite for that.
"I believe, in fact, on the contrary, there is a huge appetite for change and for definitive evidence that that type of politics is a thing of the past."
Speaking to The Journal in Strasbourg, Fine Gael MEP Seán Kelly said that Coveney should not resign from his position as minister. 
"He didn't do anything intentionally wrong, he had nothing to gain really by it," Kelly said. 
In some respects, he misread the situation because if it was a Fine Gael person he was giving the job to, he'd have covered every single angle.
"I think he just misread the political vibes and he has apologised for it, I hope he does so again, and draws a line under it and moves on."
Speaking on RTÉ radio this morning, Labour leader Alan Kelly said: "We don't have confidence in the government. A question is being asked of Dáil Éireann and our seven TDs have a decision to make, we don't have confidence in the government."
However, Kelly said the issue should not be viewed as "a bigger priority" to be discussed when the Dáil returns than topics such as health and housing.
He denied that his party wanted to distance themselves from the motion because their newest TD, Ivana Bacik, attended an event held by Zappone at the Merrion Hotel in Dublin in July.
"Ultimately it's because we believe there are bigger issues facing the people than this one," Kelly added.
Labour's think-in is also happening today, as are a number of other party conferences.
Speaking this afternoon to reporters in response to Kelly's comments, Sinn Fein leader McDonald disagreed that the controversy is being overblown. 
"Increasingly the public's impatience with crony politics has been evident. People know that you can't have effective policies, you can't have delivery for people on the ground when you have a political culture that's all about insiders, who you know, who you rub shoulders with them what circles you're in and that needs to stop," she said. 
She added: "The Taoiseach failed to do his job in failing to sanction his minister and therefore the opposition will do ours. We really left with no option but to move this no confidence motion."  
Tánaiste Leo Varadkar yesterday said he, Coveney and Finance Minister Paschal Donohoe apologised to the Fine Gael parliamentary party for allowing important government issues to be overshadowed by the controversy.
Speaking to reporters in Trim at the beginning of Fine Gael's think-in, the Tánaiste said the meeting is a good opportunity for the party to "refresh, regroup and reset" after what "was not a good summer for Fine Gael".
The meeting is also a chance for the party to "rebound" he said, and to focus on issues such as the easing of the final Covid-19 restrictions, the vaccine booster programme, and next month's Budget.
Most popular party
Two opinion polls published on Sunday found that Sinn Féin is the most popular political party in the country.
The latest Sunday Times/Behaviour & Attitudes poll finds that Sinn Féin leads Fine Gael by 10%. Sinn Féin increased in popularity by three percentage points to 33%, while Fine Gael dropped two to 23%.
#Open journalism No news is bad news Support The Journal

Your contributions will help us continue to deliver the stories that are important to you

Support us now
The party also secured top place in the Business Post/Red C poll for the first time since Red C began its tracking for the newspaper in 2003. In that publication, Sinn Féin remained on 29% of the vote, while Fine Gael dropped two points to 28%.
The two polls are the first released since senior Fine Gael figures became embroiled in the Zappone controversy.
When asked if she would rule out going into government with Fine Gael or Fianna Fáil, McDonald said: "For me, the very best outcome from the next election is a government without Fianna Fáil or Fine Gael. That's what we aim for. I want Sinn Féin to be in government, I would like us to lead government, and to demonstrate that things can be done differently."
When pressed on the issue, McDonald added: "If you look at us and Fine Gael, for example, the differences in approach, in policy priorities, are very, very wide … We are very much in different places so I think the policy differences between us and the old political establishment are self-evident."
Northern Ireland 
McDonald also took the opportunity today to appeal to the DUP to end its "divisive" threat to collapse Stormont.
Last week, DUP leader Jeffrey Donaldson signalled that his party will collapse the power-sharing Executive within weeks if changes to Brexit's Northern Ireland Protocol are not delivered.
He also announced his party's immediate withdrawal from cross-border political institutions established on the island of Ireland under the Good Friday peace agreement.
McDonald urged Donaldson to rethink his opposition to the protocol and to re-enter the cross-border bodies.
"I urge again Mr Donaldson to reflect on his position, and to turn away from this divisive approach," the Sinn Fein leader told a meeting of her parliamentary party.
"Now is not the time for reactionary, narrow politics. It is a time for calm and assured leadership. Participation in the north-south institutions can't be cherry picked.
- Additional reporting by Christina Finn, Orla Dwyer, Rónán Duffy and Press Association