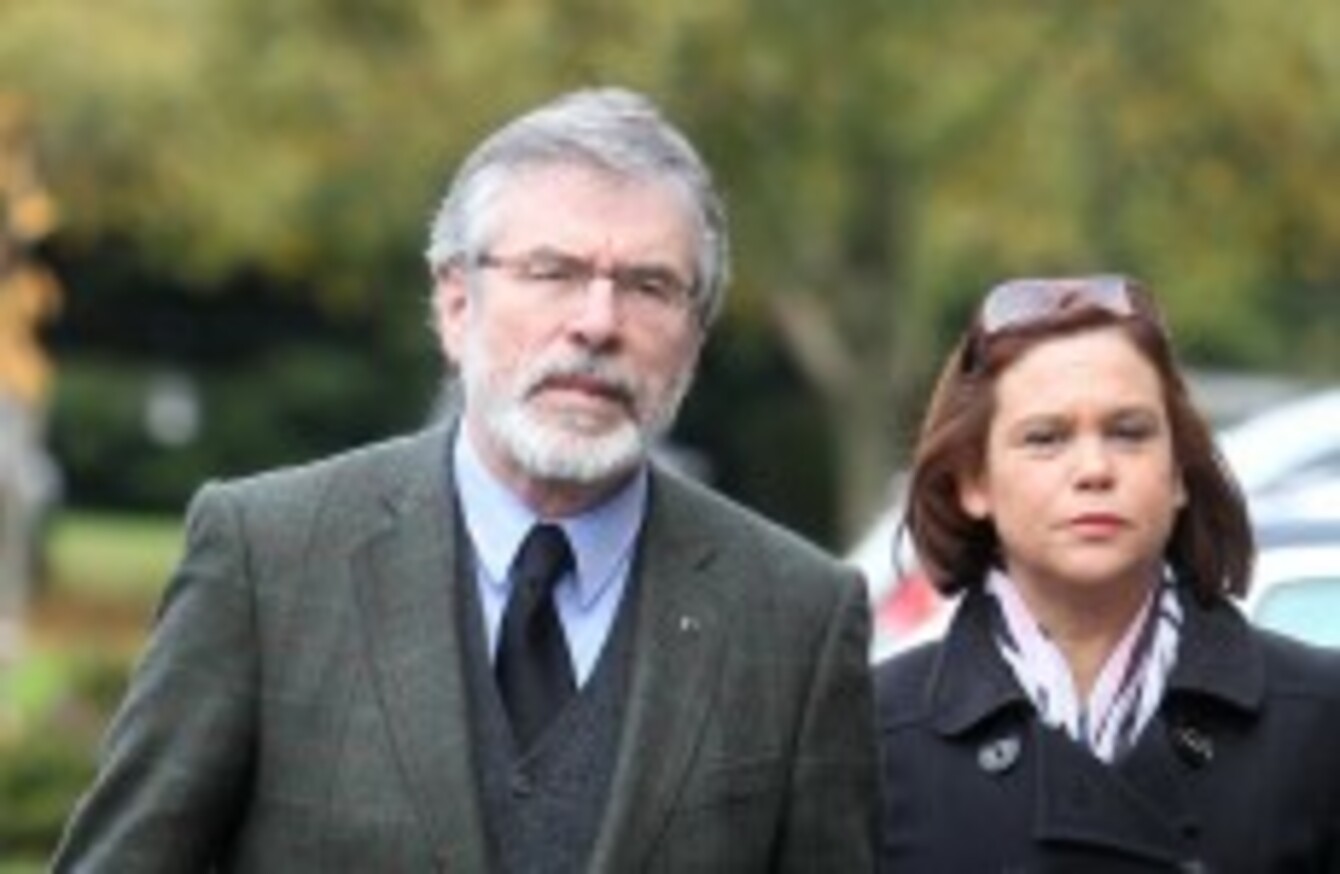 Gerry Adams and Mary Lou McDonald earlier this week
Image: Sam Boal/Photocall Ireland
Gerry Adams and Mary Lou McDonald earlier this week
Image: Sam Boal/Photocall Ireland
SINN FÉIN'S DEPUTY leader Mary Lou McDonald has defended Gerry Adams and strongly criticised Micheál Martin for "scapegoating" her party president.
Fianna Fáil leader Martin has claimed his party is aware of a number of cases where the Republican movement attempted to deal with cases of sexual abuse internally rather than involve the authorities.
Martin made the accusation following the sentencing yesterday of Liam Adams, brother of Gerry, for the rape and abuse of his own daughter.
Martin said that there are "questions to be answered" by Adams about the amount of time it took to alert authorities to his brother's abuse.
His comments at Leinster House yesterday have sparked a war of words between the two main opposition parties with McDonald strongly defending her leader this morning.
Speaking on RTÉ's Morning Ireland, she said: "In my view, at this stage, Gerry has answered time and time and time again all of the questions put to him and more importantly Gerry has testified in a court of law [against his brother]."
She said that Martin's comments were him "cynically and very, very deliberately seizing on a moment and an opportuntiy, on an occasion of a sentence being handed down, to take a pop at Gerry Adams."
"In attempting to scapegoat Gerry in that way and to make use of this situation such a cynical way it's not so much that he piles political pressure on Gerry but causes incredible distress to the wider Adams family."
She said this isn't a matter of a political spat and accused Martin of "exploiting a traumatic case such as this and use it to try and cause public damage to somebody because they happen to be a political figure".
She said that any information Martin might have about other abuse cases should be passed to social services or the gardaí.
Martin declined elaborate on his claims yesterday, citing current investigations being carried out by authorities.
McDonald asked Martin to have "a level of concern" for everybody concerned "to give a respectful space to that family to come to terms with everything that has unfolded" over the next 24 to 48 hours.
She insisted that Adams first reported the case of his brother's abuse to authorities in 1987 and said that he has has "answered questions time out of number" as well as acting as a witness against his brother at an earlier trial.
For his part Adams hit back in a tweet last night, saying:
There has been no immediate response from Fianna Fáil as to whether it or Martin will be responding to McDonald's comments this morning.