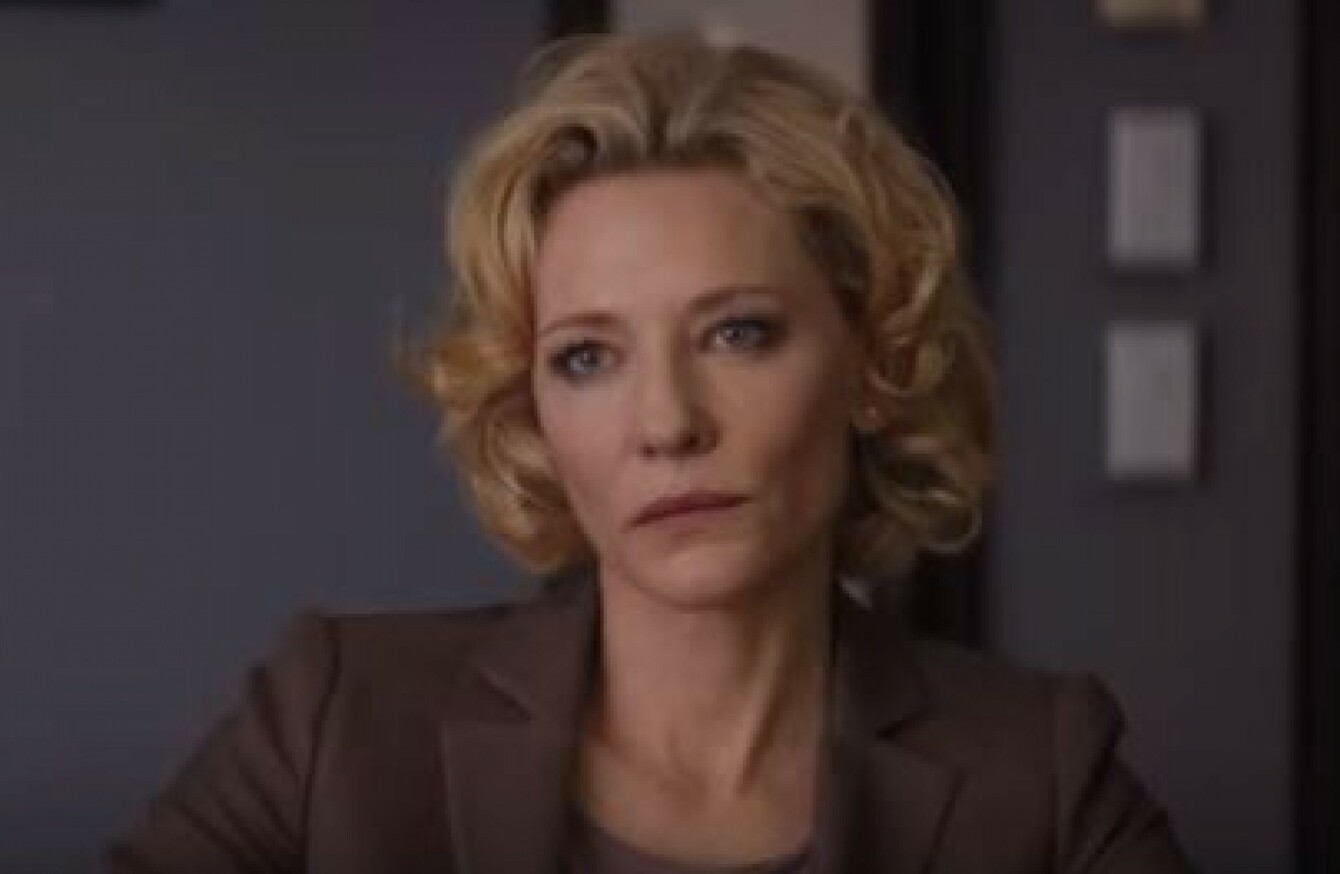 Image: aoife
Image: aoife
WE'VE ALL HAD bad days at work – but for TV producer Mary Mapes, an incident involving a George W Bush-related report happened in front of millions of people, and cost her her job.
Now she's had the story of being fired turned into a Hollywood movie called Truth – and she's being portrayed by none other than Cate Blanchett.
As a principal producer of CBS News, Mapes worked closely with Dan Rather (played by Robert Redford), who has legendary status in the US journalism world.
She had made a name for herself as someone who breaks big stories – she won a Peabody Award for breaking the story about the torture of prisoners in Abu Ghraib.
In 2004, she worked on a segment for 60 Minutes Wednesday that focused on President George W Bush's military service.
The team were certain they had an amazing scoop, and even more importantly it came when Bush was going for re-election.
But thanks to an issue with a document owned by a source, they found their report under serious scrutiny. CBS stood by their reporting, but they couldn't verify one particular part of their report – and people questioned whether it was actually real at all.
The right-wing media and bloggers had a field day, and Mapes was publicly and dramatically fired.
She hasn't worked in broadcast journalism since.
"It was the worst moment of my professional career"
Having her terrible time in work being turned into Truth is an outcome that Texas-based Mapes would never have imagined.
The film doesn't just delve into her work life, but also shows how Mapes had a father who was abusive, and how her past made her such a tenacious worker.
She says she "couldn't be happier" with how the film portrayed her, but she wasn't jumping at the opportunity of having it made.
She was "reticent" because she had already written a book about it,  Truth and Duty: The Press, the President, and the Privilege of Power.
"I wasn't sure a film would be the best way to do it," she says. But after meeting the director and seeing how he strives "for accuracy and fairness", she agreed.
She describes Truth as "gruelling to see – it is the worst moment of my professional career and to see it laid out in such a stark and emotional and accurate way, it can be quite jarring".
Her husband told her that after watching Truth, he felt "at peace now". "It makes me feel that way too," says Mapes.
She wrote the book because "one of the hardest things of what happened was no one seemed have a clear understanding of what went on". Now, with the film, she gets a second shot at having her truth be told.
"I always say it is my truth," she says.
I guess if you are going to get fired, I take a perverse pride in being fired so spectacularly, so epically, so internationally, so ignominiously that it took a full-length feature film to bring the whole thing to life.
"It gave me goosebumps"
Being told that Blanchett would portray her was "quite surreal".
Mapes had joked about getting "the worst actresses I could possibly think of" to play her, but when she was told it was Blanchett, she was "stunned".
There was a part of me who felt this was like the world's most elaborate radical joke. Dan had the same feeling when he got the call saying Robert Redford would play him.
"I have never been more beautiful," says Mapes.
Mapes and Blanchett met a few times and Skyped when the actress was back in Sydney.
"We'd spend a lot of time talking and it is a fascinating experience, to sit with someone who is clearly studying you," recalls Mapes.
"She's emotionally incredibly intelligent, she's very good at parsing out how people respond and how they act and how they feel and why they feel that way."
Blanchett sounded so much like Mapes that it gave her goosebumps. "It was surreal to see her play me – I did learn I play with my hair constantly," laughs Mapes, adding that "by the end of the day I am completely deteriorated, my make up and hair are a mess. They totally got that right."
"Tough investigations always leave somebody angry"
During her 15 years in CBS, she relished having the chance to do tough investigations. At the same time, she recognised that there is often a price to pay for this work.
#Open journalism No news is bad news Support The Journal

Your contributions will help us continue to deliver the stories that are important to you

Support us now
"Tough investigations always leave somebody angry and when the people who are left angry are tremendously powerful [the] bottom line is investigative journalism becomes very dangerous."
"I did love what I was doing," she says. "There are times I miss it but I say 10 years out it's not the same, it's more like a drug I had a serious problem with a long time ago. I still work as a journalist and a writer, I still enjoy that tremendously."
"I think one of the most important things you can do as a journalist is remember 'I am just another person', " she adds. "And I learned things and I get surprised and I get saddened and I am shocked and I am not powerful. What's powerful is the public I am giving the information to."
She doesn't miss "the bad things and the annoying things and the demands of it", but does miss the camaraderie with her colleagues.
Though over a decade has passed since they were fired, it still hurts. Mapes says that she was never close to the CBS executive team: "It was simply a business. We were cogs in that business."
Dan had been with CBS for 44 years and had put his life at risk countless times and had taken great risks in covering difficult stories. He had done meaningful, important work and he was treated like a janitor who hit retirement age.
Source: Movieclips Trailers/YouTube
"Donald Trump is like a monster"
Mapes says that as an investigator, she'd "love" to tackle Donald Trump. What does she think about Trump's White House bid? She's not a fan.
"This has to be the strangest year [of American politics] in my lifetime," says Mapes. "In my years I have never seen anything like it."
In some way you really see the end result of the celebritising of politics and information and news. We now have an actual reality celebrity in politics. That's not good – that's absolutely not good.
"Donald Trump is… he's like a monster made up of our greatest weaknesses: boastfulness, love of money, militarism, lack of understanding, spouting absolutely false information and having it as taken as truth, and if you say it often enough people would believe it."
"He is the personification of everything that is wrong with the political system and to some degree with the divisions of US society.
"It makes sense he is doing so well."
She is long gone from broadcast journalism, but Mapes is still a journalist to her core. As we finish up talking, she gives her assessment on the US media:
I think right now we do see in the US that so much of the criticism from the right is based on the media being liberal, and as a consequence the media has stopped being assertive and in some cases aggressive about truth when they should be. I think that hurts us tremendously.
Truth opens in Irish cinemas on Friday.