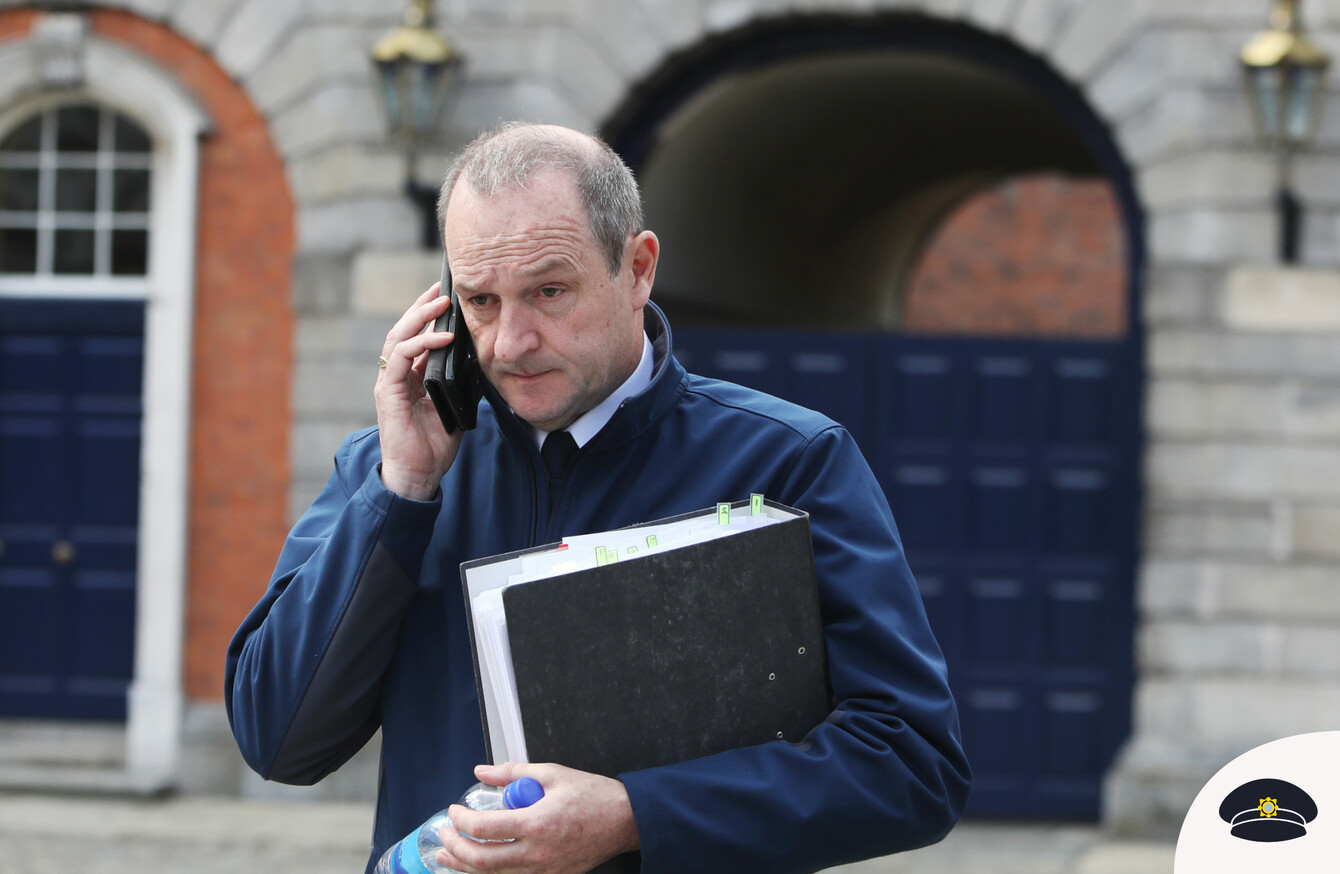 Superintendent Noel Cunningham leaving after giving evidence today.
Image: Leah Farrell/RollingNews.ie
Superintendent Noel Cunningham leaving after giving evidence today.
Image: Leah Farrell/RollingNews.ie
A GARDA SUPERINTENDENT has denied ignoring a 2013 letter by a social worker regarding sexual assault allegations against garda whistleblower Sergeant Maurice McCabe in order to "trigger an earthquake in the HSE".
Superintendent Noel Cunningham, who was an inspector at the time, also has told the Charleton Tribunal that it was not appropriate for him to have been assigned to investigate the allegation of child sexual assault made a decade ago by the daughter of another garda.
Cunningham said he knew both McCabe and the other garda, identified as Mr D. He did not know the complainant, Ms D.
The DPP later decided that there was no evidence any offence had been committed. The tribunal is looking at claims there was a smear campaign against McCabe.
Cunningham said he did not believe he should have been assigned to the case "for the optics of the thing."
"I knew the parties. I didn't know Ms D but I knew her dad, and I knew Maurice McCabe, so I just felt it was more appropriate that somebody from outside who didn't know was directed to carry out this investigation," he told the inquiry.
The superintendent added that a GSOC inquiry had complimented him on his handling of the investigation.
The witness also said he was not aware of the full details, but he understood there had been an incident involving a complaint McCabe made about Mr D before the allegations were made, which led to Mr D being disciplined and assigned to different duties.
Stepped down
McCabe stepped down from his post when Cunningham was promoted from inspector to superintendent in 2008.
Cunningham said that he went to McCabe's office and asked him to reconsider when the sergeant applied for a transfer to another area and "had no difficulty with him remaining on as Sergeant in Charge."
"I was quite happy to work with him," Cunningham said.
The superintendent said that McCabe "appeared very stressed" and he suggested that the sergeant could see a welfare officer.
Mícheál P O'Higgins SC, on behalf of the Garda commissioner, said that Cunningham later wrote to McCabe "in friendly terms" updating him on events in Cavan since he had transferred to Mullingar.
Cunningham confirmed to O'Higgins that he had not received instructions from former Garda Commissioner Martin Callinan, Commissioner Noirin O'Sullivan, Superintendent David Taylor or anyone in senior garda management to ignore a 2013 letter from HSE social worker Keara McGlone about the investigation.
Asked if he took a deliberate decision to "wilfully not respond to McGlone's letter in the knowledge it would trigger an earthquake in the HSE" Cunningham replied: "Absolutely not."
Asked if he took part in a smear campaign against McCabe, he again replied: "Absolutely not."
Cunningham said he was never motivated by any animus to McCabe, and said he would not describe McCabe as "a thorn in his side". He said this was a phrase that had been used by Michael McDowell SC, the barrister for McCabe.
He said that when he placed the file on the investigation into McCabe in a press in his office, and when he later added to that file the letter from Ms McGlone, he was seeking to protect the interests and rights of both McCabe and Ms D.
"Nobody could be accused of leaking it because they simply didn't have it," Cunningham said.
The tribunal also heard that Cunningham went on two months leave just after the letter arrived from the HSE, and when he returned it was to an extremely busy desk, with duties including court appearances and ongoing GSOC inquiries.