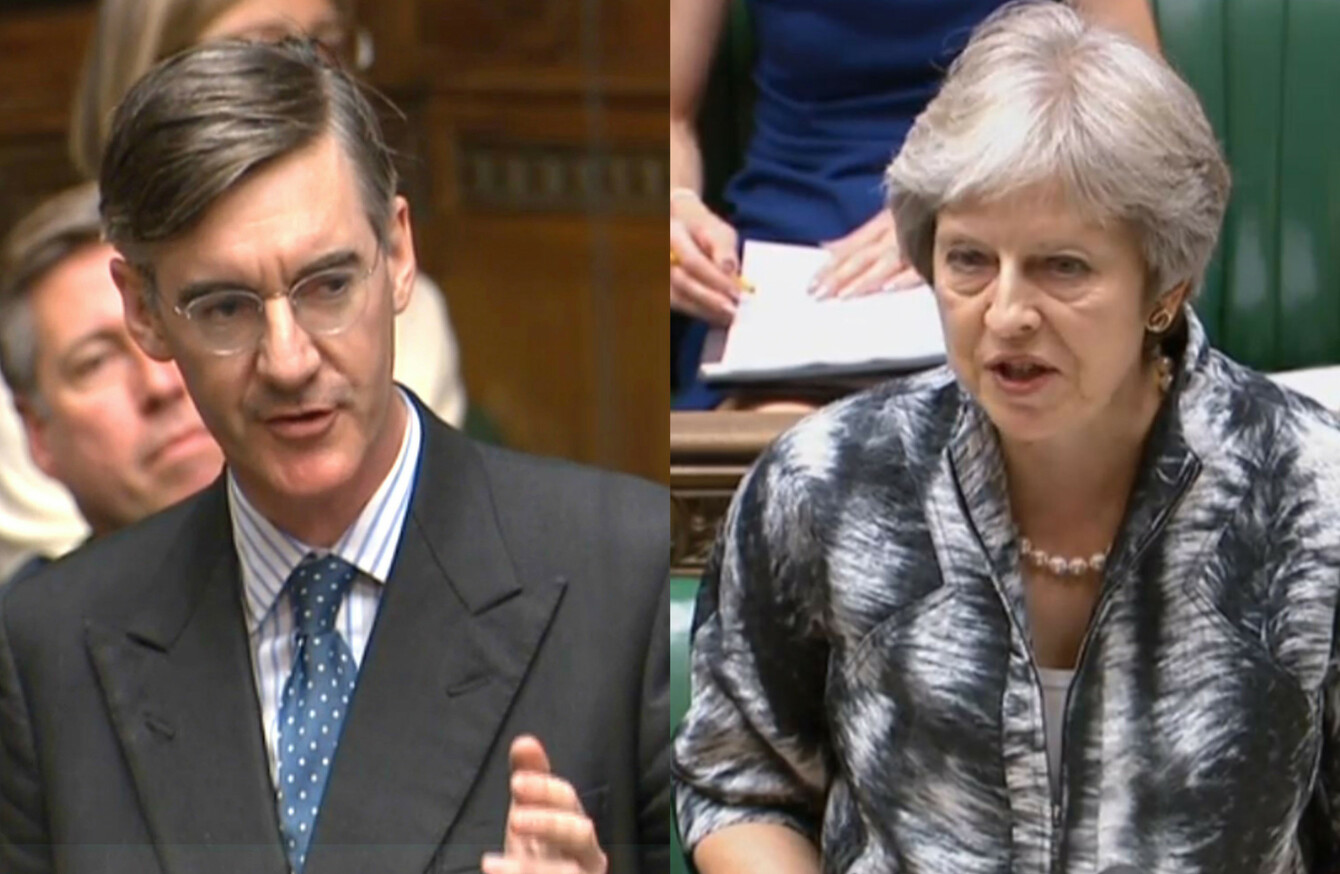 Image: PA
Image: PA
BRITISH PRIME MINISTER Theresa May bowed to pressure from eurosceptics in her ruling Conservative Party by agreeing to a series of amendments to a bill setting up a new customs regime after Brexit.
Downing Street confirmed the climbdown, which accepts changes tabled by Jacob Rees-Mogg and other hardline Brexiteer MPs that appear to stymie May's own favoured plans, ahead of a potentially-crippling parliamentary defeat on the proposed legislation late this evening.
"I'm happy to sit down and listen and hear concerns from my colleagues," the prime minister told lawmakers.
"We did that on the EU withdrawal bill and we continue to do that on other bills," she added, referring to a landmark law passed last month enacting key parts of Brexit.
The compromise on the latest legislation – the Taxation (Cross-border Trade) Bill, also known as the customs bill – was immediately criticised by pro-European MPs.
Anna Soubry, a vocal proponent of keeping close ties with the EU, told parliament: "One has to wonder now who's in charge in this country?
"These are people who do not want a responsible Brexit," she added of the hardliners in her own party.
Rees-Mogg, leader of the powerful European Research Group of eurosceptic Conservative MPs, had earlier warned May had no choice but to change course.
"The inevitable consequence of the parliamentary arithmetic is that she will need to change it to keep the party united," he told BBC television.
Second referendum support
The latest wrangling comes as the prime minister struggles to win acceptance for her Brexit strategy – unveiled in a much-anticipated policy paper last week – from both pro-Brexit and pro-EU factions within her party and parliament.
Brexiteer critics believe it keeps Britain too close to the EU, while pro-Europeans think it fails to protect Britain's dominant services sector, among other gripes.
Two top pro-Brexit ministers, Boris Johnson and David Davis, quit in protest last week followed by a string of junior walkouts, including another today.
Davis, the former Brexit secretary, warned in the Financial Times it would deny the government the "freedom to run our own economy".
Meanwhile, a pro-EU former minister described May's plans as a "fudge" and became the most senior member of May's Conservative party to back the idea of holding a second EU referendum.
Former education secretary Justine Greening said the plans to follow EU rules on trade in goods without being able to influence them was "the worst of both worlds".
Noting the deep divisions in government and parliament on the way forward, she said voters must now decide.
"The only solution is to take the final Brexit decision out of the hands of deadlocked politicians, away from the backroom deals, and give it back to the people," she wrote in an article in The Times.
May has repeatedly ruled out a second referendum, after Britons voted by 52-48 percent for Brexit in 2016, but Greening's support for a so-called People's Vote will give the campaign a huge boost.