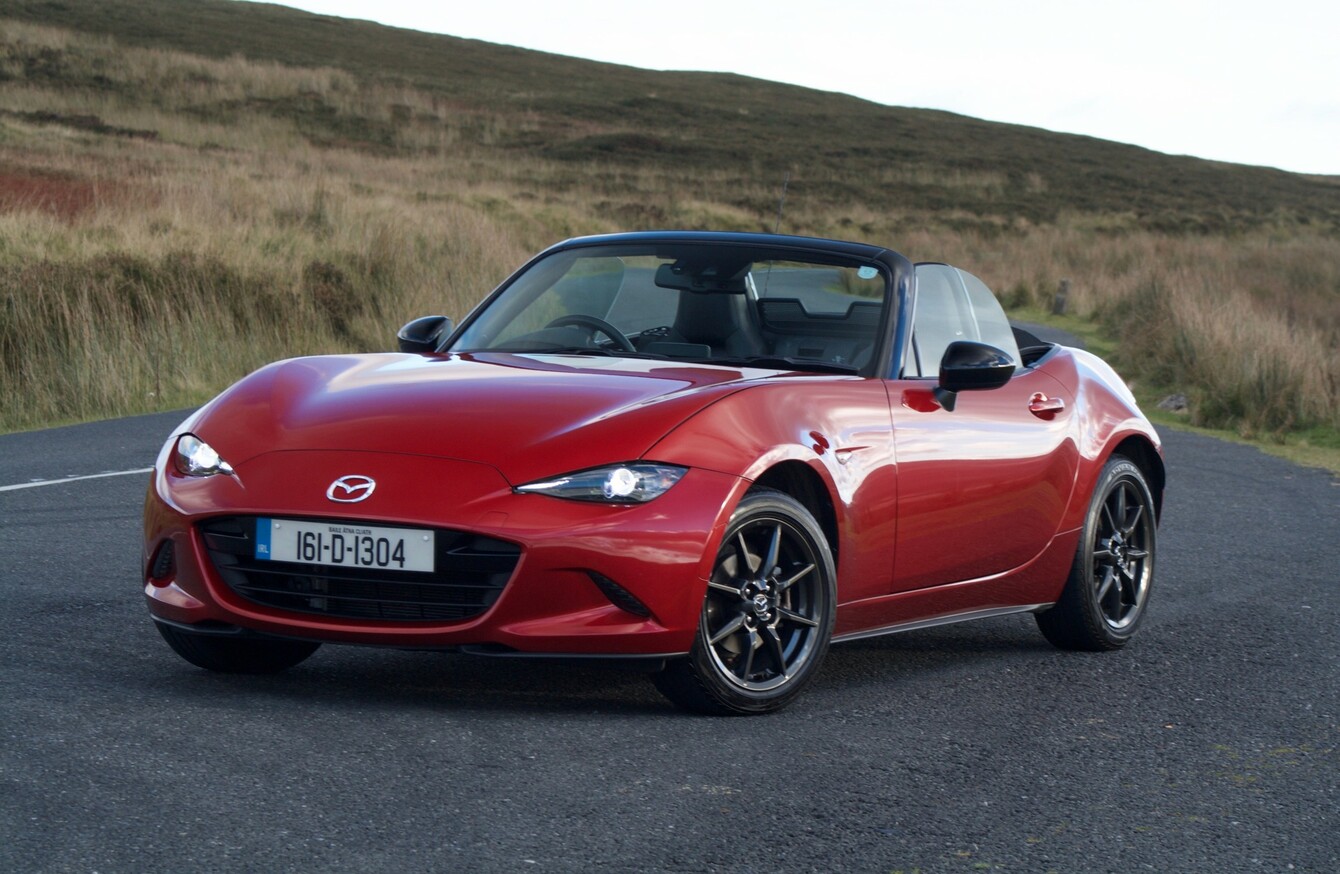 Image: Melanie May
Image: Melanie May
THE MAZDA MX-5 is one of those cars that needs no introduction. It is iconic in its looks as well as its name. It is thought to be the most-raced car of all time – and since it was first introduced in 1989 over 1,000,000 of the loveable, plucky little convertibles have been produced, making the MX-5 the best-selling roadster ever.
Two words sum up the MX-5 for me, and those are 'fun' and 'pure'. Simply put, it is a car enthusiast's dream.
The fun factor is everywhere with this car. Its small, yet perfectly formed dimensions reveal a car full of personality, which shines through as you nip around town or stretch its legs on the back roads.
As you would expect from a car weighing just 1,050kg, it is nimble, agile and easy to manoeuvre. It has a super sweet chassis with a 50:50 weight distribution making the car feel balanced.
One of the things I really enjoyed about driving the MX-5 is the feeling of momentum. You just drive in and out of corners, you don't feel the need to brake a lot, you can just keep going and I really got a kick out of this. There is a real fluidity to how it drives. Find the right road and you'll experience motoring nirvana.
At the core of this fourth-generation MX-5 is what Mazda refers to as its Jinba Ittai. Translated from Japanese it essentially means the concept of 'oneness between horse and rider'. It is designed to create a sense of connection with the car when driving.
There is some body roll in the corners, but there didn't seem to be any reduction in grip as the car leaned over. That's thanks in part to the car's double-wishbone suspension at the front and a multi-link setup in the rear, which kept the tyres planted and helped give a consistent and predictable levels of grip. This builds confidence in the roadster, making you want to push the car and yourself to get the most out of driving it.
The interior returns to that idea of 'purity'. The driver-centred cabin is very well designed: the driving position is wonderful and is set up so that you have everything to hand. It's ergonomic bliss on the road. Everything right down to the armrest feels perfectly positioned, while any other operation is completed with small quick hand movements.
The gear knob is wonderfully small and sporty with delightfully short positive throws. So short that you are up to sixth by 60km/h. Changing gears so quickly gives a great racing feel to the drive – but despite that, at speed on the motorway the car isn't screaming at you for another gear, it is really refined and surprisingly quiet.
OK, so, speaking practically there is no space at all. You'll get your phone and your keys in the armrest but not much else. I even had to put my handbag in the boot when I had a passenger. But who cares? There are two handy coffee cup holders though (even they can be removed when not being used) and a secure, small cubby behind the seats that can be locked.
The boot itself is deep but the aperture is small so you aren't going to get bulky items in there.
As for the fabric roof in Ireland? I was really surprised how quiet the cabin was. I thought it was going to be loud and cold but I ended up having the roof down for the whole week I had the car, even though it was November. Once the hot air and heated seats were on, I felt really toasty and I loved having the top down.
There wasn't even much wind getting into the cabin to mess up my hair – though maybe taller people will have a chillier or more windswept experience.
The roof is operated manually and is easy to put up and down thanks to its lightweight construction. Doing so takes just seconds and the whole operation can be done without ever leaving the driver's seat.
Pricing for the Mazda MX-5 starts at €27,995. This test car, powered by a 131hp 1.5-litre four-cylinder direct-injection petrol SkyActiv-G engine mated to a six-speed manual gearbox, is the higher grade GT model and costs €30,670.
In summary, the Mazda MX-5 drives every bit as well as it looks. It handles brilliantly, has a really great chassis and transmission and builds confidence in the driver in and out of corners. It is built for the drive, the embodiment of the Jinba Ittai concept of 'oneness between horse and rider'. I love it.
Is this the right car for you?
Yes. It is the right car for everybody! OK, maybe not. If you want a two-seat sports car and you love driving and you want a car that will put a smile on your face each and every time you get behind the wheel, then yes, this car is for you.
If you need a car to ferry people around, then you are going to need to consider something else. The BMW 2 Series Convertible is worth considering but it is a lot more expensive starting at €39,150.
If you don't need the space but want a car with loads of kerbside appeal, then have a look at the Audi TT – but that comes with a €48,550 OTR price tag and it's not as fun to drive as the MX-5.
Or if you want an MX-5 but with a different badge then hold off and wait for the new Fiat 124 Spider, which should cost just under €30k when it arrives here in time for the 171 registration period.