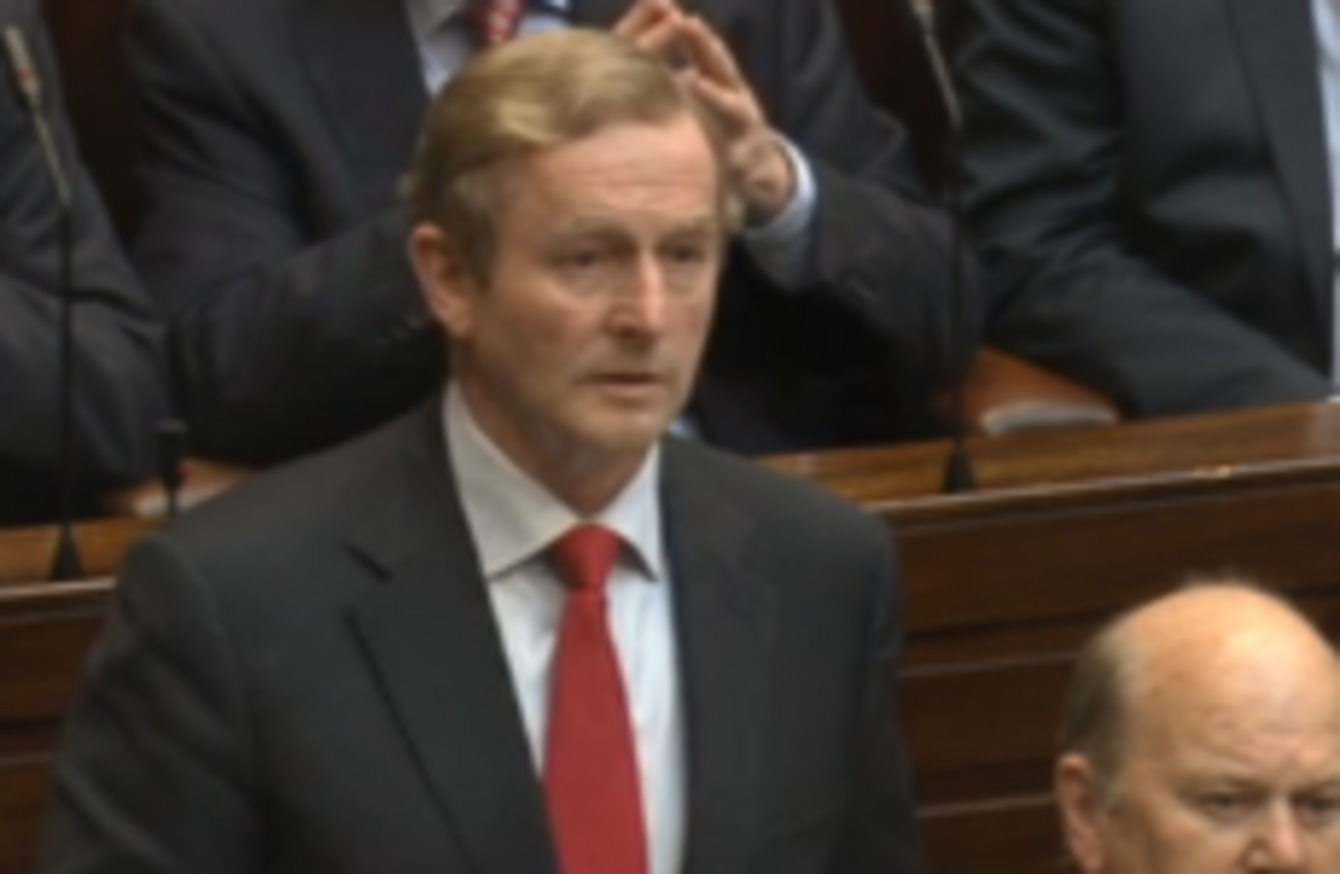 Taoiseach Enda Kenny during Leaders Questions today.
Image: Screengrab
Taoiseach Enda Kenny during Leaders Questions today.
Image: Screengrab
THE FALL IN the number of people with medical cards is not due to any change in government policy, Taoiseach Enda Kenny has said.
The Taoiseach was responding to questions from Fianna Fáil leader Michael Martin, who raised the issue during Leaders' Questions this afternoon.
Martin asked the Taoiseach to restore discretionary medical cards to those who had lost them, citing that as many as "44,000 cards had been taken out of the system".
Kenny stated the fall in numbers receiving the card was due to people moving from this discretionary card to a ordinary medical card.
He said that number of people who have a medical card is at its highest in the history of the State saying that 250,000 more people have medical cards now than when his government came into office.
A discretionary medical card can be awarded to those who are not eligible for a medical card but "are unable to access GP services without undue hardship".
For those who are terminally ill, and for those who receiving an emergency medical card, their illness still needs to be verified.
"There's no legal basis for what people might call a cancer medical card or a motor neuron medical card," the Taoiseach said.
"Sitting in supermarkets for hours"
Kenny also said that the government would be "cognisant of the difficulties that many people experience" when deciding elements of Budget 2014.
This was in response to calls from Independent TD Seamus Healy to reverse increases made to the cost of fuel over the past two years, which he says has resulted in the elderly leaving their houses "to go to supermarkets where can sit for hours" for warmth.
(Image Credit: Screengrab)
The South Tipperary TD called the rises in the price of oil and gas as "indirect attacks condoned by your government", and warned of the extent of fuel poverty in Ireland.
The Taoiseach said that despite the difficult situation Ireland has faced since the financial collapse that "it's not just a case of abandoning people".