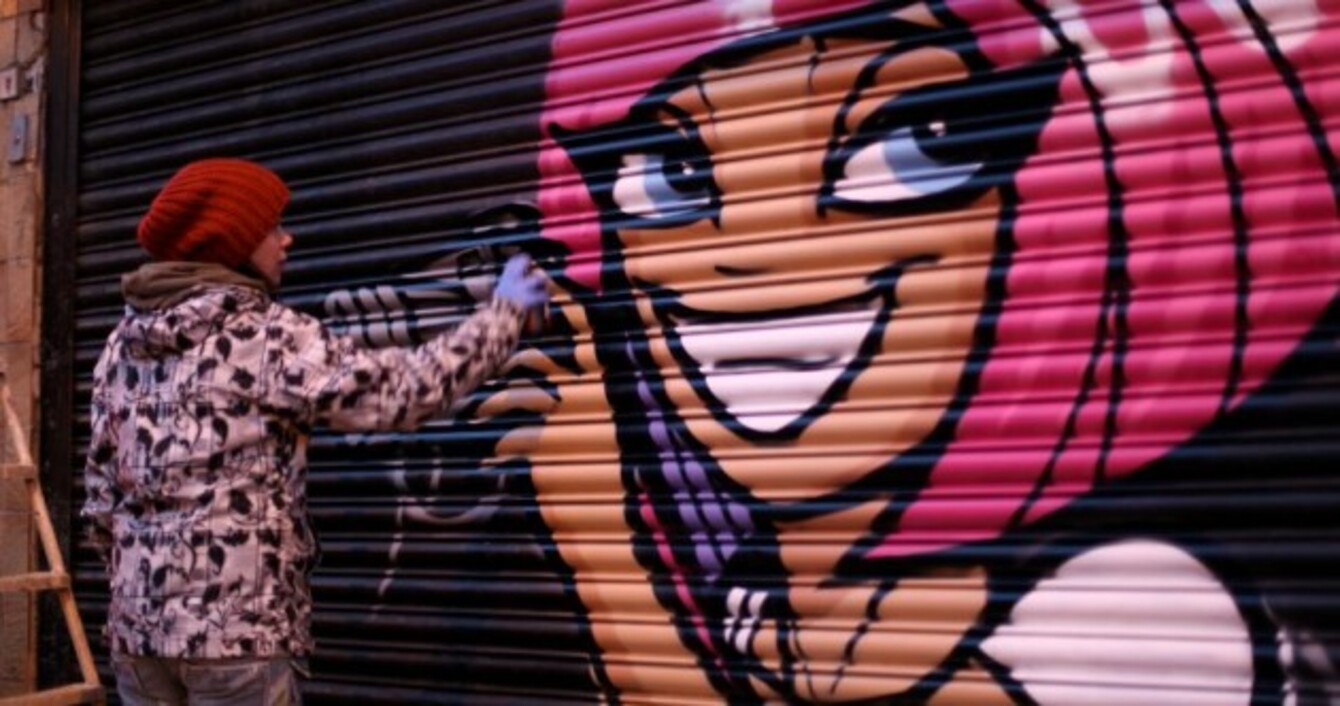 An artist working with Evolve Urban Art at John Gunn's Camera Shop on Camden St
Image: Ene Keenan
An artist working with Evolve Urban Art at John Gunn's Camera Shop on Camden St
Image: Ene Keenan
CAN WE CHANGE the face of our cities – and if we can, what is the best way to do it?
Two initiatives currently underway in Dublin, Evolve Urban Art and Dublin City Council's Beta Project, are demonstrating how people can have their say in how the capital presents itself, which in turn can inspire people in other cities and towns.
Evolve Urban Art is the brainchild of Ene Keenan, who teams up artists with business owners, helping to transform the look of their premises. At Dublin City Council, meanwhile, staff member Shane Waring is looking at ways to create small projects on the capital's streets, with a view to seeing if they could work in the long-term.
Evolve Urban Art
Keenan set up Evolve Urban Art to connect businesses with artists who tend to specialise in urban, graffiti and outdoor art. Since January, they have been creating bold, graphic works on signage, murals, gable end walls and more for businesses in Dublin city centre.
Currently, he works with five different artists, pitching ideas to businesses. After finishing a Master's degree in strategic management, Keenan set up Evolve Urban Art as an "agency of a sort but with a focus on art first and foremost".
"It's also a different view on how the urban space can work," he explained, saying that this idea is also used in other cities. There can be some restraints around it, but "within the context of all of that we're making a few bits happen".
He believes that "in its own small way", his business could be a positive measure, given that it involves work on the streets, and the streets are for everyone. It also promotes a positivity about how the urban space looks.
He aims to grow the business, connecting people with artists and developing positive relationships. "It all comes down to the artists to begin with," he said. The hope is that the business will grow, expand, and bring even more art onto Ireland's streets.
The Beta Project
The man behind the Beta Project, Shane Waring, works with Dublin City Council. After hearing "we can't do it because we've never done it before" about including experiments in full projects, he decided that a beta project system was needed. He set up the experiment in March 2012.
Beta Projects have various criteria, such as if there is a need for them, will they solve a city problem, is there a good return for investment, is it better for the city, better for the environment, and sustainable.
One of the questions asked is: "Is there a better way people might feel more ownership for their local neighbourhood?"
The point of the Beta Project is to experiment with new concepts for the city – you're kind of removing the location out of the equation. It allows Dublin as a city just to focus on the idea itself.
One project included painting traffic light boxes.  There are 800 in the city, and every year it costs money for the council to repaint them. So getting an artist to give them a new look saves money but also improves the look of a street.
#Open journalism No news is bad news Support The Journal

Your contributions will help us continue to deliver the stories that are important to you

Support us now
Another idea is the 'parklet', inspired by a San Francisco project where the meter is paid on a parking space which is then let out to be used as a space for the community. A further element involves street art.
The point of a Beta is to test the idea. Let's say it kind of makes sense but not quite right, and reiterate it and keep doing that and eventually we will have something that works.
There have been six themes, which were inspired by the Design in Dublin project, and these themes will be expanded on this year as Beta continues to evolve.
The whole project has cost just €1,500 so far, and they are all carried out in a specific area of Dublin city centre, a "geographical sandbox" as Waring calls it.
"The response of Dublin has been absolutely positive, absolutely fantastic," he said. "I'm blown away by how positive everyone has been and internally within the council have had huge support."
Beta is still very much in its infancy – we're looking for feedback on the concept as well as ideas to trial.
Catch up with the Beta Project and give your feedback on Twitter, Facebook and its blog.
Beta project

Beta Project

Beta Project

Evolve Urban Art

Evolve Urban Art

Evolve Urban Art

Evolve Urban Art

Evolve Urban Art

Evolve Urban Art

Evolve Urban Art

Evolve Urban Art