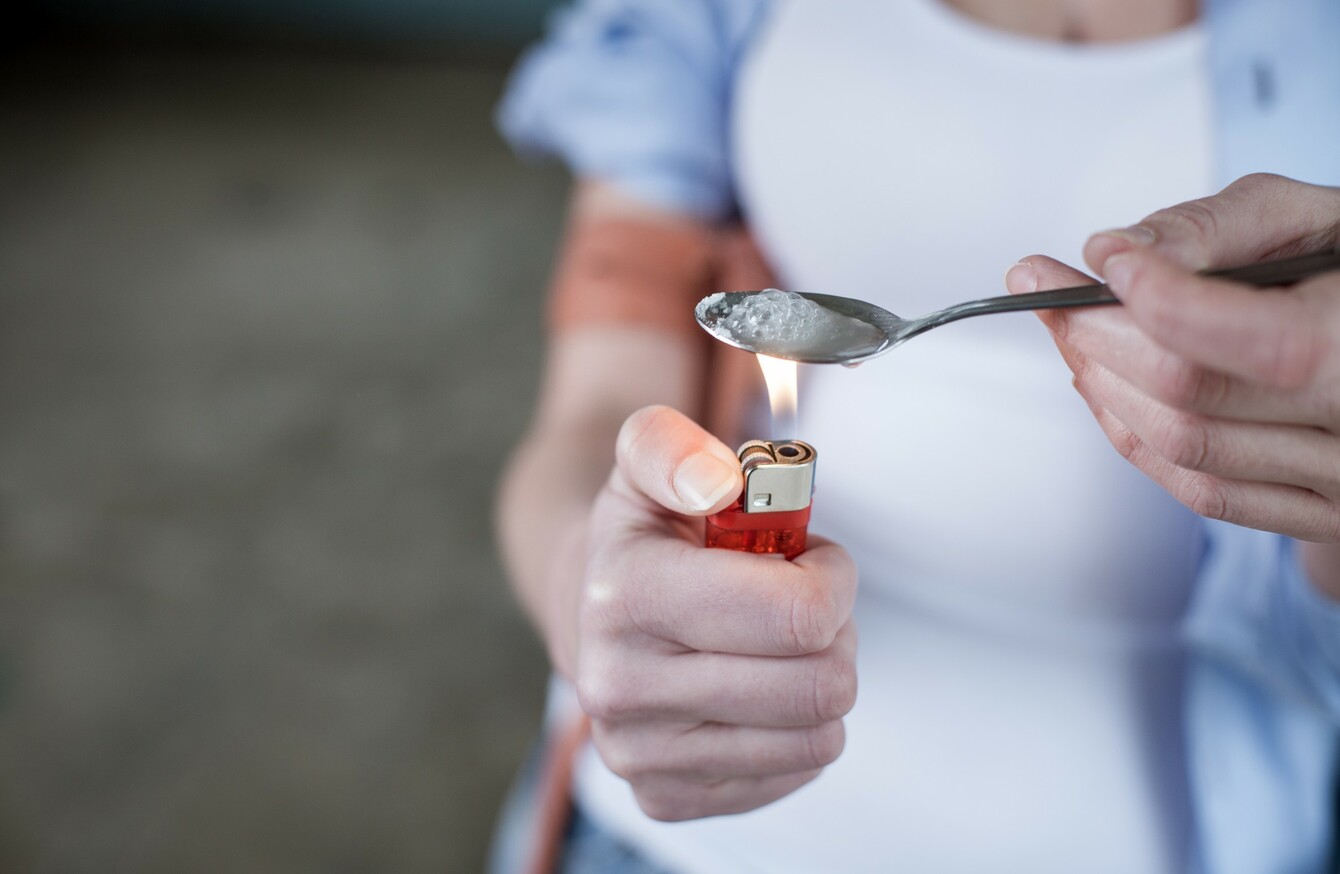 File photo
Image: Shutterstock/Olena Yakobchuk
File photo
Image: Shutterstock/Olena Yakobchuk
HEROIN USERS IN Galway are intentionally overdosing in an attempt to fast-track their access to methadone.
The practice is said to be becoming more common, and the issue was discussed at a recent public consultation meeting in the city about the new National Drug Strategy. The current plan covers 2009-2016.
While Dublin's heroin problem is often highlighted, similar issues in other cities receive less coverage nationally.
There is one methadone clinic in Mervue, Galway, to cater for the entire county as well as Mayo and Roscommon. It is currently treating 64 patients. A further 84 people are receiving treatment from level one GP prescribers.
The Irish College of General Practitioners notes these doctors "can treat stabilised opiate dependent persons in their own practice". Patients may be referred from HSE drug treatment centres, satellite clinics or other GPs.
Hannah McHugh is a coordinator with Uisce (Union for Improved Services, Communication and Education) – a group advocating on behalf of drug users.
Hannah recently accompanied a young woman to her first appointment at the methadone clinic in Galway.
Lee's story
Lee, who turned 24 this week, has been homeless for 18 months. She was doing six to eight bags of heroin a day, with about 0.2g of heroin in each bag.
She received a 'fast track' appointment after overdosing twice in as many days, saying she got a place on the programme about nine days later.
Lee told TheJournal.ie she knows some people who have been waiting up to six months for an appointment. The clinic told us the average wait time is two months and, as of Thursday, five people were on their waiting list.
Lee was living and working in the US when she was 19, but returned home after her father died.
That was the biggest mistake of my life. Me and my mother fell out, we never got on.
Lee had nowhere to go and ended up living on the streets of Galway city. She became addicted to heroin. Lee was desperate to kick the habit, but felt she couldn't wait a couple of months for help.
She had heard overdosing would speed up the process of gaining access to methadone.
"I actually had to take two overdoses in two days. I have friends who also had to do the same."
When she was taken to hospital to recover, a nurse arranged for her to get an appointment with the clinic. A spokesperson for the HSE told us the clinic has "a fast track protocol for people who present with complex urgent needs".
Lee has been in a hostel for the past week or so, but prior to that had been sleeping in car parks and squats. She has been on methadone for about a month.
Lee is positive about the future, but says she isn't undergoing counselling and fears she might relapse without it.
Hopefully things will get better from here … if [drug users] had counselling and therapy this would stop them from going back and using.
A spokesperson for the HSE told us: "The methadone clinic is part of the drugs service and counselling is offered to all people who wish to avail of it.
"There are no rehabilitation programmes and no local detoxification programmes provided by HSE CHO Area 2 (Galway, Mayo and Roscommon) at present."
A number of residential beds are available for people undergoing rehab and detox programmes in these counties. However, Hannah says it is often difficult for heroin users to get access to these.
The HSE noted: "While services are accessed and provided locally, some of our services are available on a national basis and individuals from one area can be referred to other regions."
The Western Region Drugs and Alcohol Task Force had an annual budget of €1.3 million in 2006. This year, it received about €660,000: €524,155 from the HSE and €136,994 from the Department of Health.
Despite having to operate with half its previous funding, the task force had alcohol addiction issues added to its brief in 2014.
No one from the task force or methadone clinic in Galway were available for interviews during the week.
'Someone's brother or sister' 
Niall Ó Tuathail is a health consultant who previously worked with the NHS on reform of the health service in the UK. He's based in Galway and ran for the Social Democrats in the general election.
He says he is also aware of drug users intentionally overdosing to get quicker access to methadone.
"These waiting lists are not like some other waiting lists where you can get by for a few months without treatment. People who want to get off drugs need help now."
Niall says increasing the number of methadone clinics alone is not enough, saying more GPs need to be able to prescribe the drug.
He believes all drug users who need it should be able to access it from a GP, not just people referred on from the clinic.
Niall believes the heroin use, and that of other drugs, in Galway and elsewhere can't be looked at in isolation.
"The problem is very rarely just drugs, often it's in combination with other physical and mental health problems.
We really have to look at the human element. These people are someone's brother, mother, father, son, daughter, cousin. At the end of the day, they're people.
Niall welcomes the Government undertaking consultation with interest groups in order to develop a new national strategy, but says action is needed now, not months or years down the line.
Poorer quality drugs
Drug users have told Hannah a bag of heroin usually costs between €15 and €20 in Dublin, but starts at €25 in Galway. They've said the quality is worse in the west, despite the higher price tag.
Smoking, rather than injecting, seems to be the preferred method for users in Galway – according to anecdotal evidence Hannah has gathered.
Hannah says drug users in the capital are usually more aware of the services available to them. She thinks the HSE needs to be more proactive in communicating to users in the west about the supports they can access.
She says there's a national shortage of residential services for drug users in Ireland.
"If I was living in Galway and I was a drug user I would go to Dublin to access services," Hannah tells us, noting this adds to the homelessness issue in the capital.
Rough sleeping is also a big problem in Galway, where she says she has met, per capita, more women on the streets than she has in Dublin.
Hannah believes there needs to be more methadone clinics in the west, and feels the one in Mervue is inaccessible to many people. It's about a 20-minute bus journey from Galway city, costing €2.10 each way.
She thinks a city centre location would be better as many users would be more likely to attend the clinic, noting some would view the €4.20 return bus fare as being "well on the way to a hit".
Hannah thinks the previous Drugs Minister Aodhán Ó Ríordáin was very "progressive", and hopes his successor Catherine Byrne will pick up where he left off.
"I really have a lot of faith in Catherine Byrne," Hannah says, noting her experience of drug use from her inner city Dublin constituency.
She says the minister has been "actively looking for feedback" from groups like Uisce.
She says people keep telling her to look at the Portuguese model, but she says what we need is an Irish model. To me that's really important, looking at individuals and tailoring services to them."
Portugal decriminalised low-level possession of all drugs in 2001, and in 2015 the Oireachtas Justice Committee recommended Ireland follow suit, following months of research and public submissions.
Speaking in the Dáil in July, Byrne said legislation on clean injection facilities would be ready this autumn. The Fine Gael minister, who represents Dublin South Central, also spoke about a pilot programme were suboxone was given to 80 drug users as an alternative to methadone.
"Although the drug is available on a pilot basis, it is not one that can be freely administered because there are some people for whom it may not be suitable. I have been advised that it is a substance that may not suit everybody on methadone.
"That issue has to be developed further before any decision can be made. I am aware of suboxone and in contact with the relevant departments about it. I am also seeking medical advice on the matter."
Suboxone costs in the region of €2,000 per person per year, up to 10 times as much as methadone. However, it is less addictive and the risk of overdosing on it is lower.
A number of TDs have called for the drug to be accessible via GPs.
Byrne said wider access to the drug is one of several things on the table while the new drugs strategy is being developed.
"It is intended to examine all avenues under the national drugs strategy in terms of education, recovery and the various issues involved. In the course of that process many of the issues raised in the committee, and in the Dáil and Seanad, will be examined. I intend to do that as part of the consultation process.
"I will then come back to the members of both houses with the results. The process will take time, but it will be in the autumn."