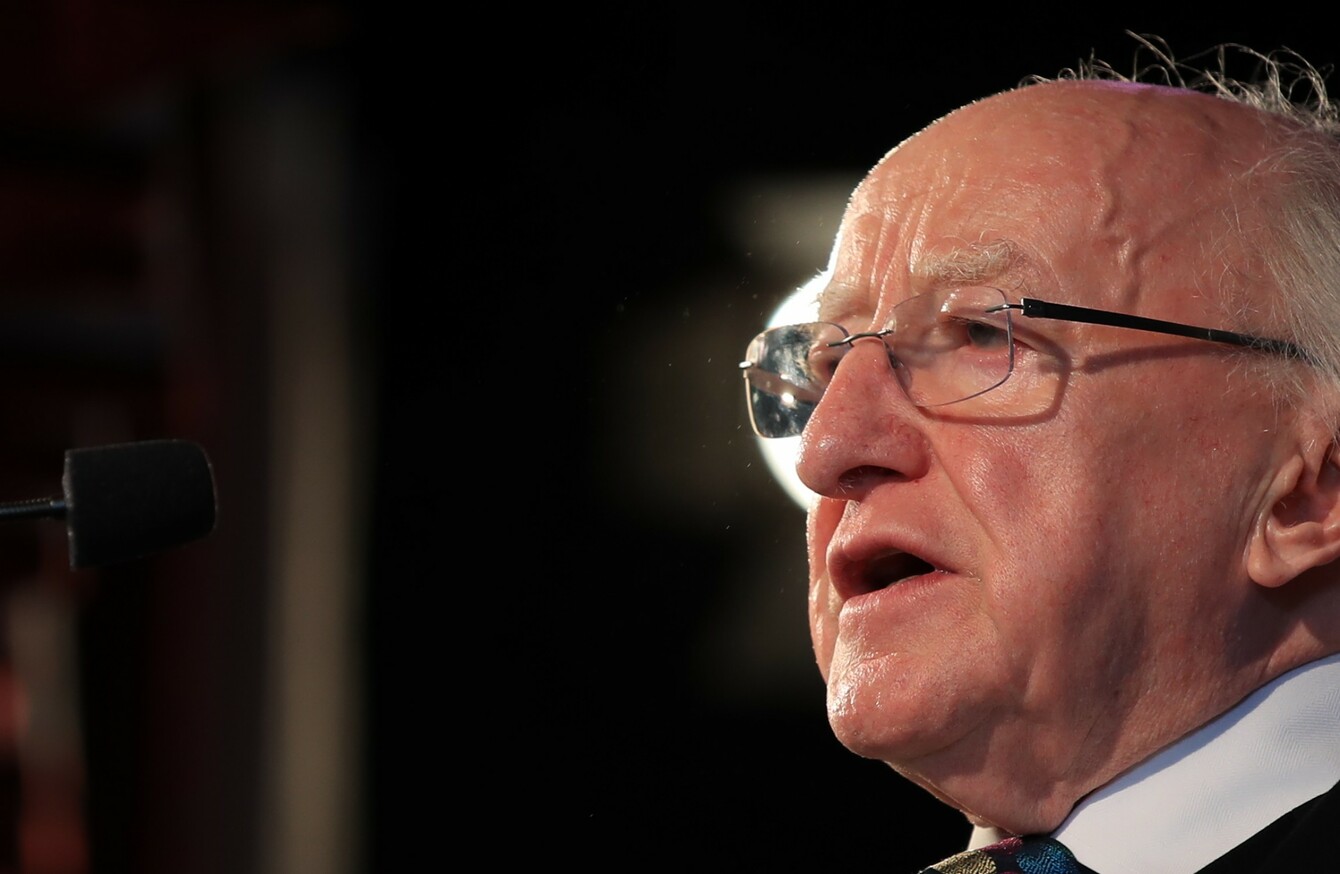 President Michael D Higgins
Image: Peter Byrne via PA Images
President Michael D Higgins
Image: Peter Byrne via PA Images
PRESIDENT MICHAEL D Higgins has said there is no challenge facing the international community that is more urgent than climate action. 
Higgins was addressing the United Nations General Assembly in New York last evening. 
During his speech, Higgins discussed multilateralism, the Israel-Palestine conflict, climate action, the Irish Defence Forces, refugees, the Nuclear Non-Proliferation Treaty and the Security Council. 
In relation to climate action, Higgins warned that "climate change is moving so much faster than the efforts we are expending or enlisting to address it".
The President said climate action is "essential" if member states are to achieve its Sustainable Development Goals, the UN's plan to build a better world for people and the planet by 2030. 
"The cost of inaction is catastrophic, far greater than what it will cost us to set out on a truly meaningful, corrective path," he said. 
Higgins referenced the "devastating impact" of the recent Hurricane Dorian in the Bahamas and said that it "tells us that the need for action is staring us in the face". 
He said that all countries, north and south of the planet, must "muster the courage to take action". 
"We must expose and oppose the obduracy in continuation of what has been shown to be unsustainable," Higgins said. 
Otherwise, we will be justifiably regarded by future inhabitants of our planet as having colluded in the destruction of the lives and life-worlds of some of the most vulnerable peoples of our human family and the biodiversity on which our planetary life depends. 
The President said he believes there are grounds for hope in the world making an appropriate response to climate action. 
He said "in so many places, the people have been giving a public leadership in assessing the seriousness of the situation facing the global environment". 
Higgins focused in on young people, who he says have shown "courage, innovation and resolve" in regards to climate action. 
His comments come after 16-year-old climate activist Greta Thunberg berated world leaders at a UN climate summit on Monday, accusing them of betraying her generation by failing to tackle greenhouse gas emissions.
Higgins said he agrees with UN Secretary General António Guterres "when he says that schoolchildren have grasped the urgency of climate action better than some global leaders". 
"They have been moved to assert themselves as they, having accepted the science, with which they are more familiar than older generations, and understanding the consequences of our present models, see the prospect of their futures disappearing due to inaction and short-term thinking," Higgins said. 
He continued: 
Young people, and citizens of all generations, are asking us now for more than a response to climate change. They are seeking authenticity of words and actions.
They are sensing the loss of trust that is the price of what is phony, shallow, loud for effect, and that seeks to build on fear rather than hope. They, these citizens made aware, are our allies for hope, responsibility and change.
It would be wrong, Higgins said, "to ask the UN as an institution to solely carry the burden for authenticity".
"That responsibility is on all of us as leaders and citizens to encourage those with whom we share this fragile planet, to create a yearning for such as that "vast and endless sea", of which Saint-Exupéry spoke – peace, justice, and freedom for all from fear."
Prior to his speech this evening, President Higgins met with the President of Lebanon Michel Aoun to discuss his visit to the country this October.