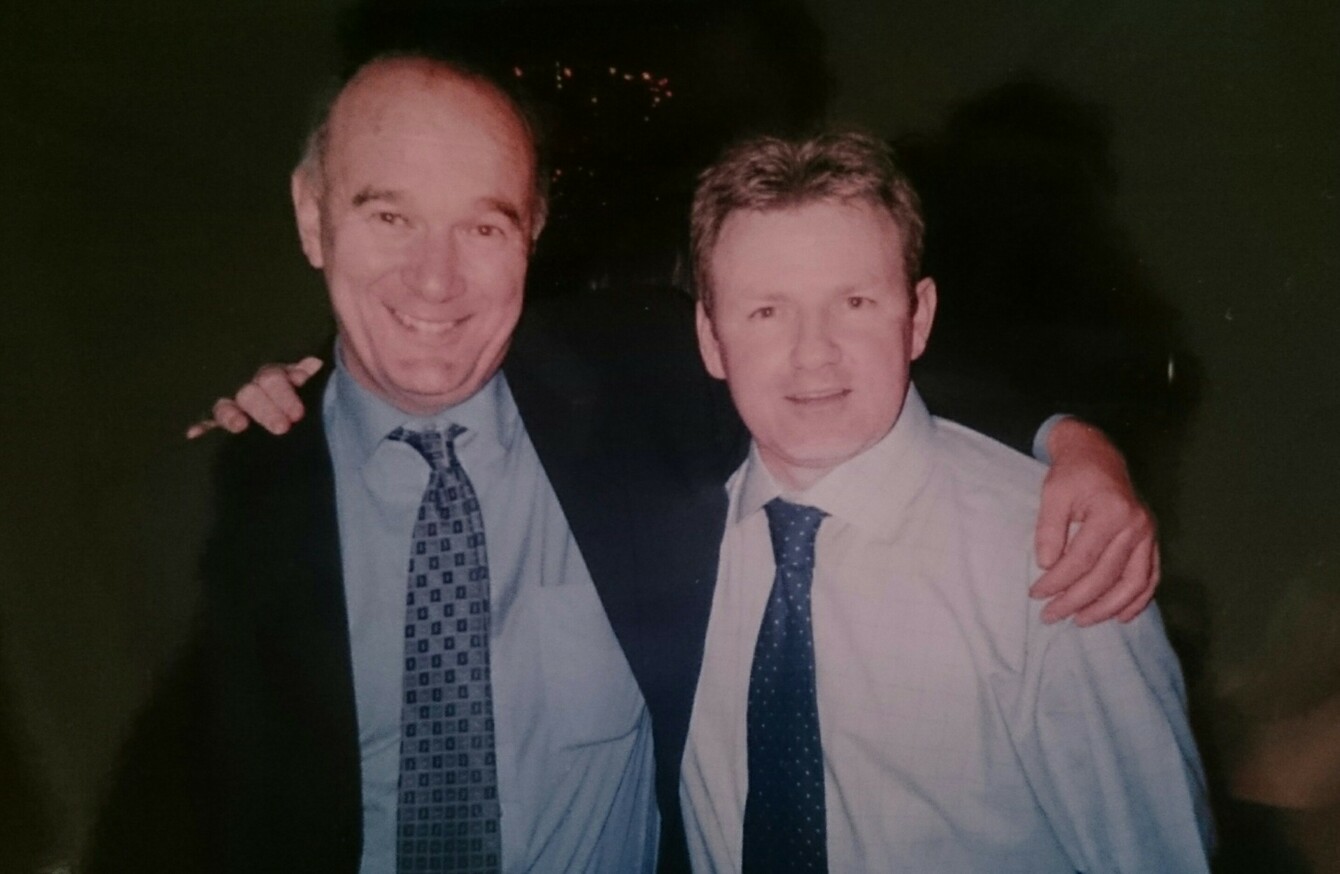 Dr David Hickey and Michael Mangan
Dr David Hickey and Michael Mangan
MICHAEL MANGAN PLAYED hurling with Dublin for several years until he retired in 1989.
He was fit and healthy. He didn't smoke or drink.
At the age of 30 he was diagnosed with kidney failure, just five months before his wife was due to give birth to their second child. He had his first kidney transplant in 1995.
In April 2002 he had a heart bypass, and a second kidney transplant the following December. In recent years he developed skin cancer twice.
His kidney function is now at 18%, when it gets to 15% – he expects this to happen in six to 12 months – he will be put back on the kidney transplant list.
Mangan told TheJournal.ie he has found great support in speaking to people who had similar health problems and been on dialysis.
In 2014, he and Dr David Hickey, former transplant surgeon at Beaumont Hospital in Dublin and All-Ireland winning footballer, set up Patient2Patient Shared Experiences – a support service that links patients affected by renal and pancreatic failure.
"Over the years I got great advice from my fellow patients in a very informal way. I decided to set-up Patient2Patient Shared Experiences so when a new patient is diagnosed with kidney or pancreatic failure we have fellow patients available to give them non-medical practical advice," Michael tells us.
It's a good reason to get out of bed in the morning … the feedback from the patients has been fantastic. It really helps people to hear from someone who has been down the same road.
Michael remains positive about the future, noting: "The only thing about it is it makes you stronger in the long run."
He said his wife Caroline "has been an absolute rock", saying: "It's one thing being the patient, but another to be someone dealing with it and raising a family."
Transplants 
Earlier this month, the Irish Kidney Association expressed its disappointment in the decrease of transplants from living donors carried out last year.
In 2014, there were 112 deceased kidney transplants from 63 donors. In 2015, there were 81 donors and 120 deceased kidney transplants.
The IKA said this represents "a significant decline in utilisation of available kidneys".
At the time Health Minister Leo Varadkar noted there were 266 transplants carried out in 2015, an increase of 15 on the previous year.
Beaumont Hospital released a statement addressing the issue "to allay the fears of patients and families with kidney disease across Ireland".
It noted that the overall increase in transplants was driven by 7% rise in the number of deceased donor transplants – something it says was achieved "despite significant understaffing".
While there were fewer living donor kidney transplants performed in 2015, this was caused by a sudden and dramatic reduction in potential kidney donors presenting for assessment. This reduction coincided with the announcement of the transition of the pancreas transplant programme from Beaumont to St. Vincent's Hospital early last year.
Varadkar has said pancreas transplants are due to recommence in St Vincent's this month "now that a suitable surgeon has been identified and tie up with Edinburgh agreed".
Beaumont has encouraged those interested in donating a kidney to a family member or loved one currently on the transplant waiting list to contact its transplant coordinators in on 01-8092298.