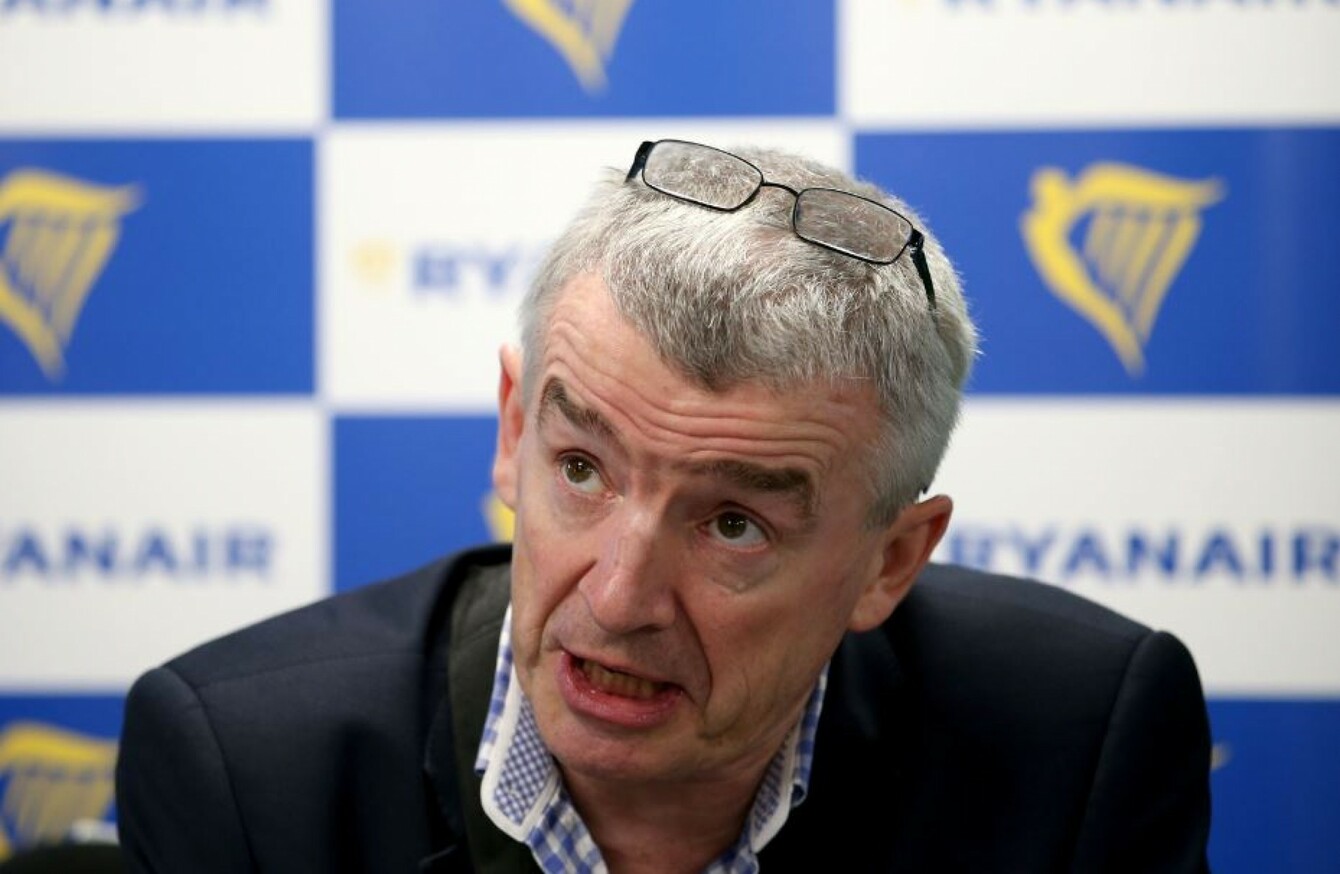 Ryanair chief executive Michael O'Leary
Image: Jane Barlow PA Wire/PA Images
Ryanair chief executive Michael O'Leary
Image: Jane Barlow PA Wire/PA Images
RYANAIR BOSS MICHAEL O'Leary has praised Transport Minister Shane Ross' handling of the ongoing Bus Éireann dispute.
Speaking to Ivan Yates on his new Newstalk show Yates on Sunday, O'Leary said: "I think he's played a blinder on the bus issue because he stayed out of it.
"And the minister should stay out of those issues where you have public sector unions running around trying to suck ministers and politicians into resolving disputes."
O'Leary said Ireland is "still dealing with the damage" caused by former Taoiseach Bertie Ahern "buying off the unions for many years". He said Bus Éireann management and unions need to come to a solution.
"Ryanair has long ago proven that transport belongs in the private sector, the public sector is incapable of providing an efficient service or a low cost service," O'Leary added.
'Wildcat' strike 
Ross has been criticised by some for not doing more to help solve the dispute. Secondary picketing caused major disruption to Irish Rail and Dublin Bus services on Friday.
Fianna Fáil's transport spokesperson Robert Troy said: "Minister Ross has once again failed to show any leadership, and this trait is fast becoming the hallmark of his ministry."
Córas Iompair Éireann is expected to take legal action against the National Bus and Rail Union over Friday's disruption and lost revenue it caused. The union has distanced itself from the secondary picketing, saying it was not officially sanctioned.
Ross has repeatedly said it is not his place to intervene in the dispute and called for both sides to negotiate.
Some 2,600 Bus Éireann workers have been on strike for over a week. They said they have been left with no other option but to continue their industrial action over cutbacks, which management said are necessary to save money as the company faces insolvency.