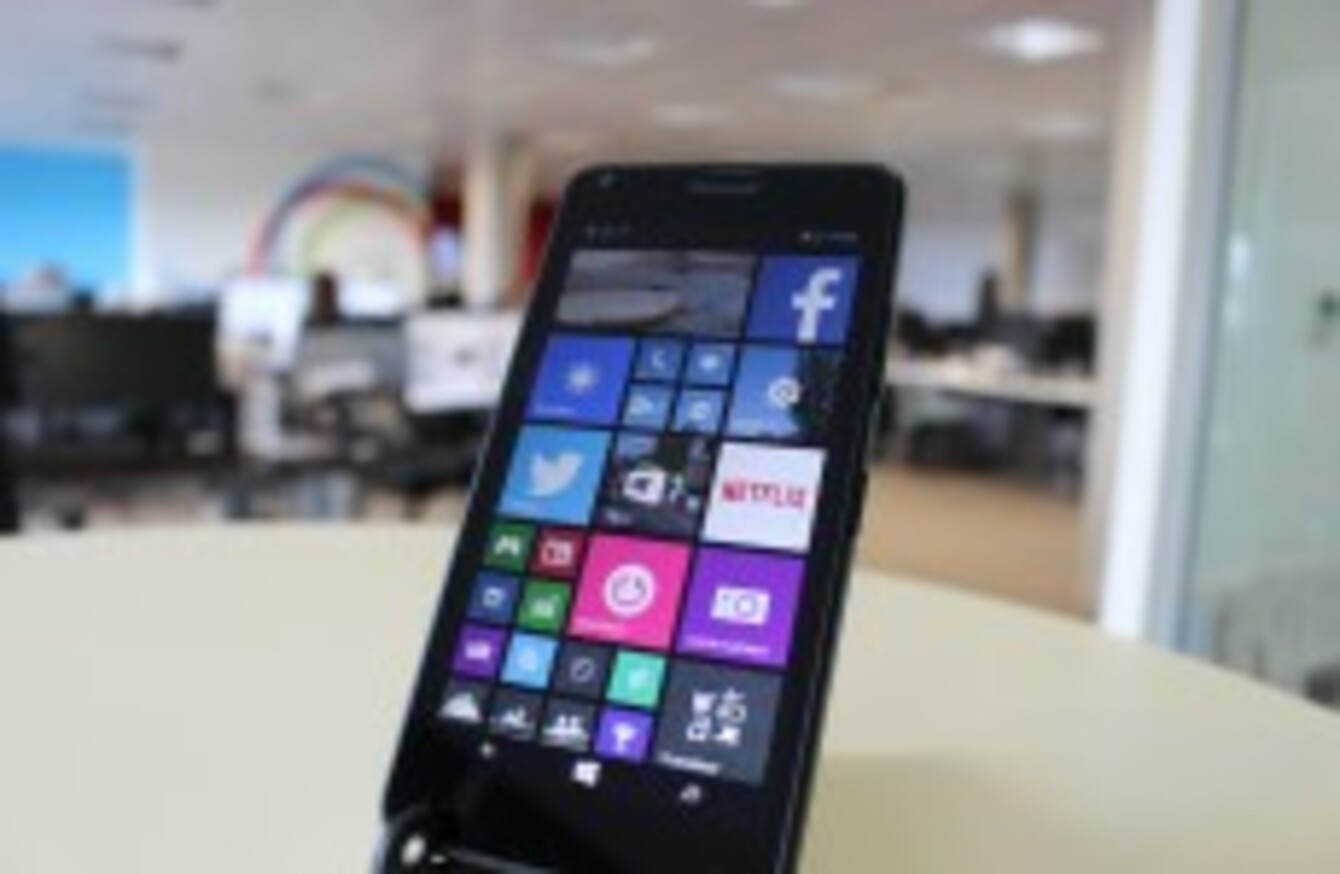 Image: TheJournal.ie
Image: TheJournal.ie
Score: 7.5/10
Verdict: A good budget phone that punches above its weight, but it's cheap for a reason.
Much has changed since Microsoft announced the Lumia 640 and XL back at Mobile World Congress. For one, the division has changed to Windows 10 Mobile, how it will look on smartphones is now much clearer and the aim to solve its app problem by porting iOS and Android apps could work (if it's as easy as it's making it out to be).
But for any of that to be a success, it needs to increase the number of people using Windows Phone which is why Microsoft has placed a lot of emphasis on budget phones.
With the price dropping with each new version, its latest version, the Lumia 640 (and 640 XL), is the cheapest it been so far but while the price is low, how does it fare?
Look and feel
At this point, Microsoft knows what it's doing when it developing a budget phone and the design is a primary example of this.
Plastic is the main component used here and the design is somewhat improved. Instead of a smooth, and removable plastic backing like the Lumia 735, it's gone for a slightly rough texture and evened-out sides.
It's no less comfortable to hold than any other Lumia phone despite the larger than usual screen (5-inches for the 640 while it's 5.7-inches for the XL version). but to look at, it's incredibly plain. Apart from the Microsoft branding, there's nothing memorable or eye-catching about it, but chances are you won't be buying it for style if you do.
Hardware
With the price hovering around €149-€159, the quality of specs on offer is pretty good so long as you're willing to make a few concessions.
A bigger screen on a budget phone would normally have you bracing yourself for a low-quality experience, but the screen is great for that price range. Live tiles are clear, looking at videos and images is pleasant and there's no trouble making out small objects on it.
For the most part, the specs are all about keeping costs down. A 1.2 GHz Cortex-A7 and 1 GB of RAM tells you it will have enough to deal with most tasks and even running demanding 3D games like Asphalt 8 was smooth for the most part.
The 640 only has 8GB of storage space so investing in a micro SD card is a necessity. It fills up pretty quickly, especially if you're taking photos often, and you will because the camera is great.
Sporting a 8MP rear end camera, the quality is far better than you would expect and even though the camera may have some small problems with exposure, you can expect some good quality photos.
On the other hand, the 1MP front facing camera is disappointing. It's there if you need to Skype someone, but the quality is pretty poor overall.
The other disappointment is the battery life which will last roughly a normal working day, and even less if you use it for intensive tasks.
Lumia 640

Lumia 640

Lumia 640

Lumia 640

Lumia 640
Software
While sounding like a broken record, the same pros and cons you would associate with Windows Phone 8.1 are present here. The benefits being Live Tiles, its ease of use and integration with Microsoft products and its camera software while the major issue is it missing a number of key apps and services.
Granted, you have Windows 10 to look forward to (both versions of the 640 are ready to upgrade) but that's a few months away at least so it's not worth considering at this point.
This smartphone runs on the latest version of Windows Phone 8.1 called Denim which brings it a few small updates that helps improve the interface.
The most noticeable differences would be live folders, improvements to Lumia camera, small improvement to screen glance and a rejigged settings menu which places options under subheadings, a small but essential change considering how much of a chore it was to find sections.
Should you buy it?
As far as budget phones go, the Lumia 640 does punch above its weight, but the usual caveats with Windows Phone still apply here. Microsoft has improved its budget phones with every offering and the 640 is a great addition to that range.
Provided you're not too pushed about getting the latest apps and you're on a tight budget, it's a solid device, but remember that you get what you pay for.
Pros
- Great screen and camera for the price.
- Decent specs, can upgrade to Windows 10 when it arrives.
- Good price.
Cons
- Battery life is average at best.
- Poor front-facing camera.
- Windows Phone still lacks some popular apps.
The Lumia 640 costs €149-159 PAYG and is available in Vodafone, Meteor and eMobile.