A baby migrant, who was rescued from a dinghy in the Mediterranean Sea, is carried by rescue worker after his arrival at Port of Malaga
Image: Jesus Merida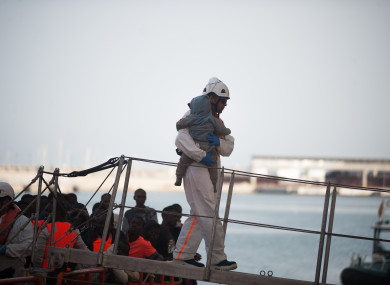 A baby migrant, who was rescued from a dinghy in the Mediterranean Sea, is carried by rescue worker after his arrival at Port of Malaga
Image: Jesus Merida
Updated Jun 24th 2018, 6:17 PM
ITALY'S INTERIOR MINISTER is defending Italy's decision to ask the Libyan coast guard to rescue an estimated 1,000 migrants without the help of aid groups.
Matteo Salvini was responding to the alarm raised by Spanish aid group Proactiva Open Arms, which said Italian coast guard authorities had declined their offer to come to the migrants' rescue.
In a tweet Sunday, Salvini said: "It's right that the Libyan authorities intervene, as they've been doing for days, without having the NGOs interrupt them and disturb them."
Barcelona Mayor Ada Colao, who previously offered Barcelona as a port when Italy refused entry to another aid group's rescue ship, repeated her willingness to take in the migrants and urged Prime Minister Pedro Sanchez to intervene to allow Proactiva's ship to "save lives".
'The future of Europe'
Italy's populist 5-Star Movement is demanding that European countries step up and actually take action to deal with hundreds of thousands of migrants on the continent, warning that the future of Europe is at stake.
The 5-Stars, who are in a ruling coalition with the anti-migrant League party, penned a blog today titled 'The migrant hypocrisy sinks Europe' as EU leaders met in Brussels on migration.
The post complained that few countries even came close to accepting the redistributed migrants they pledged to under a failed 2015 EU plan to ease the burden on Italy and Greece.
The post said: "It's time for Europe to find itself again in the principles that everyone preaches, but few sincerely practice," saying what is at stake is "the future of Europe as a political community and its values".
Spanish Prime Minister Pedro Sanchez has accused Italy's new populist government of being "anti-European" in its immigration policies by putting national self-interests ahead of efforts to forge a united front in the European Union.
But he also notes that other EU countries have failed to help Italy cope with the arrivals of large numbers of migrants across the Mediterranean Sea.
Informal talks
The leaders of Germany, France and about a dozen other European Union nations converged in Brussels for an afternoon of informal talks on differences over migration ahead of a full EU summit that starts next Thursday.
Facing a domestic political crisis in Germany over the topic, Chancellor Angela Merkel sought to get EU leaders to forge a joint approach to manage the influx of migrants and refugees, a divisive issue which is now back at the heart of the EU too.
There are deep divisions over who should take responsibility for arriving migrants, how long they should be required to accommodate them, and what should be done to help those EU countries hardest hit like Italy and Greece.
Tensions between Italy and Malta are flaring anew over the fate of a German rescue ship with 234 migrants aboard that has been denied a port to disembark them.
Malta's home affairs minister, Michael Farrugia, and Italy's transport minister, Danilo Toninelli, engaged in a Twitter war of words over which country was being more "inhuman" about the fate of the Lifeline and its passengers.
Italy has demanded Malta let the Lifeline dock since it's currently in Maltese waters. Farrugia tweeted: "Why weren't they allowed to dock immediately in Italy, like Italy is now asking Malta? That's the true inhumanity."
Maltese Premier Joseph Muscat sought to lower the rhetoric as he arrived in Brussels for a migration meeting, saying now was not the time for a "blame game".
For its part, the Lifeline issued a tweet to Italy's hard-line interior minister: "Dear Matteo Salvini, we have no meat on board, but humans. We cordially invite you to convince yourself that it is people we have saved from drowning."
Human rights
French President Emmanuel Macron is saying that any solution to immigration should be based on the human rights and solidarity principles that the European Union stands for.
Speaking as he came into the EU's informal mini-summit on migration, Macron said if no deal could be found among all 28 EU nations, a smaller group of them could push ahead to deal with the issue. Migration across the Mediterranean Sea is down sharply from last year but it is dominating Europe's political agenda.
As such, he echoed German Chancellor Angela Merkel, who was also calling for bi- and trilateral agreements among member states to make progress now.
The core of any agreement though, he said, must be the steadfast respect of human rights.
"The values of Europe are the respect for human rights and individuals, the respect for nations and their integrity. It is the solidarity that holds us together," he said.