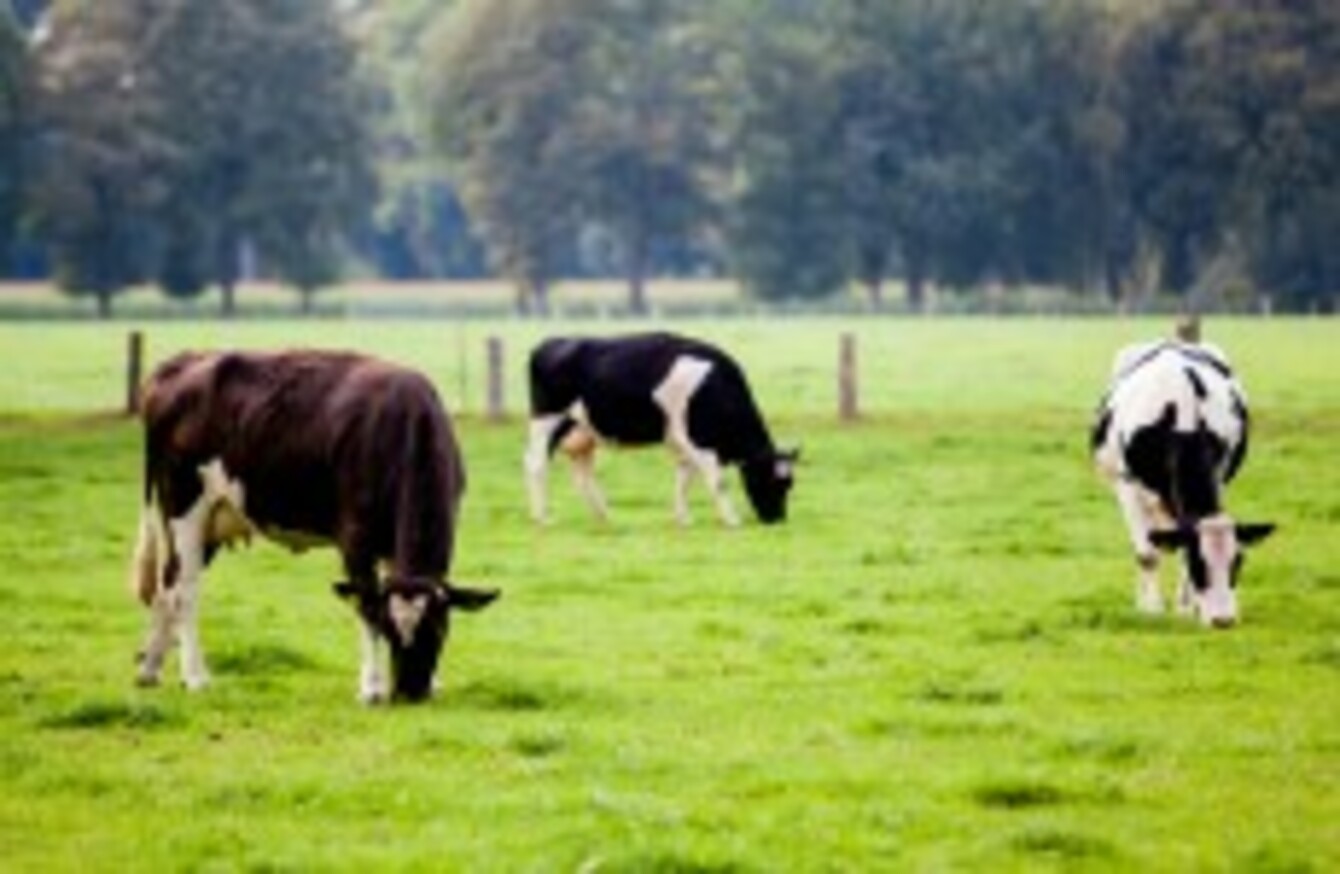 Image: Shutterstock/Ewa Studio
Image: Shutterstock/Ewa Studio
AGRICULTURE MINISTER SIMON Coveney has poured cold water on assertions that the removal of EU milk quotas tomorrow will lead to a massive reduction in the amount of dairy farmers in Ireland.
A report in today's Irish Independent had suggested that the number of Irish dairy farmers will reduce by about 3,000 in the next five years, and a further 5,000 in the longer term after that.
This would stem from consolidation and expansion by bigger dairy farmers in traditional dairy holdfasts like Cork, for example, with farmers on less suitable land unable to compete or being swallowed up whole.
The reduction in numbers would come despite Ireland's milk production being expected to increase by two billion litres yearly now the quotas have been removed.
Speaking to RTE's Today with Seán O'Rourke, Coveney cut a particularly confident figure as he dampened fears and insisted that the banning of milk quotas is a 'huge new opportunity'.
"This is going to create 10,000 new jobs across rural Ireland.  We've been preparing for it for three years, it's not going to take people by surprise," he insisted.
A loss of farms is not a new thing.  We had 65,000 in 1984 before milk quotas came in, we have only 18,000 now, quotas have not been a protection.
Farms may expand or consolidate, I can't say for sure which, but we will be creating 10,000 jobs.  We will have 300,000 more cattle soon, you need one person for every 100 cows give or take.
Cork IT believe we will have 4,000 new jobs in Cork alone.
When it was suggested to Coveney that according to the Irish Times on 12 March Irish milk prices had dropped to as low as €0.28 per litre last year, the minister was dismissive.
No, that is not the case.  People had speculated that prices might fall to the mid-twenties but it didn't materialise, you need to check your facts there.
Sometimes politicians are more accurate than journalists you know.
The minister insisted that the 'premiumisation' of Irish dairy produce (i.e. quality not quantity) is now reaping significant rewards.
Even when milk prices fall Irish farmers will do better because of the quality of milk they produce.
When it was suggested to him that Irish agriculture was in danger of becoming the 'new property' Coveney was similarly dismissive.
Hardly any Irish farmers have debts.  What we would say to them is, if you're going to expand, and about 80% of them plan to, do it with a business plan.  Farmers don't want to be working for the bank.
Earlier, president of the Irish Creamery Milk Suppliers Association John Comer told TheJournal.ie that the reduction in dairy farmers is nothing new, and that the reasons for it need to be recognised.
"It's a long-term trend, and it will probably continue but the caveats need to be recognised," he said.
There will be some farmers, mainly in the south Leinster and Munster areas, who will switch from other types of farming into dairying; we're seeing that already.
But against that the younger milk suppliers intent on, say, double-digit expansion in production need additional land and might borrow to acquire that land from older neighbours who may decide that they're not going to borrow and invest at the  stage they're at.
The most important thing here is that every party to this accepts that if a single-person farmer milking between 40-50 and 90 cows cannot make a living in the post-quota era then it's all for nothing.
We absolutely reject the idea that everyone must now scale-up or exit.
Make haste slowly. Any farmer who expands should do it for his own sake, not because the hurlers on the ditch are telling him to.