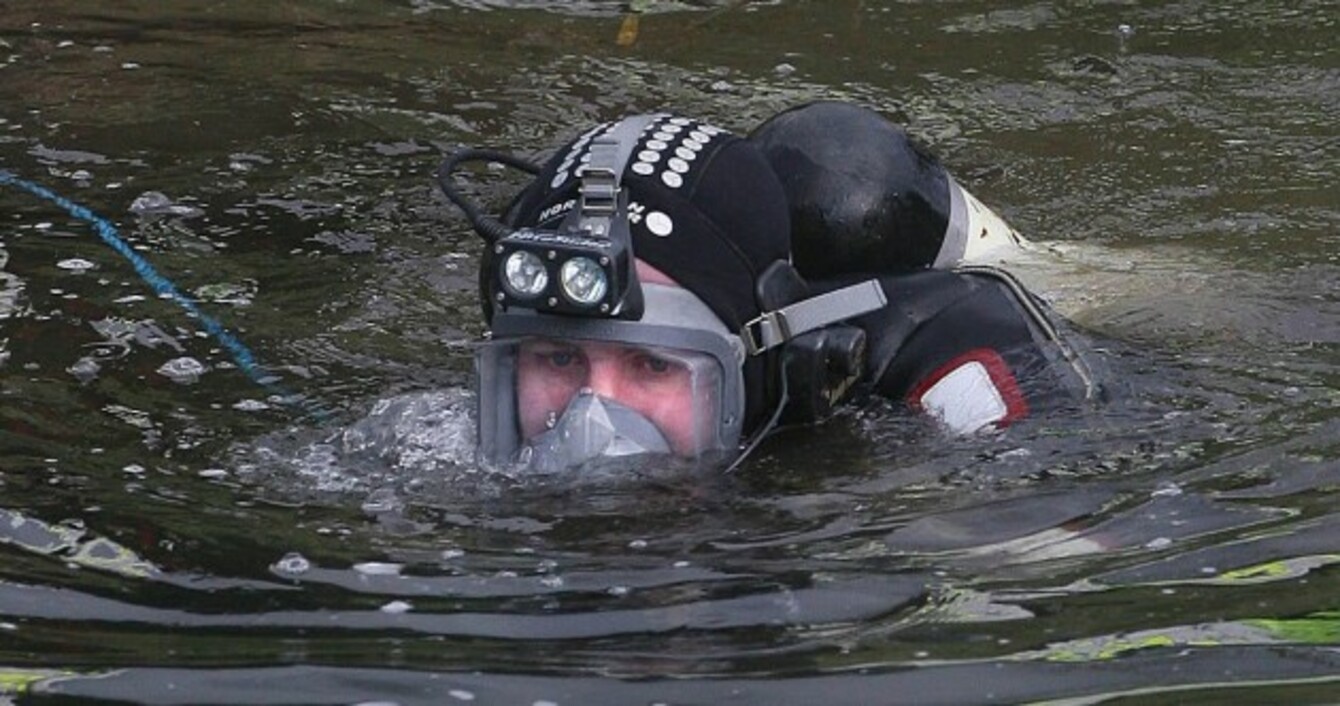 Image: PA WIRE
Image: PA WIRE
WHEN PEOPLE ARE reported missing, there are a number of possible outcomes: many people are found safe and well within hours or days.
Others – sometimes by choice, sometimes in mysterious and suspicious circumstances – are never seen again.
Yesterday, we brought you the stories of the volunteer search and rescue crews who help families achieve some measure of closure by searching for bodies in the days and weeks after a loved one goes missing.
As part of our 'Missing' series, we've been speaking to the specialist garda members and investigators who work as part of the sub-aqua team who search – often in incredibly tough conditions – for clues on the fate of those presumed murdered.
The Melissa Mahon case 
A 14-year-old girl went missing from a care home in 2006. It was a case that got little media coverage until her body was found 18 months later.
Melissa Mahon had been murdered, put into a sleeping bag wearing a Disney nightdress and thrown into a river.
It was an incredibly distressing case. It's one that remains with Sergeant Eamonn Bracken – a 15 year veteran of the sub-aqua unit – to this day.
The thing I always remembered is that nobody seemed to notice this 14-year-old was gone, it didn't seem to get into headlines at all.
Mahon was in the care of the HSE when she disappeared. The teenager had gone missing from a care house on 13 September 2006, and was then placed in a foster home.
However, she ran away from the foster family on the same day and a social worker stayed with her at a garda station that night. Mahon also ran away from the social worker, on the morning of 14 September.
It's believed she was strangled to death on some date between 14 and 30 September – but it wasn't until 18 months had passed that her remains surfaced in Lough Gill in Sligo.
"When we searched the lake we discovered the first parts of the remains of that little girl," Bracken recalled.
"She had been put into a sleeping bag and thrown into the river.
It was in January 2008 and the weather was horrific, but it was all worth it in the end, when everything is put together and we can get a conviction.
Ronnie Dunbar received a 15-year sentence for Melissa's murder.
At the trial, all of the items that were found in the search were shown to the court by a member of the garda underwater unit. They included Melissa's remains, a sleeping bag, a tie (which was used to tie the sleeping bag) and a faded cream nightdress with a Beauty and the Beast illustration on it.
The trial heard that Dunbar strangled the young girl before putting her body in the sleeping bag and weighing it down with stones. Bracken said:
There's a huge sense of work satisfaction … When we get to the site and you see a distraught family – there is satisfaction, because it's a job well done.
The Scissor Sisters 
Bracken was also with the garda sub-aqua unit during its involvement in one of the most high-profile (and most gruesome) murder cases this country has seen.
I suppose the one I'll always remember would be the search of Farah Swaleh Noor in the case widely referred to as that of the Scissor Sisters.
Noor – a Kenyan immigrant – was murdered by his girlfriend's daughters Charlotte and Linda Mulhall.
The killing took place at a flat Kathleen Mulhall was renting in Summerhill, on the northside of Dublin city, on 20 March 2005. Noor was stabbed up to 20 times and his body was cut into pieces, before being dumped in the canal.
The sisters infamously brought his head on a Dublin Bus, and hid it in a park in Tallaght before it was moved again to another location.
We did a lot of work on that case, we went to where the initial body parts were found in the Royal Canal.
A torso was found in the canal in March 2005, ten days after Noor had been murdered.
Bracken also said, "We later recovered a knife and hammer in Tymon Park in Tallaght, which was used in the murder."
Charlotte Mulhall was given a mandatory life sentence. Linda Mulhall was given a 15-year sentence for manslaughter – and the pair remain behind bars today.
Elaine O'Hara
The garda sub-aqua unit played a pivotal role in the investigation into Elaine O'Hara's death, gathering evidence from the bed of a reservoir in Co Wicklow across days of searches.
The Killiney woman's body was found in the Dublin Mountains in September 2013, a year after she went missing.
At the same time, nearly 20 miles away, Garda James O'Donoghue was re-searching Vartry Reservoir after bondage equipment had been found there three days earlier.
Most of Elaine's clothes, her keys and her glasses were found in the reservoir. The barcode on a Dunnes Stores loyalty card identified that the 36-year-old was the owner of the tag.
Sub-aqua team 
At that stage the scene was closed off and the garda sub-aqua unit called in. They subsequently found two mobile phones – a discovery that played a key role in the conviction of Graham Dwyer.
A garda source talked TheJournal.ie through the procedure in such cases:
"If there's anything found belonging to a missing person, then it's a crime scene.
"It's described as a crime scene from that point and you've got all the forensics that go with that to see if there's any hint of the person on the items.
You have to take all the precautions and as you come across anything the area has to be isolated.
"Items found are stored in each division's PEMS [Property Exhibits Management System, a secure facility for evidence] stores.
If it's a gun it goes to the technical bureau for testing. Items are kept unless the State applies to destroy them.
When a body is found, "obviously it becomes a very sterile crime scene".
"A preliminary examination is carried out on scene before the body is taken away for a post-mortem.
The state pathologist will nearly always visit the scene while the body is in situ, they have to know the position of the body when they do the post-mortem.
Black water 
Retired garda sergeant Thomas 'Tosh' Lavery spent 30 years in the unit and says "diving for bodies is like nothing else in the world.
It's done almost always in nil visibility, feeling your way around.
Nil visibility is a term used to describe black water, where you can't see anything at all – like when the base of a river or lake is stirred up after a heavy fall of rain, or at the mouth of a river when saltwater meets freshwater.
The work of the sub-aqua unit is difficult – physically and mentally – but it can be key to a murder investigation, even years after a person has gone missing.
In spite of the stress, the often freezing conditions and the long hours – Sergeant Bracken stresses:
There is a huge sense of job satisfaction when you see what you've done and the part you've played in it when people are eventually convicted.
The national Missing Persons Helpline can be reached on 1890 442 552 or through this website.