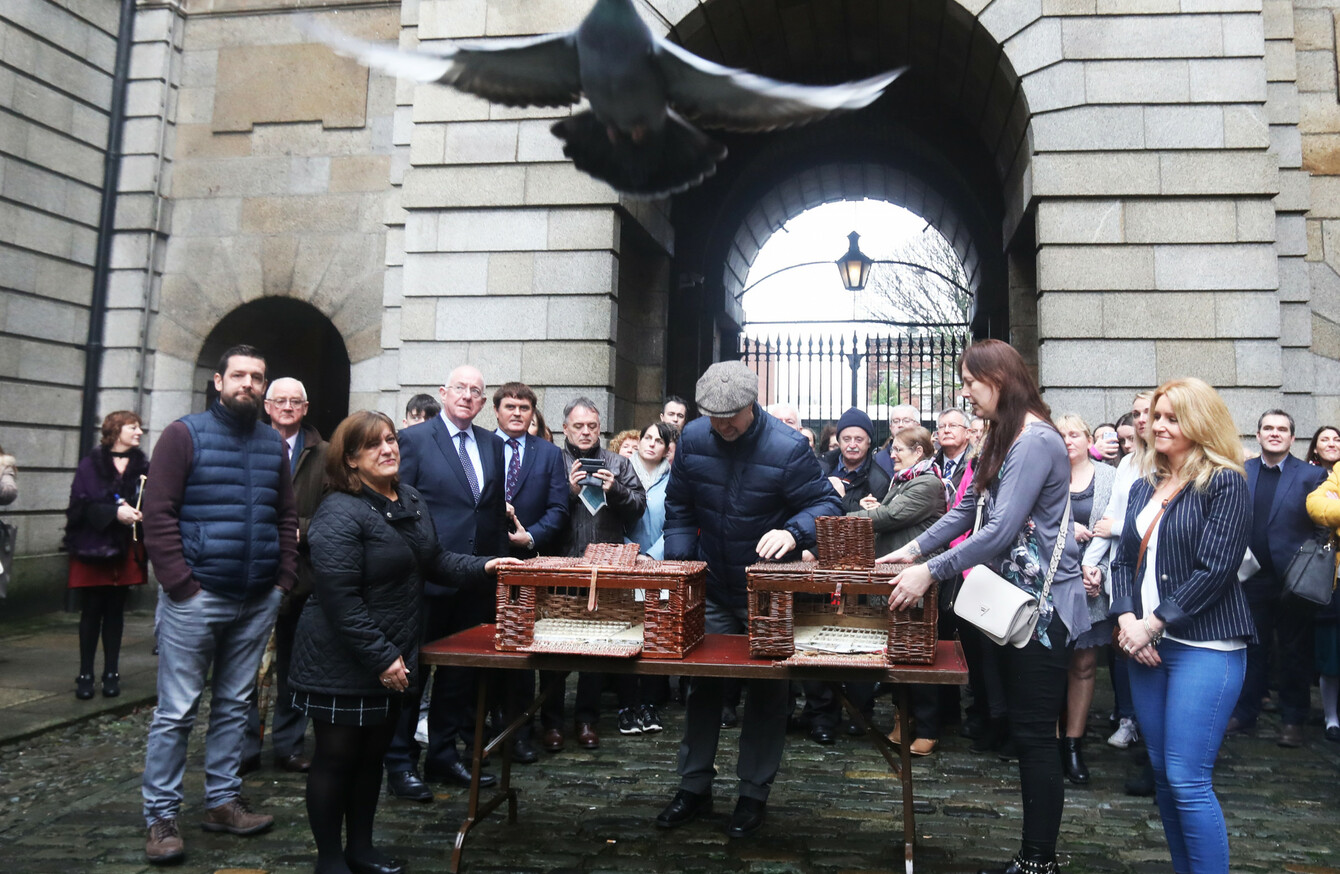 As part of the Missing Persons Day ceremony, family members released a number of homing pigeons.
Image: Leah Farrell/RollingNews.ie
As part of the Missing Persons Day ceremony, family members released a number of homing pigeons.
Image: Leah Farrell/RollingNews.ie
FORENSIC SCIENCE IRELAND has developed new testing processes in the last year that will allow them to revisit a number of cases of unidentified remains in the coming months.
These processes have already had success, helping in the identification of the remains of three people in the last six months alone.
In October, bone fragments that had been found in Bunratty, Co Clare in 2001 were identified as belonging to Aengus 'Gussie' Shanahan, a 20-year-old man from Limerick who had been missing for 18 years.
The remains of Margaret Glennon, who went missing in 1995 were recovered in 2014, but were only identified recently using these new tests.
The processes also helped to match remains found in 2002 to James Gallagher, who has been missing since 1999.
Speaking at the National Missing Persons Day ceremony in Dublin, Dr Dorothy Ramsbottom of Forensic Science Ireland said there were two big developments that led to these successes.
The first is an improved bone extraction technique that is particularly good at generating profiles from bones that have been immersed in water for some time. The lab has also improved its searching capabilities so it can perform familial and pedigree DNA searches on its daabase.
She said Ireland is one of the few jurisdictions in Europe that provides this service.
"It has allowed us to revisit archive samples as far back as the late 1990s and we are now having some successes," she told family members of missing persons at the ceremony.
She said there are approximately 20 cases that "have to be revisited".
This work is slow and tedious however our work in the coming months will be on these samples.
The ceremony also heard from Claire Shine, whose 28-year-old son Paul Shine Dixon went missing while travelling in France in 2009. His remains were found in 2017 and identified through DNA testing in July this year. 
"At times over the years I found it difficult to go through or concentrate on anything else that was going on. The lack of sleep was awful, always fearing the worst and spending day after day trying to think of things that might help find him," she said. 
The family had provided DNA samples to gardaí for the database and in July they were contacted and told human remains found in December 2017 in Perpignan had been identified as Paul's.
The physical feeling of well being that flowed through me on hearing this news is hard to explain. Different feelings ranging from complete sorrow now that all hope of finding Paul alive was gone, to the happiness that he was finally found left me completely overwhelmed.
Dr Ramsbottom said she wanted to stress to families the importance of providing Forensic Science Ireland with samples as remains can only be matched to a profile if it is on the database.