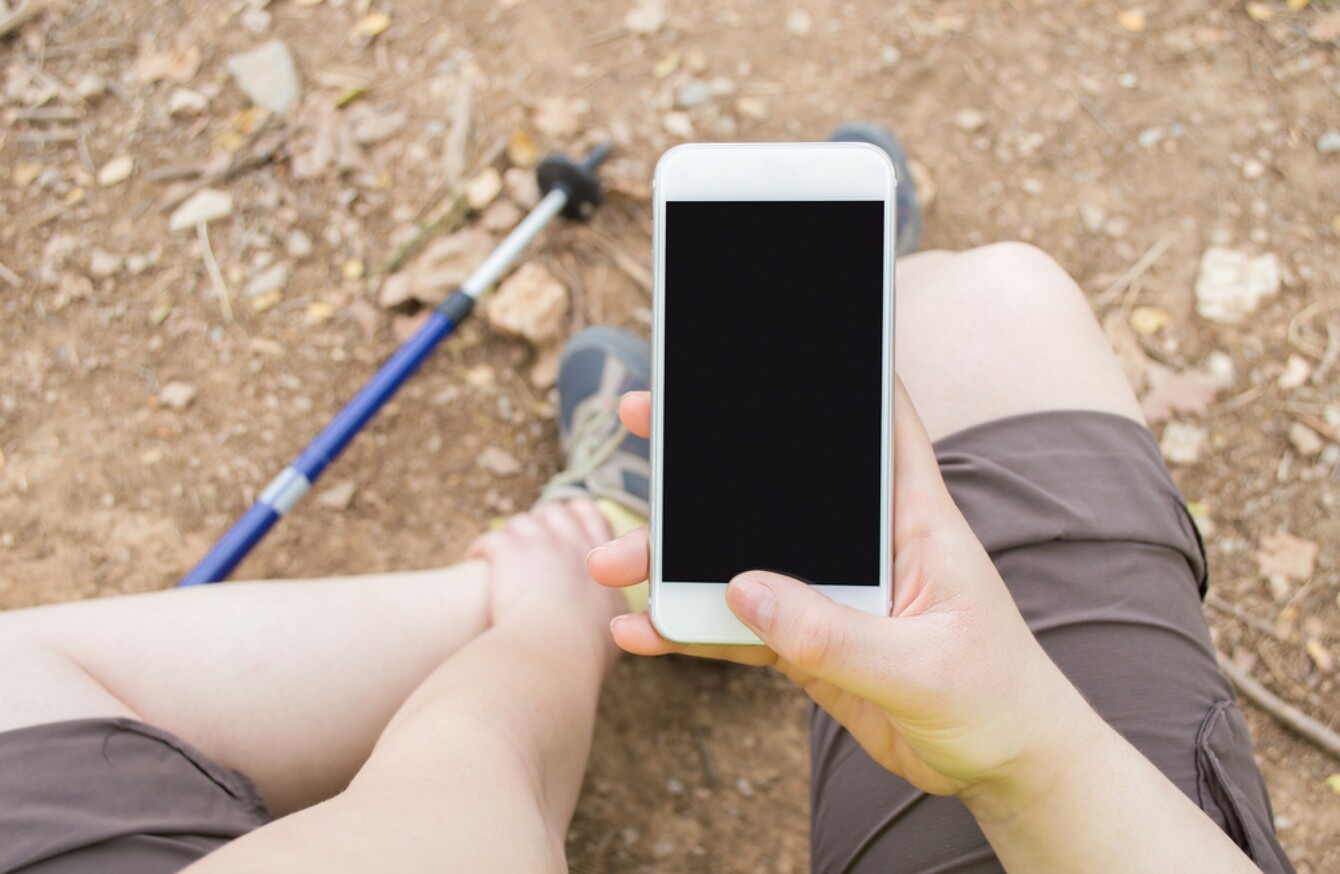 (File photo) Injured hiker calls emergency services for help.
Image: Shutterstock/cunaplus
(File photo) Injured hiker calls emergency services for help.
Image: Shutterstock/cunaplus
THE EXACT LOCATION and GPS coordinates of those that call 999 or 112 from their Android mobile phones will soon be sent by text to emergency services.
A pilot scheme for Advanced Mobile Location (AML) is currently underway with three major phone network providers and is due to be officially launched by the Minister for Communications, Denis Naughten, in a matter of weeks.
The new system for emergency callers is aimed to provide locations in circumstances where:
Victims of assault or medical emergencies who are unable to speak or provide location information
Suicidal callers who do not provide location
Children or adults with intellectual disabilities that may be unable to provide exact locations
Visitors/tourists who may not know precise location of emergency
Car accidents on a rural roads with no signage
Domestic violence callers who are too fearful to speak
The location technology, which has been developed by Google, is a lot more precise than the information which is currently received for standard mobile phone calls.
How will it work?
When an emergency call is made, the phone will activate GPS and send a text message in the background with the location information. The location information is a lot more exact than that received from standard mobile calls.
Minimum battery level on the phone is needed to enable the service and there is no charge to the caller for the text.
Unlike other location services, no app installation is needed for the service to work. Callers simply call emergency numbers 999 or 112 as normal, and a text will be sent.
Currently, it is only the location of the nearest mast that is sent when a mobile phone is used to dial the emergency services for help.
When someone calls the Emergency Call Answering Service (ECAS) in Ireland, the cell identity is supplied with the emergency call, which is then looked up in the ECAS database. The information is then converted into a geographic location. This is the standard approach throughout Europe.
Mobile phone masts
However, a commonly cited problem with cell ID is the variance in distance which may apply around a particular network mast.
Mobile network masts can sometimes be at least 10-15 kilometres away from the location of the actual emergency, making it a lot more difficult for first responders.
A report for Ofcom in the UK noted that the cell ID location could be up to one kilometre away in dense urban areas and 35 kilometres away in remote rural areas. The report also states that accuracy can occasionally decrease further when a handset connects to a mast further away for reasons such as signal strength or congestion.
While mobile phone technology has moved on significantly in the last decade, there has been no agreement reached globally as to how location information can be best used by the emergency services.
#Open journalism No news is bad news Support The Journal

Your contributions will help us continue to deliver the stories that are important to you

Support us now
Google technology
The department states that in the absence of any such standards, Google developed it's own approach for emergency callers on its Android operating system.
Speaking about the new technology, Minister Denis Naughten said the precise device based location "will be of vital assistance to the emergency services in responding to and dispatching emergency personnel to callers in need across Ireland, but particularly in rural areas".
He added:
It will save time and potentially safe lives. People of all ages in need of several types of emergency assistance will be helped by this technology.
The Emergency Call Answering Service receives on average 4,000 mobile calls per day. In Ireland, Android market penetration is in excess of 60%, which means that when the system is fully enabled precise device based caller location could be provided and seamlessly made available for up to 2,400 calls per week.
AML is currently going live for all Android mobile phones being used on mobile networks in the UK and Estonia.
Norway, Sweden and Finland are at an advanced trials solution and are expected to go live in the next few months.
Naughten confirmed he will be launching the service in Ireland within three weeks.
The European Emergency Number Association anticipates that ten countries will be AML-ready by the end of this year.
While there may be concerns about how personal location data is used, it is understood that privacy and data rights for all phone users is to be maintained.
AML is only triggered when an emergency call is made from the phone.