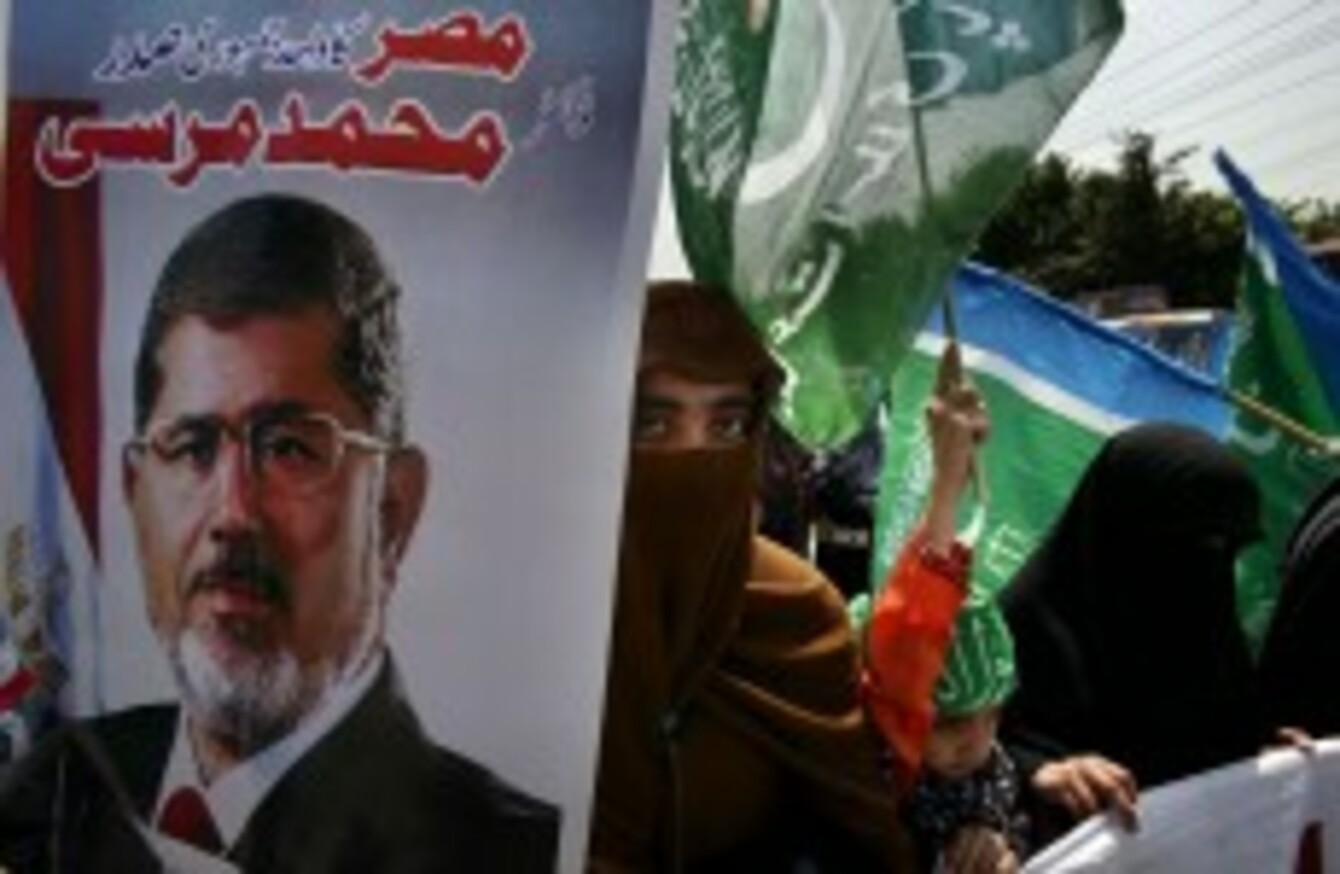 This woman holds a poster of ousted Egyptian President Morsi that read "Mohammed Morsi is the only democratic president" during a demonstration in Pakistan yesterday. (AP Photo/Anjum Naveed)
Image: (AP Photo/Anjum Naveed)
This woman holds a poster of ousted Egyptian President Morsi that read "Mohammed Morsi is the only democratic president" during a demonstration in Pakistan yesterday. (AP Photo/Anjum Naveed)
Image: (AP Photo/Anjum Naveed)
OUSTED EGYPTIAN PRESIDENT Mohamed Morsi is to stand trial in a criminal court for "incitement to murder", state television has reported.
It said the former leader would stand trial along with 14 other suspects in his Muslim Brotherhood movement on charges of "incitement to murder and violence" in December 2012 when deadly clashes broke out between his supporters and opponents outside the presidential palace.
Already accused of crimes related to his 2011 escape from prison, Morsi has been held at a secret location since his ouster by the army on July 3.
The co-defendants in the trial include senior Brotherhood figures Mohamed al-Beltagi and leaders such as Essam el-Erian, deputy head of the Freedom and Justice Party, the Brotherhood's political wing.
Last December, thousands of demonstrators gathered in front of the presidential palace in Cairo to protest against a presidential decree that expanded Morsi's powers and an Islamist-drafted constitution.
A court in July ordered Morsi's detention for questioning over alleged ties with Palestinian militants in prison breaks and attacks on police.
Egypt has pressed a fierce campaign against the Brotherhood since the former president's ouster and effectively decapitated the Islamist group by arresting its supreme guide Mohamed Badie in late August.
Authorities have also arrested more than 2,000 Brotherhood figures since Morsi's ouster.
Brotherhood defendants, including Badie, were due to appear in court on August 25 but kept away for what authorities said were security reasons. A new hearing is to take place on October 29.
Badie and his deputies Khairat al-Shater and Rashad al-Bayoumi face charges related to the deaths of protesters who stormed the Brotherhood's Cairo headquarters on June 30.
Three other Brotherhood members are standing trial with the leaders, accused of carrying out the murders at the end of June.
Egypt's interim president Adly Mansour announced a 50-member panel yesterday to draw up a revised constitution but without the inclusion of the Muslim Brotherhood which has declined to take part.
The Muslim Brotherhood has lost its ability to bring people out in large numbers because of the sweeping arrests that have netted its top leaders.
On Friday several thousand Egyptians protested in Cairo in support of Morsi, far fewer than had been hoped for by harried Islamists, who had called for mass rallies.
Morsi, Egypt's first democratically elected president, served for only a year before the military ousted him in the popularly backed coup in July.