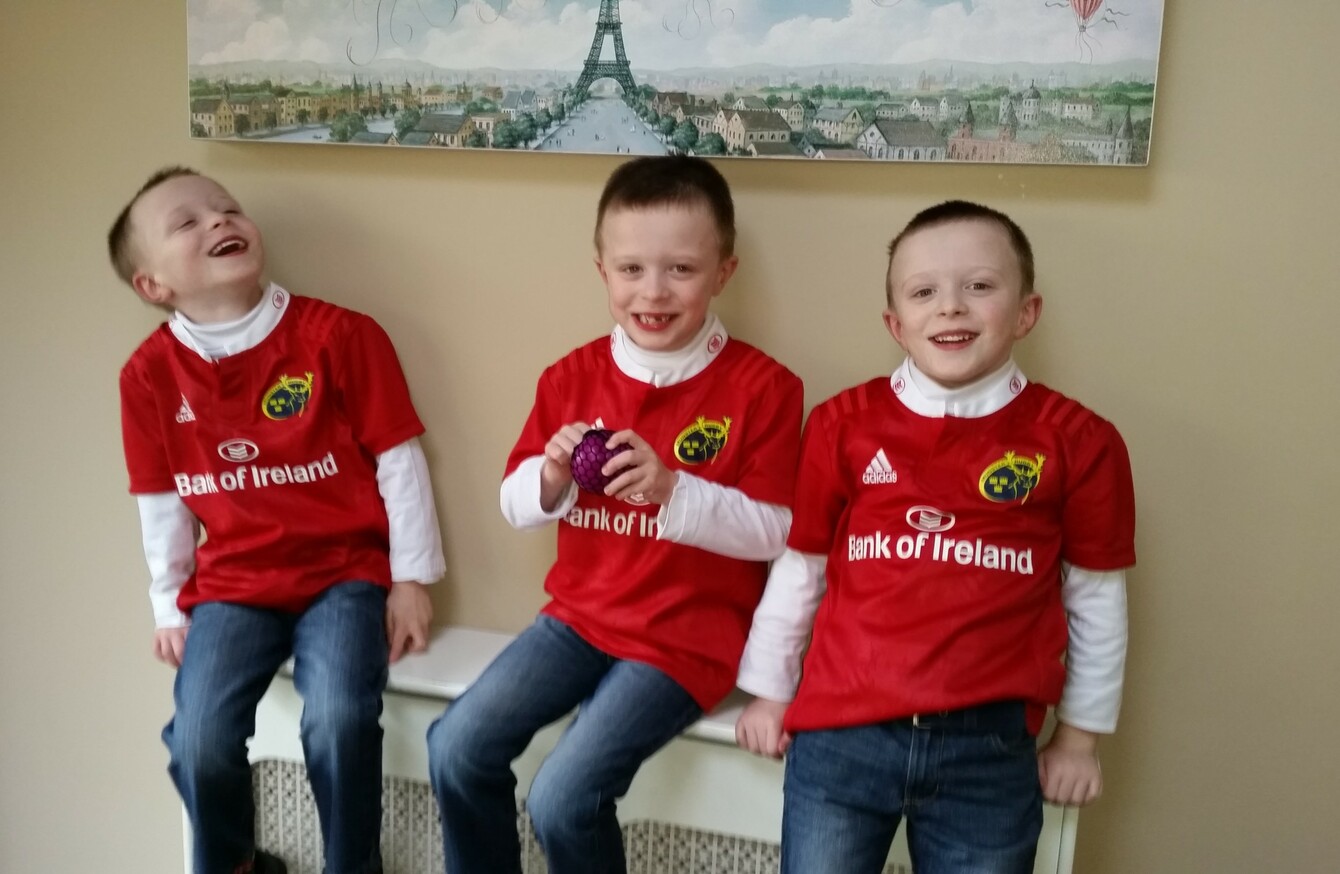 Alex, Kyle and Rian were all diagnosed with autism three years ago.
Alex, Kyle and Rian were all diagnosed with autism three years ago.
A CORK MOTHER has described the moment she found out her identical triplet sons had been diagnosed with autism.
Avlyn McKeown believes her five-year-old boys, Alex, Kyle and Rian, may be the first set of triplets to be diagnosed with autism in Ireland.
When they were diagnosed three years ago, it triggered a grieving process, she said.
"I cried obviously," McKeown told The Ryan Tubridy Show on RTÉ Radio 1 this morning.
It's a grieving process and that's what I stress to other parents who are starting out on this journey. You grieve for the childhood you expected your children to have.
McKeown said the triplets, who were conceived via IVF, were born 10 weeks premature. As a result, she didn't suspect anything was wrong when they were slow to hit milestones like babbling, sitting up and walking.
"I was told a typically developing triplet takes approximately 18 months to catch up to a full term baby. So I put everything down to prematurity," she said.
However, after a family friend noticed there might be something amiss, McKeown got the boys assessed. As well as autism, all three were found to have an intellectual disability. They have also never spoken.
Caring for the boys took its toll on McKeown's marriage, which broke down as a result, and she is now a single mum.
"I think multiple births do put strain on a marriage anyway.
"When you have extra needs thrown into all this it does put a huge strain on your marriage and you're so focused on the children I suppose, your relationship suffers as a result," she said.
Although the boys don't speak, McKeown said they are well able to communicate.
None of the three boys have ever even said 'mom' and for me that is the most important word I want to hear, their little voices saying 'mom'.
The boys have very different personalities, she said.
"Rian is a wild child. He literally would climb the walls…Kyle is mommy's boy, very cuddly. Alex is an introvert, but since he started school the difference is amazing," she said.
Every day is "mayhem" and McKeown says she doesn't get much sleep, but she says she has always remained positive.
I really do have a very positive outlook. My attitude is, I have three beautiful, gorgeous healthy, happy, little boys. They are physically perfect.
That physical perfection can take its toll when strangers don't understand why they have behavioural issues.
"That's the biggest stigma that surrounds autism," she said.