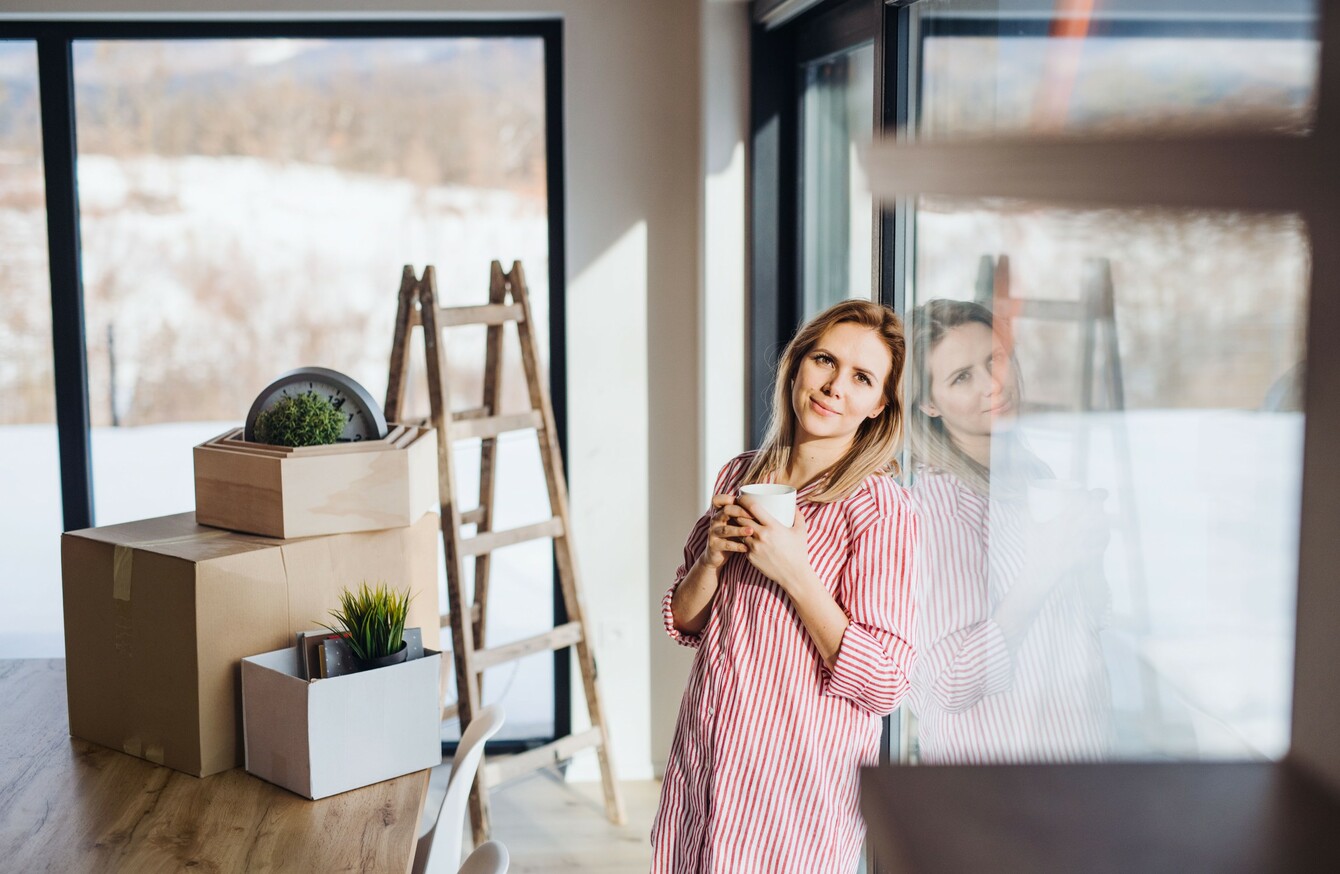 Image: Shutterstock/Halfpoint
Image: Shutterstock/Halfpoint
MOVING HOME CAN be a chore. But moving into your first home should be attached to pleasant memories if possible, so it's worth putting in a little planning to make moving day as successful as possible.
We checked in with some new homeowners to discover the tips and tricks that made their moving days just that little bit easier, from keeping essentials close to calling in friends and family to help clean and lift.
Her are a few tips from those who have been there recently:
Call in the cavalry: It takes a village to move into a new home, says Avril Devins. "Just have as many hands as possible to give you that dig out to clean, move furniture. And depending on the following weeks, even rip up carpets, paint walls, that kind of thing."
Pack a box of essentials: The days leading up to and following moving day will be made all the more pleasant if you pack a box full of essentials you can have close at hand. "Don't forget to keep things like chargers, cutlery and plates, important paperwork you might need over the first few days in your new home," says Susan Lynch. "You don't want to be searching through boxes your first night when your phone's about to die!"
Take time off if possible: While many people do move in a weekend, that doesn't lend itself to getting everything organised and set up right away. Stephanie Condon suggests: "If you can take a few days off or even a week after you move in order to get rid of the boxes and organise everything properly, you'll be so grateful you did."
Get ready to scrub: Spending time cleaning your new home before boxes and furniture begin arriving is key to a smooth moving day. If you're buying a second-hand home, says Avril Nevins: "You're going to want to properly scrub the place down." She explains: "You just want to do it yourself, to make it feel like it's your home." Packing a box of cleaning materials and heading to the new home ahead of the moving truck (or your mam's minivan) is a smart tip.
Have painting done beforehand: While it's not always possible, Leah Rutherford suggests that if your new home needs a fresh coat of paint, you should try to have the painting done before moving. "If there's work that can be done before you're moving in, it's really worth not having to move stuff around once you're in." That way, you can start arranging furniture and organising items on moving day — and only do it once.
Try to save a little cushion: When Rutherford and her husband moved into their first home, they were grateful to have a bit of extra budget left over as they moved. "Make sure you have a little money for moving into the gaff and buying things you might need," she says. Whether that's curtains for the windows or even extra paint or cleaning supplies you didn't anticipate, you'll want to have a little extra moving day cash.
Take time to make a vision board: Knowing what you want your home to look like before you move in can help when it comes time to start unpacking your belongings. "I was very sure what I wanted in the house, I was sure how I wanted the house to look, I did lots of research," explains Ciara Tunstead, "I had been buying bits the previous year. That's a luxury, of course, but it's helpful to get a vision board or to know what your house should look like."
At Glenveagh Homes, our vision is that everyone should have the opportunity to access great-value, high-quality homes in flourishing communities across Ireland. We understand that buying a home is possibly the biggest decision you will ever make in your life – but we want to make it your easiest. Click here to find out more about Glenveagh developments.