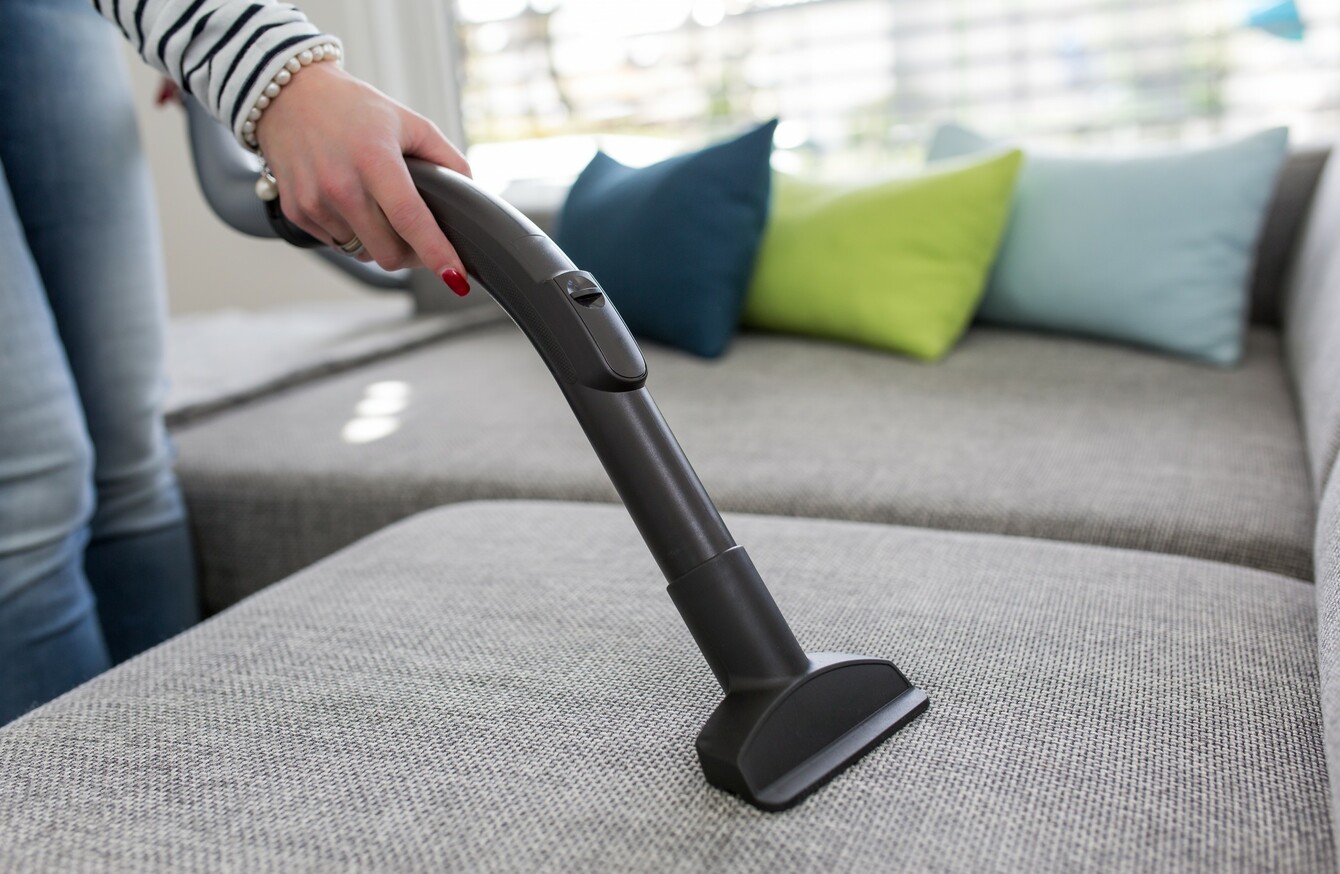 Image: Shutterstock/mmphotographie.de
Image: Shutterstock/mmphotographie.de
LAURA DE BARRA regularly brings her lifestyle and home maintenance masterclasses to the Glenveagh Home Magazine on TheJournal.ie. This week: tackling musty-smelling fabrics.
NOT ALL FABRIC odours are created equal. Maybe your couch and mattress are holding a stale smell. Perhaps you've noticed some musty odours while clearing out your wardrobe. Or maybe it's a beloved pet causing carpets or upholstery to smell.
Whatever the problem, below you'll find some tips to tackle it using non-toxic, natural cleaners…
1. Stale smells on couches or mattresses
Skin particles and sweat can cause these high-use items to smell a little musty over time, It's not the most pleasant smell to think about, but it's also not that hard to eliminate.
Start by giving the fabric some breathing room: Strip your bed or couch, crack open a window and pat the fabric down to release any dust, skin or dirt trapped inside. You will literally see it lift off the cushion or mattress.
Next, give it a hoover down on a low setting: Keeping the hoover on low means you won't disturb the stuffing inside the fabric. Leave the windows open while you hoover to give the item and the room the ultimate airing.
Use bicarb to absorb odours: Put down your shop bought sprays, as these will usually only mask the smell. What you're looking for here is something alkaline to absorb the smell. Sprinkle some bicarbonate of soda over the fabric, paying particular attention to areas that come in to contact with the body. Leave overnight if you can or for as long as possible and then hoover off.
2. Musty smells on clothes that have been in storage
This kind of smell is usually down to mildew or mould. Mould spores are all around us and some will have settled on the fabric causing the odour. 
Use vinegar to neutralise the odour: The most effective way to treat the clothes is to launder them as normal, but add a cup of vinegar to your wash cycle. Don't worry, the smell of vinegar won't linger once the clothes are dry.  It will also dry odourless, so you won't have to worry about it lingering! 
But don't put it in at the start of the wash cycle: Water will enter the machine at three stages in a regular cycle and you want to make sure the vinegar is not washed away in the first stage of washing. Instead, add your cup of vinegar once the machine reaches the rinse stage.
Many machines will let you know what stage the cycle is at, but if not, just listen carefully as your machine is running. Here's a guide to the stages and sounds leading up to the rinse cycle:
- Water comes in through drawer, picks up detergent and enters drum (it'll sound like a running tap)
- Drum will turn one way then the other, covering the clothes in water and detergent (you'll hear sloshing)
- This dirty water will then drain away (it'll sound like gurgling)
- Drum will spin to squeeze out even more dirty water (you'll hear whirring)
- Next you may hear some more draining (gurgling)
- Now we get to the rinse stage. Here, water enters the drum before it spins (again, it'll sound like a running tap). This process happens twice, so after you hear the first rinse stage, open your drawer and pour your vinegar in. During the next rinse, the vinegar will be washed through the drum where it'll work its magic.
3. Pet odours on carpets and upholstery
#Open journalism No news is bad news Support The Journal

Your contributions will help us continue to deliver the stories that are important to you

Support us now
Odours from pets can take over a space and feel like a never-ending chore, so I recommend a 'little and often' approach, along with frequent washing of your pets' bedding.
Remove pet hair regularly: Pop on a rubber glove and run your gloved hand and arm over the fabric. This will stick to the hair and drag it away. Work in one direction and you should end up with a pile of hair at the end. 
Neutralise the air: If you feel the odour is airborne, mix some vinegar, water and lemon juice in a spray bottle and spritz it through the room. 
Spot clean urine stains: If your pet is prone to leaving urine stains on carpets or furniture, always spot clean first with a mix of water and vinegar to neutralise the smell.
Tackle lingering smells with bicarb: For deeper odours, or urine smells that the vinegar hasn't shifted, sprinkle fabric and carpets with bicarbonate of soda, leave overnight then hoover off. Two nights in a row may be needed for very stubborn smells.
Want more tips and hacks? Laura de Barra's bestselling debut book, Gaff Goddess: Simple Tips And Tricks To Help You Run Your Home is published by Transworld Ireland. Buy it here or in all good bookshops, and follow Laura on Instagram for even more cleaning and lifestyle tips.