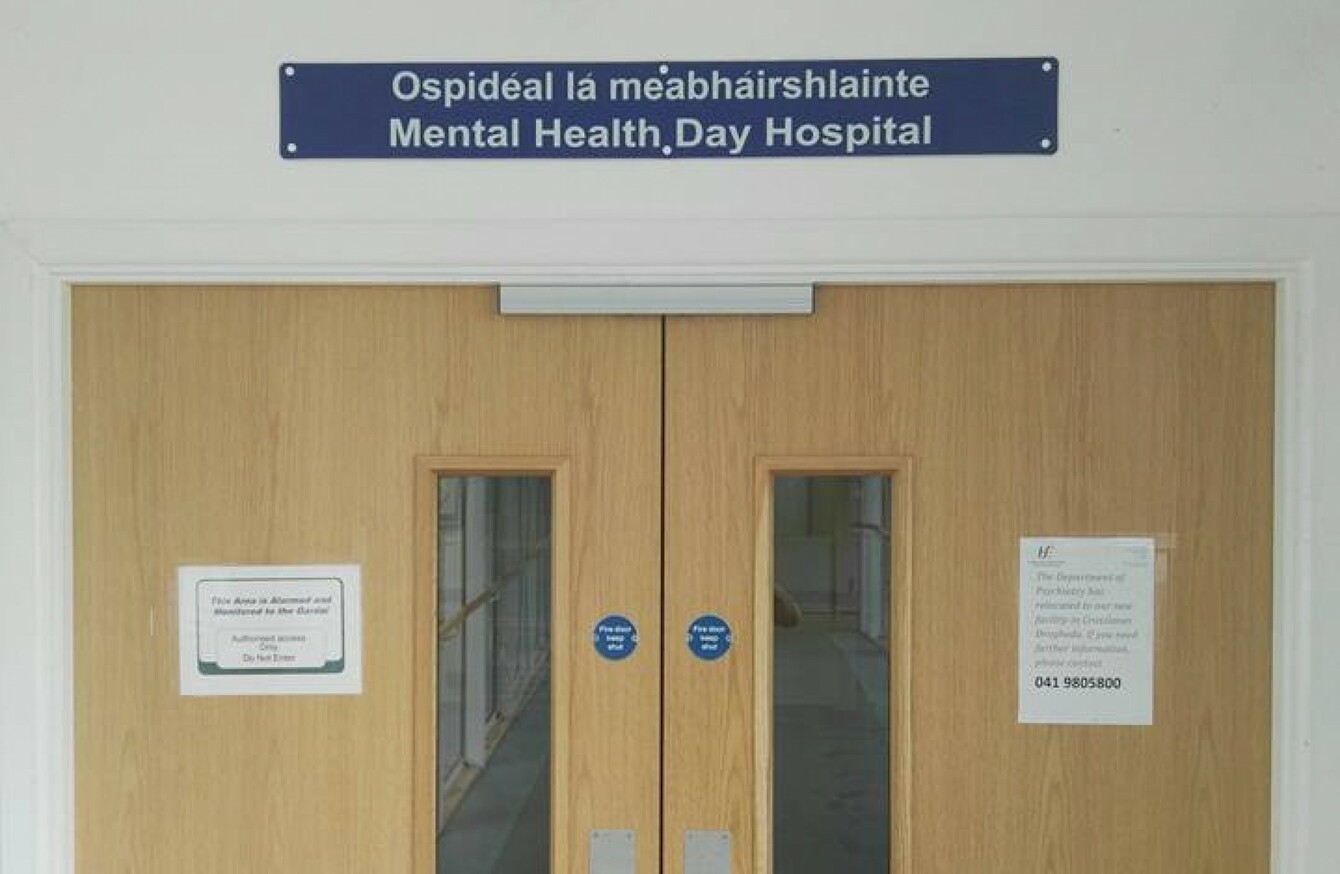 Image: Wayne Forde
Image: Wayne Forde
THE HSE HAS confirmed it still does not have a fully operational mental health day service in Our Lady's Hospital in Navan, Co Meath nine months after it closed the acute psychiatric unit there.
The closure last September was part of a plan to provide a centralised acute service out of Our Lady of Lourdes Hospital in Drogheda. A psychiatric facility in Ardee, Co Louth, was also closed as part of this plan, though the new unit provides for fewer beds than the two closed units combined.
Following the closure of the unit in Navan, a 'Mental Health Day Hospital' was opened in that space in the hospital so that some local supports would still be in place.
However the HSE has admitted it still does not have the full staff or facilities in place for this day service.
The issue was highlighted by local councillor Wayne Forde who told TheJournal.ie that this time last year "the psychiatric unit was open 24/7 and was packed".
"This day unit is open 9.30am to 2.30pm, Monday to Friday. There's a pool table in there, all the beds have been removed. They've even taken chairs out of rooms people used for counselling.
Only around three or four people seem to go now per day. Sometimes no one goes and it's not open at all. Mental health is being very badly ignored and patients are suffering.
In correspondence to Forde, Siobhán McArdle, Head of Mental Health Services acknowledged the new day hospital facility is "not fully operational yet".
"It is currently used by the community mental health team in Navan, but this will be extended as the reconfiguration of community mental health services progresses in Meath," she explained.
The teams who will feed in to, and be working in, the Day Hospital will be accommodated in Beaufort House, which is located adjacent to the unit in Our Lady's Hospital. The refurbishment of Beaufort House to accommodate these teams was only completed this week (June 2017) and the teams are expected to move in the coming weeks.
She added that a new additional consultant and milti-disciplinary team is being recruited for the Navan area in the coming months.
"This additional team will also be feeding to the Day Hospital. Once operational, we expect a significant increase in patient activity to be delivered from the day hospital in line with Vision for Change."
Forde said the HSE has "once again put the cart before the horse taking away acute services from a hospital with no plan".
"All these services and increase in services should have all happened prior to the shafting of the acute psychiatric unit in Navan 24/7," he said.
"A lot of people in Meath can not get access to Drogheda in emergency situations, where patients might have a nervous breakdown, or an acute psychiatric episode."