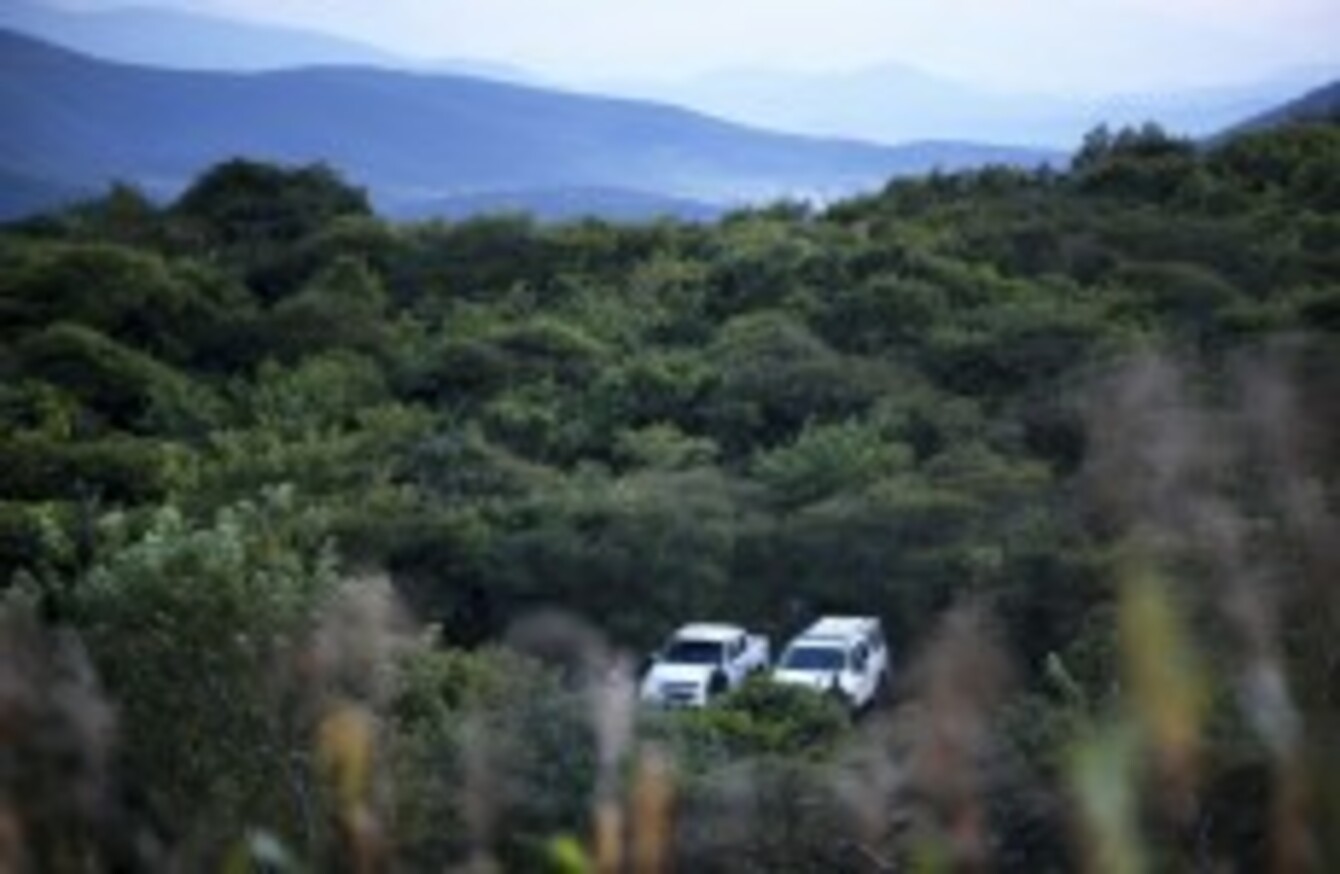 Mexican navy marines and officers guard the area where new clandestine mass graves were found.
Image: Felix Marquez/Press Association Images
Mexican navy marines and officers guard the area where new clandestine mass graves were found.
Image: Felix Marquez/Press Association Images
THE CASE OF 43 Mexican students missing since an attack by a gang linked to police has taken another grim turn with the discovery of new mass graves where suspects said some were buried.
Four new suspects took investigators to the site of the four pits, 200 kilometers (125 miles) south of Mexico City, but the number of bodies remains unknown, said Attorney General Jesus Murillo Karam.
"They say there are remains of students," Murillo Karam said, adding that some of the bodies appeared burned.
The discovery has put another dent on hopes of finding the students alive almost two weeks after they were pursued by Iguala police officers accused of working in tandem with the Guerreros Unidos gang.
The pits are "relatively" close to the location of another mass grave found last weekend in the southern state of Guerrero that contained 28 unidentified bodies, the attorney general said.
Two hitmen confessed to executing 17 of the students and dumping them in the mass grave found last Saturday.
Authorities have said it will take at least two weeks to identify the bodies through DNA analysis.
The case has outraged Mexicans, who held protests across the country Wednesday to demand the return of the students, in a nation that has lost tens of thousands of people to drug violence since 2006.
Authorities say crooked officers shot at buses the students had seized to return home on September 26, sparking a night of violence that left six people dead, 25 wounded and 43 missing.
Surveillance cameras showed several students being taken away in patrol cars.
Murillo Karam said there are several lines of investigation into the motive but that the city's mayor, Jose Luis Abarca, his wife and the public security director are wanted for questioning.
The trio have apparently gone into hiding.
The mayor's wife, Maria de los Angeles Pineda Villa, is the sister of two late members of the Beltran Leyva drug cartel, which founded the Guerreros Unidos.
Wife's cartel links
Murillo Karam did not say why the mayor and his entourage were being sought.
But Mexican media, citing an intelligence services report, say Abarca's wife asked police to confront the students because she feared they would interrupt a speech she was giving that night.
The mayor then reportedly told the police chief to teach a lesson to the students, who are from a teacher training college known as a bastion of protests.
The students say they were in Iguala to raise funds, though they had commandeered the buses to return home, a common practice among the radical aspiring teachers.
Guerrero chief prosecutor Inaky Blanco said authorities did not arrest Abarca before he disappeared last week because he had immunity as mayor, which was only revoked by local lawmakers on Thursday.
Abarca requested a 30-day leave of absence before vanishing a few days after the attacks.
Blanco said Abarca faced state charges of negligence for preferring to stay at a party and go to bed instead of stopping the violence.
The mayor "left the victims at the mercy of public security members," Blanco said.
Four more municipal police officers have been arrested on homicide charges in the case, in addition to 22 who were detained last week.
Officials also arrested four alleged members of the Guerreros Unidos gang, which prosecutors say worked hand-in-hand with police during the assault.
Murillo Karam did not say who the four new suspects were, but their arrest brings the total of detainees to 34.
'Act of barbarism'
Meanwhile on Thursday – four people died in a suspected attack by the Guerreros Unidos gang and five police were wounded.
Police were alerted that four bodies had been found in the city of La Union in southern Guerrero state, and were fired upon when they arrived on the scene, an official in the Guerrero attorney general's office said.
President Enrique Pena Nieto deployed federal forces to Iguala on Monday to take over security and disarm the local police. More than 100 officers were sent to a military base for retraining.
Pena Nieto vowed again on Thursday to punish those responsible for the "act of barbarism" and said he had instructed security officials to accelerate the investigation.
After Wednesday's nationwide protests, Pena Nieto said "the president is the first to endorse these appeals."
The Iguala case has embarrassed the mayor's leftist Democratic Revolution Party (PRD), which apologized for allowing him to run for office in 2012.
Governor Angel Aguirre, who is also a PRD member, has come under fire over the case but has repeatedly rejected calls by protesters to resign.