Defend Our Homes League March 2012
Image: Sam Boal/Photocall Ireland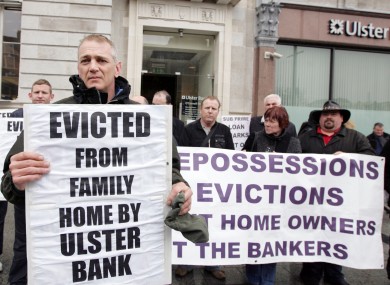 Defend Our Homes League March 2012
Image: Sam Boal/Photocall Ireland
Updated 21:25
A NEW LAW passed by the Government yesterday has corrected a gap in the law that has restricted house repossessions.
The Land and Conveyancing Law Reform Bill was passed in the Dáil by a vote of 91 votes to 42, with some opposition TDs claiming it was was done at the insistence of the Troika to give banks more powers.
New Beginning, which offers advice to those in debt, said that although this legislation 'would have been a disaster a number of years ago', new personal insolvency laws give options to those in mortgage arrears.
The Government has argued that the bill merely reinstates the intention of legislation brought in by the previous government after a 2011 High Court judgement ruled against it, stopping repossessions in some cases.
'We accept inevitability of it, the economy can't remain in no man's land', explained New Beginning's Vincent Martin.
We shouldn't be looking to the courts for a permanent solution. We weren't delighted (about the new law) but we're realistic and realise commerce has to function.
One of the main sticking points between the Government and opposition TDs was the role of the new personal insolvency arrangements in repossession orders by courts.
Yesterday's bill makes it possible for repossession orders to be stopped if an agreement has been reached under the personal insolvency service.  A proposed amendment to the legislation, however, that would have required judges in cases of repossession to consider a bank's rejection of a proposal by personal insolvency practitioners (PIPs) was not accepted.
Martin explains that although New Beginning were disappointed that that particular amendment was not accepted, new arrangements place the onus on PIPs to protect the family homes of debtors. In the vast majority of cases he believes common sense will prevail and banks will accepting the recommendation of the PIP, pointing to 94% approval rates in the UK.
First published 15:11