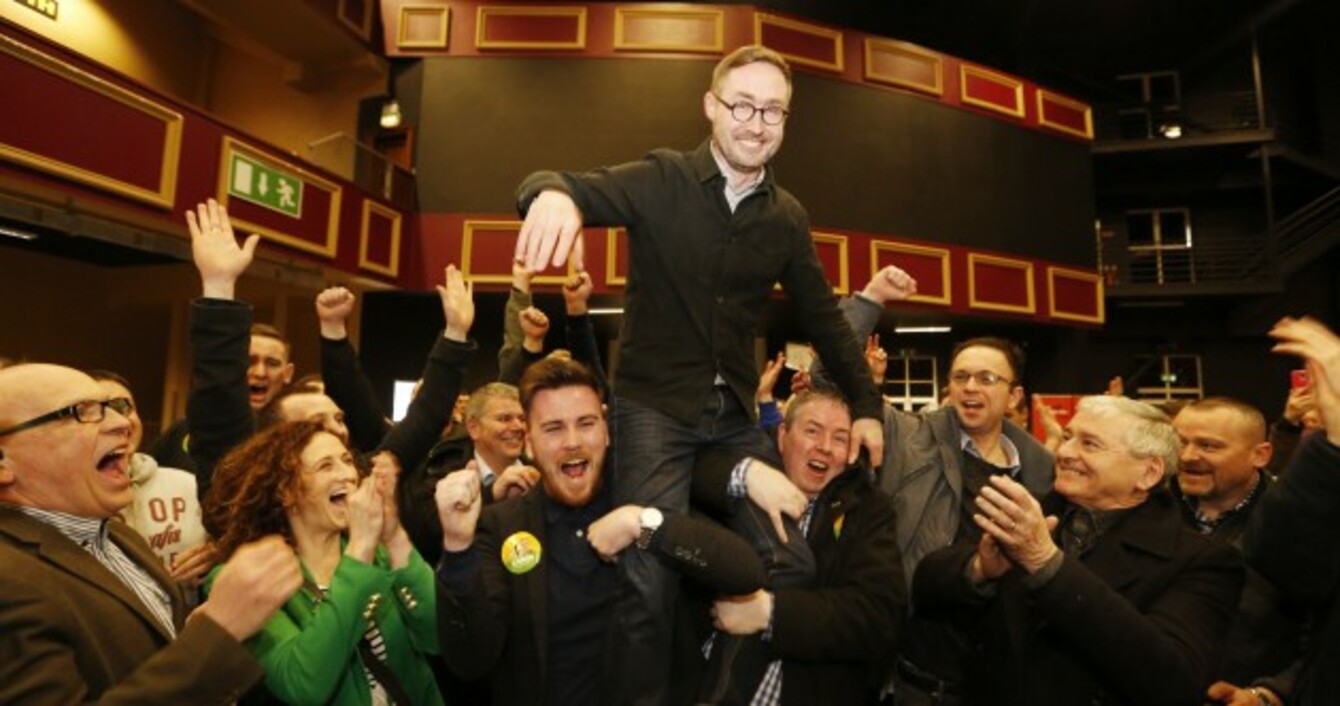 Image: RollingNews.ie
Image: RollingNews.ie
EXIT POLLS, THEN tallies and now results have told the same tale – and it was one that should have come with a reader's warning for the coalition parties.
As votes were cast across the country on Friday, gains were made by Fianna Fáil, Sinn Féin and Independents.
Some new faces are among those reaping the benefits of that support. Indeed, Micheál Martin made quite the pitch about the youngsters he had nurtured through local elections and straight into the halls of Leinster House.
Here's a quick rundown of the first-time TDs that have been elected so far.
Fine Gael 
Joespha Madigan, Dublin Rathdown
Josepha Madigan was elected in count 6 for the Dublin Rathdown constituency. She has been a member of Dún Laoghaire-Rathdown County Council since 2014.
She took the seat for Fine Gael ahead of former minister Alan Shatter who leaves the Dáil after decades of being a TD.
Madigan wasn't exactly coy in her response.
Maria Bailey, Dún Laoghaire 
A county councillor since 2004, 39-year-old Maria Bailey was the former chairperson of the Dublin City Council's transport committee. When she reached quota today, she became the 100th woman ever to be elected to Dáil Eireann.
Tom Neville, Limerick County
He was hoping to keep his father Dan Neville's seat and, as per tradition in Irish politics, he did.
A county councillor for six years from 2003, he emigrated in 2014. On his return, he was re-elected to council and decided to run for the Dáil this year on his father's retirement.
Colm Brophy, Dublin South West
Brophy has been a local representative on South Dublin County Council since 2008.
He came close to a seat in 2011 in Dublin South Central, but moved to the five-seat south west constituency this time around, where he was elected without reaching the quota.
Noel Rock, Dublin North-West
The 28-year-old councillor takes a seat in Dublin North-West, edging out Fianna Fáil's Paul McAuliffe.
Rock becomes the first Fine Gaeler to win a seat in the constituency for 25 years.
Kate O'Connell, Dublin Bay South
Elected as a councillor in 2014, O'Connell is a pharmacist from the Ranelagh area.
Her father was a Fine Gael councillor in Westmeath.
Fianna Fáil 
Aindrias Moynihan, Cork North-West
First co-opted onto Cork County Council in 2003, Aindrias has retained his seat in every subsequent local election. He has degrees in engineering, marketing and management from CIT and UCC and is a member of a number of local committees in Cork.
Anne Rabbitte, Galway East
Fianna Fáil's Anne Rabbitte has been elected for Galway East. It comes after she was elected to Galway county council on her first attempt in 2014.
She is first female TD to be returned by Galway in 20 years, according to local newspaper editor Lorraine O'Hanlon.
Mary Butler, Waterford
Mary Butler has been elected in the Waterford constituency, this was also her first time running in the general election after being elected to Waterford city and county council in 2014.
She was suitably draped in the tricolour today when she heard word that she had topped the poll.
Shane Cassells, Meath West
Shane Cassells was similarly elated on reaching quota in Meath West on his first attempt today. He had previously contested for a Dáil seat in 2005 and 2011 without success.
Fiona O'Loughlin, Kildare South 
Another new Fianna Fáiler, O'Loughlin – originally teacher by trade – has been a member of Kildare County Council since 1999.
A polished local performer, she was the mayor of Kildare and currently works as a Special Olympics public representative.
Margaret Murphy-O'Mahony, Cork South-West
Used to serving in public office, Margaret Murphy-O'Mahony has twice been Mayor of Bandon. She was elected to Cork county council in 2014 and has worked in that position full-time since then.
Jack Chambers, Dublin West
Chasing the footsteps left by the late Brian Lenihan in Dublin West, young Jack Chambers was hoping to change his current deputy mayorship to a seat in the Dáil. And he did just that, taking the third seat ahead of Labour leader Joan Burton.
The 25-year-old has a law and political science degree and has been a councillor since 2014, sitting on a number of Fingal County Council committees.
John Lahart, Dublin South West
First elected to South Dublin County Council in 1999, John Lahart has been re-elected at every vote since. However, he failed to secure a Dáil seat in a 2014 by-election.
A former teacher, he was previously special adviser to former government chief whip Tom Kitt.
According to Paul Cullen in the Irish Times, he was also a milkman in a previous life.
Kevin O'Keefe, Cork East
Son of former Fianna Fáil TD Ned, Kevin had run in 2011, but lost out.
He is a member of the South West Regional Authority and is a farmer by profession.
Eugene Murphy, Roscommon-Galway
The radio presenter has been a councillor since 1985.
He took the third seat in Roscommon-Galway.
James Browne, Wexford (pending a recount)
The first-time candidate is a practising barrister and a member of Wexford County Council.
He told TheJournal.ie that he wants to "maximise Wexford's untapped potential".
Jim O'Callaghan, Dublin Bay South
The barrister is legal adviser to the Fianna Fáil party and has been a councillor since 2009.
Lisa Chambers, Mayo
Chambers was being touted as a bellwether for Fianna Fáil. A positive performance and the party would perform nationally.
That has come to fruition as she and the party see success.
A barrister by profession, she is currently leas cathaoirleach of Mayo County Council.
Jackie Cahill, Tipperary
Director of Thurles Greyhound Stadium and is chairman of the National Dairy Council, he was elected to the council in 2014.
Declan Breathnach, Louth
Elected first as a Louth county councillor in 1991, he has been a member of the council since and ran once unsuccessfully for national office in 2011.
Frank O'Rourke, Kildare North
A councillor since 2011, he was Fianna Fáil director of elections for Kildare North in 2007.
James Lawless, Kildare North
A councillor since 2014, he has degrees in maths and finance and has studied law at King's Inns.
Pat Casey, Wicklow
A former independent councillor, he joined the party to contest this election.
He is the owner of the Glendalough Hotel and is a member of a number of local boards and committees in his area, including the Joint Policing Committee.
Sinn Féin 
Eoin Ó Broin, Dublin Mid-West
Sinn Féin's Eoin Ó Broin was the first new TD officially announced on Saturday. The writer and political activist received 9,782 votes on the first count for Dublin Mid-West.
Kathleen Funchion, Carlow-Kilkenny
It was fourth time lucky for 34-year-old Kathleen Funchion from Carlow-Kilkenny, a county councillor since 2014.
Dolled up at the count centre on Saturday, she had to explain that she was participating in a charity Strictly Come Dancing event.
Maurice Quinlivan, Limerick City
The Limerick City councillor is probably best remembered for his involvement in a defamation case which led to the resignation of Fianna Fáil's Willie O'Dea.
Quinlivan was elected to council in 2009 where he is the Sinn Féin party leader.
On Saturday, he was blessed with transfers from the AAA-PBP candidate Cian Prendiville and was elected after the fifth count – ahead of incumbents Michael Noonan and Jan O'Sullivan.
David Cullinane, Waterford
A Sinn Féin Senator, David Cullinane is now a TD.
Elected first as a Waterford county councillor in 2004, he served on the council until he was elected to the Seanad Labour Panel in 2011. He has challenged unsuccessfully for a Dáil seat three times in the past and is the Sinn Féin party spokesperson on workers' rights and political reform.
John Brady, Wicklow
John Brady has been a Wicklow county councillor for 12 years and it's third time lucky for him in terms of winning a national seat.
He was elected after Count Two with Fine Gael junior minister Simon Harris.
Carol Nolan, Offaly
A teacher and councillor, Carol Nolan has been a councilor since 2014.
She took the third seat in Offaly, beating out competition from Fianna Fáil's Eddie Fitzpatrick.
Pat Buckley, Cork East
A voluntary worker, he was elected to Cork County Council in 2014.
He is a co-founder of the Let's Get Together Foundation, a suicide support group and is a prominent campaigner.
He holds the seat won by Sandra McLellan in 2011.
Donnchach O Laoghaire, Cork South Central
The councillor is just 26, a graduate of law and has worked as a political advisor to Sinn Féin senators He is also a former national organiser of Sinn Féin Youth.
Louise O'Reilly, Dublin Fingal
First time's the charm for O'Reilly – this is her first ever election.
A full-time trade union organiser with SIPTU, she is a member of the Public Services Committee of the Irish Congress of Trade Unions (ICTU).
Imelda Munster, Louth
The Wee County elects its first woman ever to the Dáil.
She has been a councillor since 2004.
Green Party 
Catherine Martin, Dublin Rathdown
Catherine Martin has been elected for Dublin Rathdown. The teacher was appointed deputy leader of the Green Party in 2011 and was elected to Dún Laoghaire-Rathdown County Council in the 2014 local elections.
Independents
Michael Harty, Clare
A single-issue man, Michael Harty was elected after running a campaign focussed on the No Doctor, No Village message. He was elected after the ninth count with 11,962 votes.
Michael Collins, Cork South-West
Elected on his first attempt to Cork County Council in 2014, this was his first time running in a general election. And it was first-time's a charm as the community activist bagged 9,258 votes and was elected after the fifth count.
There were bonfires lit for him back home.
Seán Canney, Galway East
Seán Canney was elected in the Galway constituency today after he ran unsuccessfully in 2011. He has been a member of Galway County Council since 2004.
Here he is, making the sandwiches for the long day ahead. Photo courtesy of the legendary Teresa Mannion.
Danny Healy-Rae, Kerry
Danny Healy-Rae joins his brother Michael in the Dáil.
The pair devised a strategy to carve up the county and it worked a treat, Michael got the second-largest vote in the history of the state and Danny was swept in on the second count.
Kevin 'Boxer' Moran
A full-time councillor since 1999, Boxer is one of the Independent Alliance's new recruits (he left Fianna Fáil in 2011). This was third-time lucky after failing to win a general election and by-election previously. One of the local issues he wants to address once he gets going is the decision to downgrade the army structure in his area. He wants 500 extra troops to be recruited to Westmeath instead. 
Katherine Zappone
At 62, Katherine Zappone is the oldest first-time TD in the 32nd Dáil. Independent Kerry deputy Danny Healy-Rae is 61 years old. She is also one of three serving Senators to be elected to the Dáil for the first time this weekend, along with Marc MacSharry and David Cullinane.
She came to political prominence fighting for equal rights to marriage for the LGBT community. She married her partner Ann Louise Gilligan at City Hall in front of President Michael D Higgins on 22 January this year.
AAA-PBP
Gino Kenny, Dublin Mid-West
Elected to South Dublin County Council in 2009, Gino Kenny retained his seat in 2014. He became involved with the Socialist Workers Party while in college and is an active campaigner against the property tax and the water charges.
He was elected today alongside Sinn Féin's Eoin Ó Broin, Fine Gael's Frances Fitzgerald and Fianna Fáil comeback kid John Curran in Dublin Mid-West.
Mick Barry, Cork North-Central
Barry has run in all four general elections since 2002, and has waited 14 years for his first win, along with Sinn Féin's David Cullinane, elected yesterday in Waterford.
With reporting by Sinéad O'Carroll, Paul Hosford and Cliodhna Russell