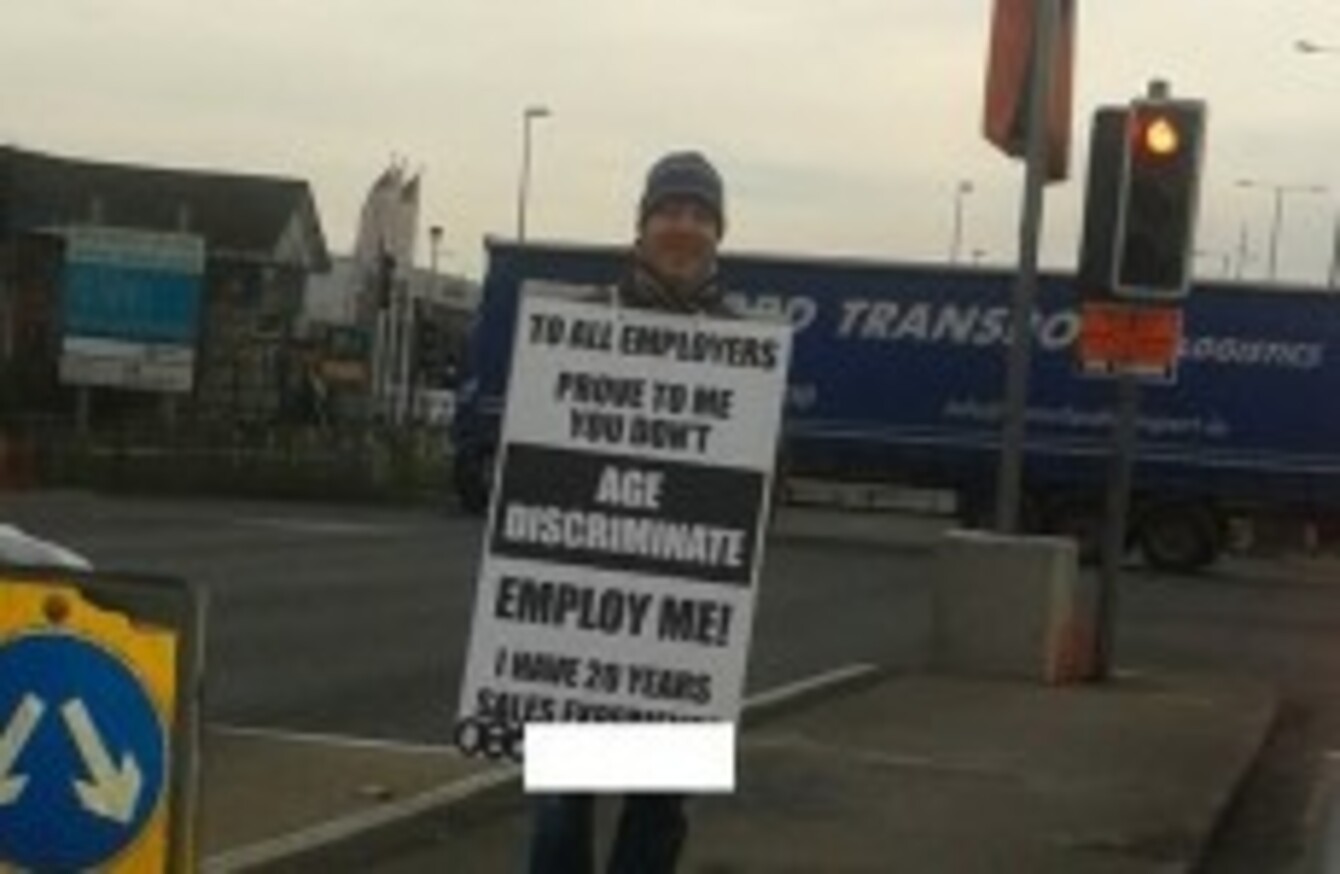 Brendan Coleman at Newland's Cross
Image: Laura Ronan
Brendan Coleman at Newland's Cross
Image: Laura Ronan
AN UNEMPLOYED FATHER of five has spent the last five days walking for hours up and down the road at Newland's Cross wearing a sign around his neck – and says he won't stop until he gets a job.
Brendan Coleman has spent all of his working life employed in the sales sector and after losing his job last year he found he was unable to find new employment.
He told TheJournal.ie that he had tried "all the conventional" means of applying for jobs, including online and the national papers, "to no avail". Coleman decided that he would make a sign about his predicament and wear it at the busy Newland's Cross junction.
"This is my last route," said the Wexford man. "It's a gimmick. It's a way of making people sit up and take notice."
Coleman, who is in his fifties, wears a sign that has his mobile number on it and the lines:
To all employers – prove to me that you don't age discriminate – employ me! I have 20 years sales experience.
"I don't mind," he said of potential future jobs. "If I have to diversify, I don't mind. A  job is what I'm looking for and I'm not going to apologise."
He has received a lot of support online, with his photograph being shared widely on Facebook. "It's been phenomenal," he said. "I have gotten 7 or 8,000 likes on Facebook. I got a text from someone in Australia who had seen me on Facebook."
He said the support "has renewed my faith in people".
Since Monday, Coleman has driven from Wexford to Newland's Cross, where he takes up his position at 9am on a narrow concrete strip near traffic lights. Surrounding him are about eight lanes of traffic. He stays there, walking up and down, until at least 3.30pm.
"It's not easy. This is not simple," he said. ""It's not nice. It's about keeping positive. It's not saying 'I'm not going to bother'."
He is married with five grown-up children and said his family are "totally behind me".
"I couldn't do it without them."
He has had a number of employers contact him since he began wearing the sign. Coleman plans on continuing to go to Newland's Cross with his placard until he is officially employed.
"I'm going to stay as long as it takes to get a job."
Coleman said he doesn't blame anybody for his lack of a job, and he knows it is hard for employers as well as unemployed people. But he is determined to do what it takes to become employed again.
I've worked all my life. If I'm honest, yeah it was a culture shock not to be working. I wanted to be working. I'm hopeful I will get a job; I know I will and that's the reason [I'm here].