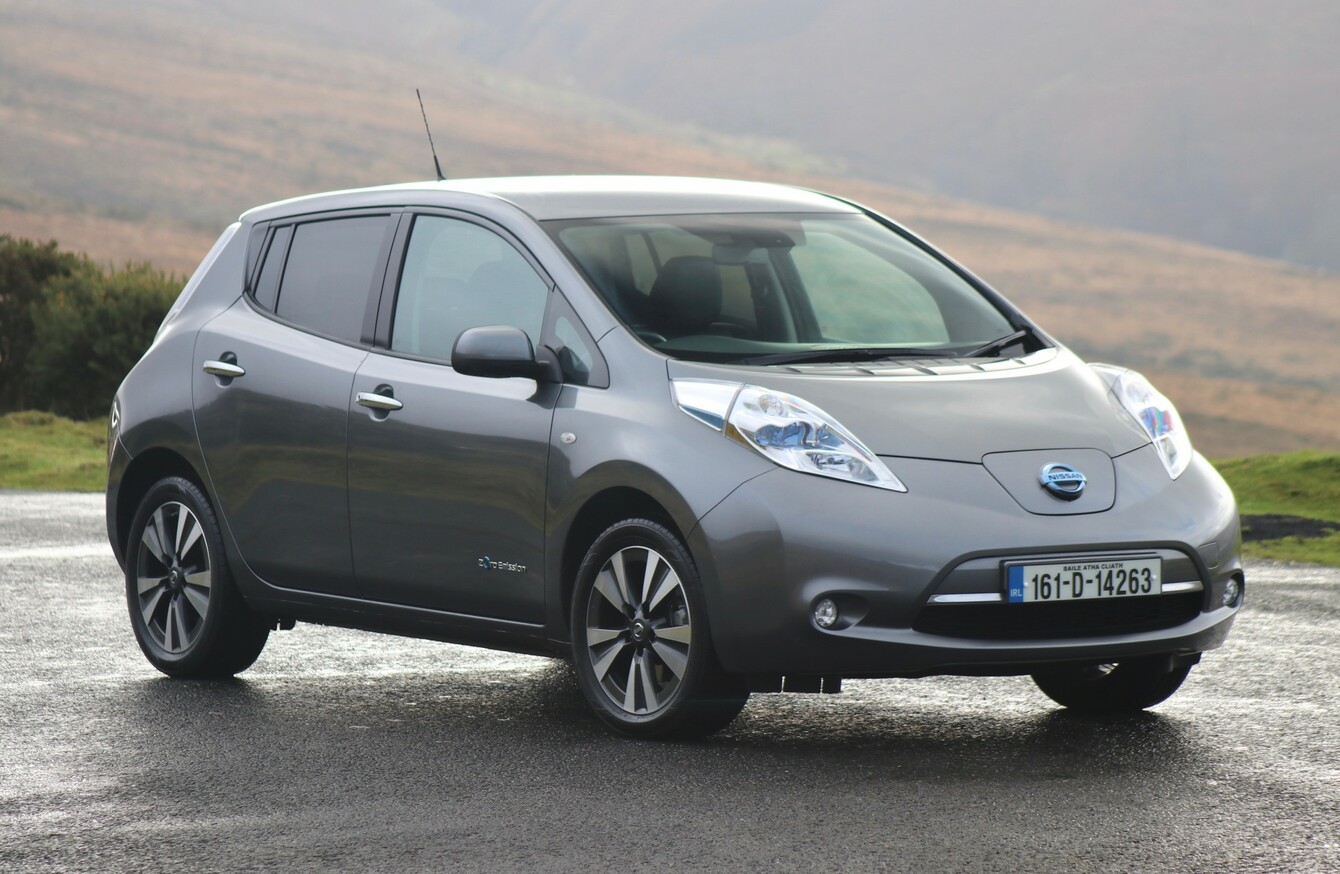 Image: Dave Humphreys
Image: Dave Humphreys
THE NISSAN LEAF is the best selling electric vehicle (EV) in the world. But is it a practical family hatchback? And is it really that much cheaper to run than a similar sized petrol or diesel powered car?
In terms of space the Leaf is every bit as roomy and practical as other popular hatchbacks and the boot is a generous 370 litres with all seats in place. It has plenty of safety features, scored a full five-stars in the EuroNCAP safety tests and there is a decent amount of kit as standard.
So it compares well to most other five-door hatches.
It feels nippy around town and even on the motorway it is quite capable. It is a little dull to drive – but what the Leaf lacks in engagement it makes up for in refinement. The powertrain is near silent and road and wind noise are well dampened, making this one smooth and relaxing car to drive.
What about the range?
If you do long motorway commutes of 120km or more the Leaf may not be ideal unless you want to spend up to 40 minutes, possibly more, charging up every 100km or so.
However, if you get a home charger installed, live near a charging point or have access to a charging point at work then perhaps the Leaf will work for you. It takes about eight hours using a home charger to charge from empty to full.
Officially the NEDC test puts the Leaf's one-charge range at 250km. I managed to do 130km with 36km (16%) range left before the anxiety hit and I had to plug in.
However, the range fluctuates as the Leaf has a handy regenerative braking system which helps charge up the battery when you brake. Using this function down seven kilometres of steep road I increased the remaining range from 24km to 45km. Once you adapt your driving style you'll get a better range in between charges.
Will you save any money?
The 30kWh Leaf starts at €24,490. It's €120 a year to tax. On average it will cost €220 a year to charge up at home using the ESB night rate. However, currently the ESB public charge points are free to use. So, technically, you can charge your car up for free.
As a comparison the most economical five-door Ford Focus hatch costs €23,640 and €180 a year to tax and has an economy figure of 3.8 litres/100km. Annual mileage in Ireland is roughly 17,000km, which would cost about €825 in fuel a year.
Using just these figures, to buy and run a Ford Focus for eight years will cost roughly €31,680. To buy and run a Leaf for eight years will cost roughly €27,210, or €25,450 if you use the free chargers. That's a difference of somewhere between €4,470 and €6,230.
Also, there are fewer moving parts in the Leaf – no clutch, timing belt or gearbox, no motor oil required and maintenance costs are lower too, so you will most likely save even more. The 30kWh battery comes with an eight year / 160,000km warranty and a five year /100,000km warranty against capacity loss of more than 25%.
However, do bear in mind that while the batteries should be good for at least ten years, diesel and petrol cars can run for twice that if not more (although fuel economy does wane as engines get older).
I test drove the 30kWh Leaf in and around Dublin and Wicklow for one week and covered 205km. I topped up once using a fast charger in a petrol station. It took 40 minutes to go from 16% battery to 86% and it only cost me the price of a cup of terrible coffee.
For my needs and weekly urban mileage with a longer drive once or twice a week, the Nissan Leaf is perfect. I love how cheap it is to run. I love how quite it is. I love how quick it is and I love how smug and righteous I feel when driving it.
Now that there are over 1,200 public charge points across the country with more being installed owning an EV is a much more realistic option for many people and if you are one of the many people considering an EV the Leaf is still the one to choose if you are after a practical family car.