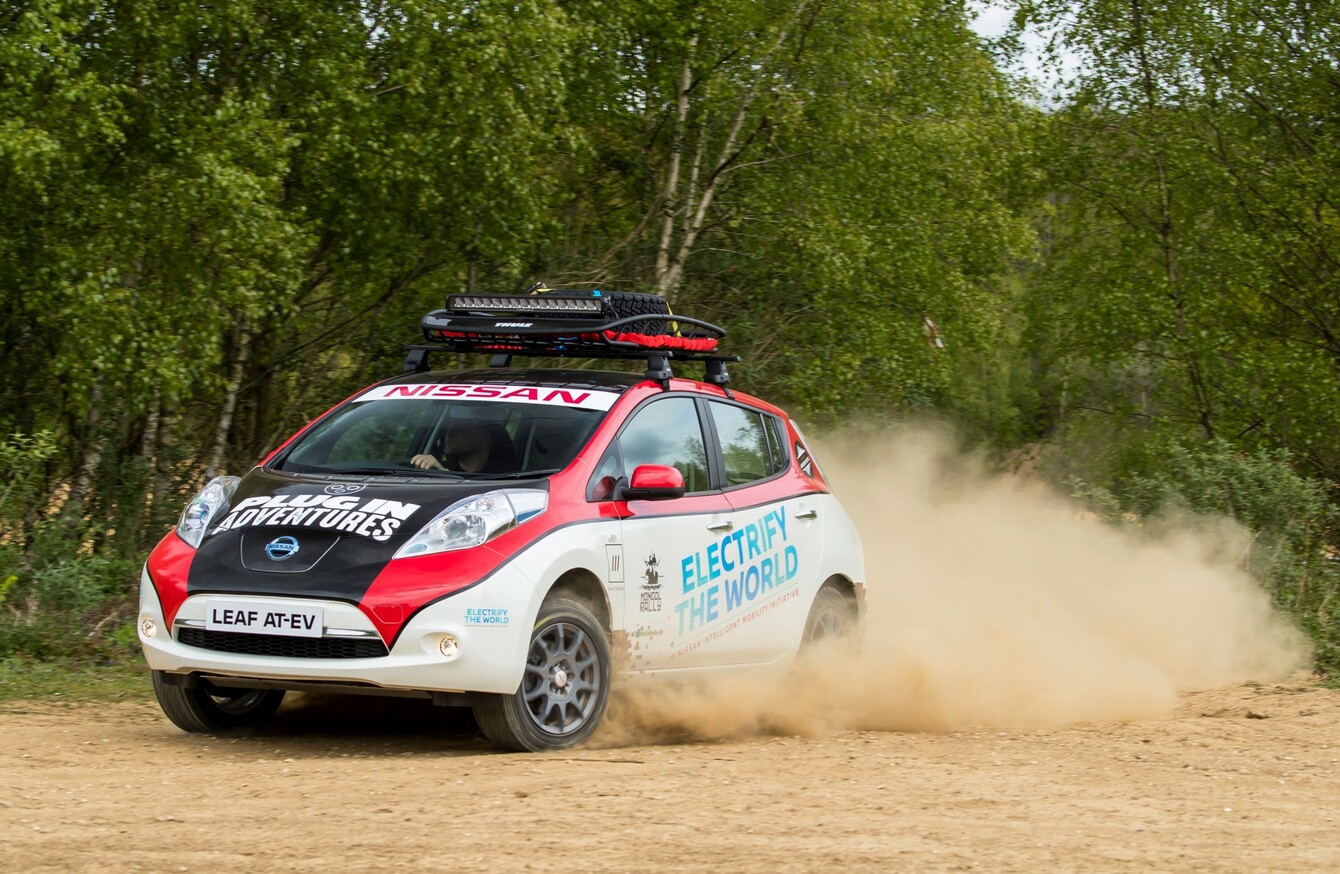 Image: Nissan Newsroom
Image: Nissan Newsroom
ELECTRIC VEHICLE ADVOCATE, Chris Ramsey has created a specially modified Nissan Leaf that will be the first all-electric car to enter the Mongol Rally.
Yes, you read that right, an all-electric car will drive the 16,000km from the UK to Mongolia this summer.
Speaking about the challenge, Chris said:
The Mongol Rally is our most challenging electric vehicle drive to date, but it's one we've been planning for a number of years. Not only will we face a dwindling number of EV chargers the further east we go, the terrain also becomes more difficult to navigate.
The Leaf AT-EV (All-Terrain Electric Vehicle) is a modified version of the standard 30kWh Nissan Leaf Acenta. As standard this car has a range of up to 250km (155 miles) on a single charge – although key modifications have been made to better equip the car once it reaches the more remote parts of the journey.
It wears Speedline SL2 Marmora wheels and Maxsport RB3 narrow tyres to improve performance on unsealed roads. To protect the car from the rough terrain, plates have been welded to the underside of the wishbones, there are braided brake lines and mudflaps and a 6mm aluminium sump guard has been added.
There are modified roof rails fitted with a Lazer Triple-R 16 LED light bar which produces 16,400 lumens of supplementary low-voltage forward lighting, so the drivers can see during the most remote parts of the journey at night time.
The Mongol Rally isn't a timed race so vehicles are usually modified for comfort not performance. The Leaf AT-EV is no exception and the car's interior modifications focused on weight reduction and creating more storage space.
The driver and front passenger area is unmodified apart from the addition of rubber floor mats, but the back seats have been ripped out to save 32kg (although some of this weight has been added back in with the addition of the hopefully not needed fire extinguisher and first aid kit).
Chris is no stranger to putting electric cars through epic drives. In September 2015, he and his company Plug In Adventures took just two days to finish the 2959km (1,652 mile) journey from John O'Groats to Land's End and back again in a Nissan LEAF 24kWh, using only publicly available and free EV charging points.
For the Mongol Rally, Chris plans to make stops along the way to highlight the benefits of driving an all-electric vehicle to the people he meets along the way.
He'll also be logging the locations of some of the uncharted charging network, so that future EV drivers traversing the region can benefit from accurate charging point locations.
Chris says "This journey is about the travel experience, not reaching the destination in a fast time."