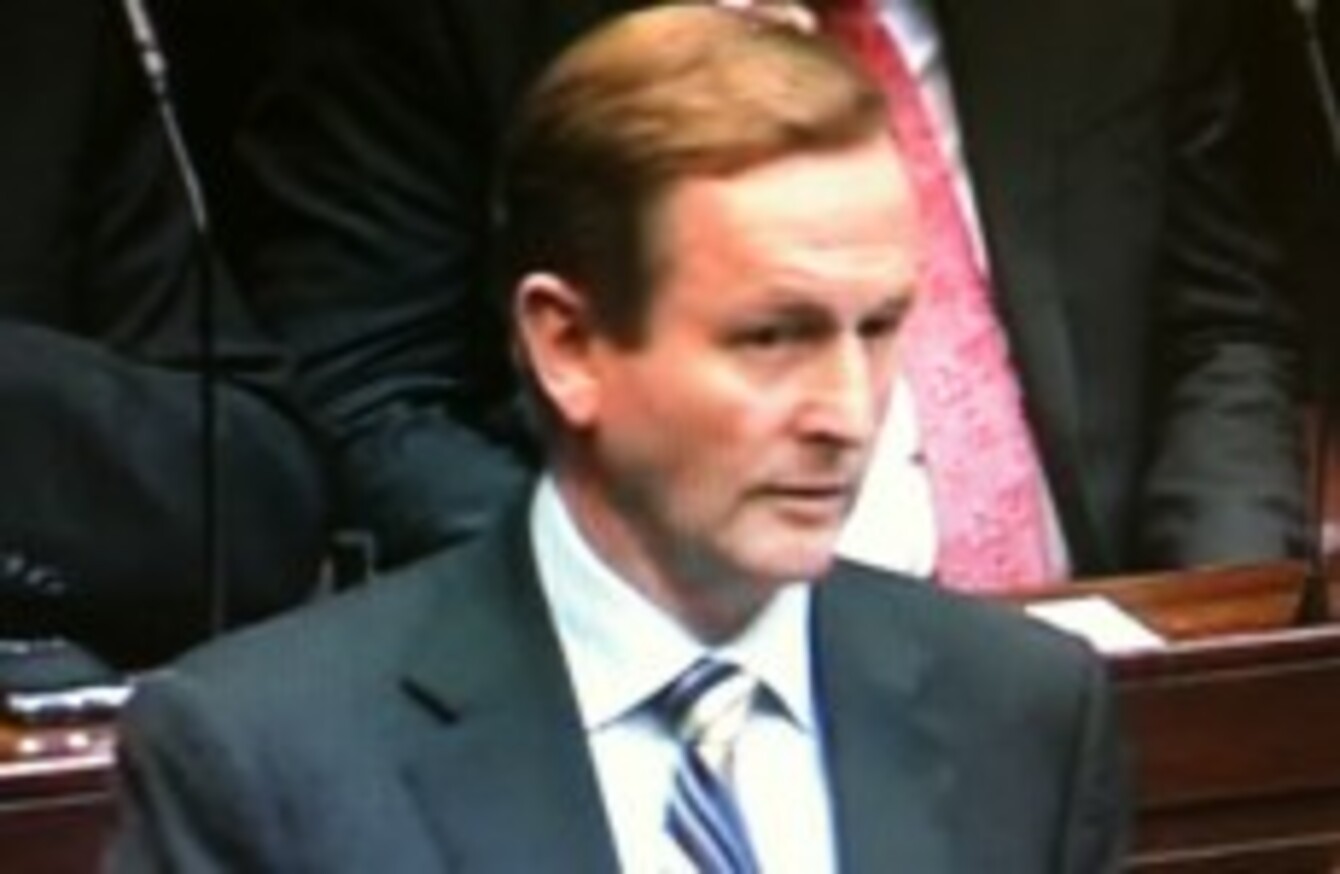 Enda Kenny speaking in the Dáil today.
Image: Screengrab
Enda Kenny speaking in the Dáil today.
Image: Screengrab
TAOISEACH ENDA KENNY has reiterated the government's commitment to getting a better deal on the country's bank debt by reducing the interest rate and lengthening the term of repayments but said he can give no date for when it will happen.
At Leaders' Questions in the Dáil today, Kenny came under pressure from Fianna Fáil leader Micheál Martin and Mary Lou McDonald over Ireland's banking debt following the weekend announcement of a bailout for Spain's troubled banking sector.
Accused of going around "with his eyes closed", of engaging in "spin" and failing to stand up for Ireland's interests, Kenny hit back by saying that the government continued to engage in negotiations with the Troika over lessening the bank debt burden.
"Ireland's position here is it continues to negotiate the complex position with the Troika with a view to having a re-engineering of our debt," he told the Dáil.
"There's a clear strategy, to continue to negotiate, where we can reach an agreement where that target can be achieved – lower interest rates, longer term."
Addressing McDonald, he said: "I remind you that the IMF, the European Commission, the head of the European Commission, Commissioner Rehn have all stated that Ireland will continue to have support in the context of negotiations to reduce our debt problem and to bring this to a conclusion".
Pressed on when Ireland could expect to have such a deal, Kenny responded that he could not answer the questions as negotiations were not completed.
"I can't give you a date for that and therefore I cannot tell you," he told the Sinn Féin deputy leader.
Kenny also expressed support for a European banking union, an idea suggested by the president of the European Commission Jose Manuel Barosso in today's Financial Times.
The idea broadly includes all 27 EU member states submitting their big banks to a single cross-border supervisor with an EU-wide deposit guarantee scheme and a rescue fund paid for by a levy on financial institutions.
"I would be supportive in principle of a banking union" Kenny said in response to questions from Independent TD Shane Ross. He said that setting up such a process would be "less complex" than other measures.
Asked by Ross if the government had any preparations for the potential collapse of the single currency, Kenny said: "I wouldn't venture t speculate on any of that."