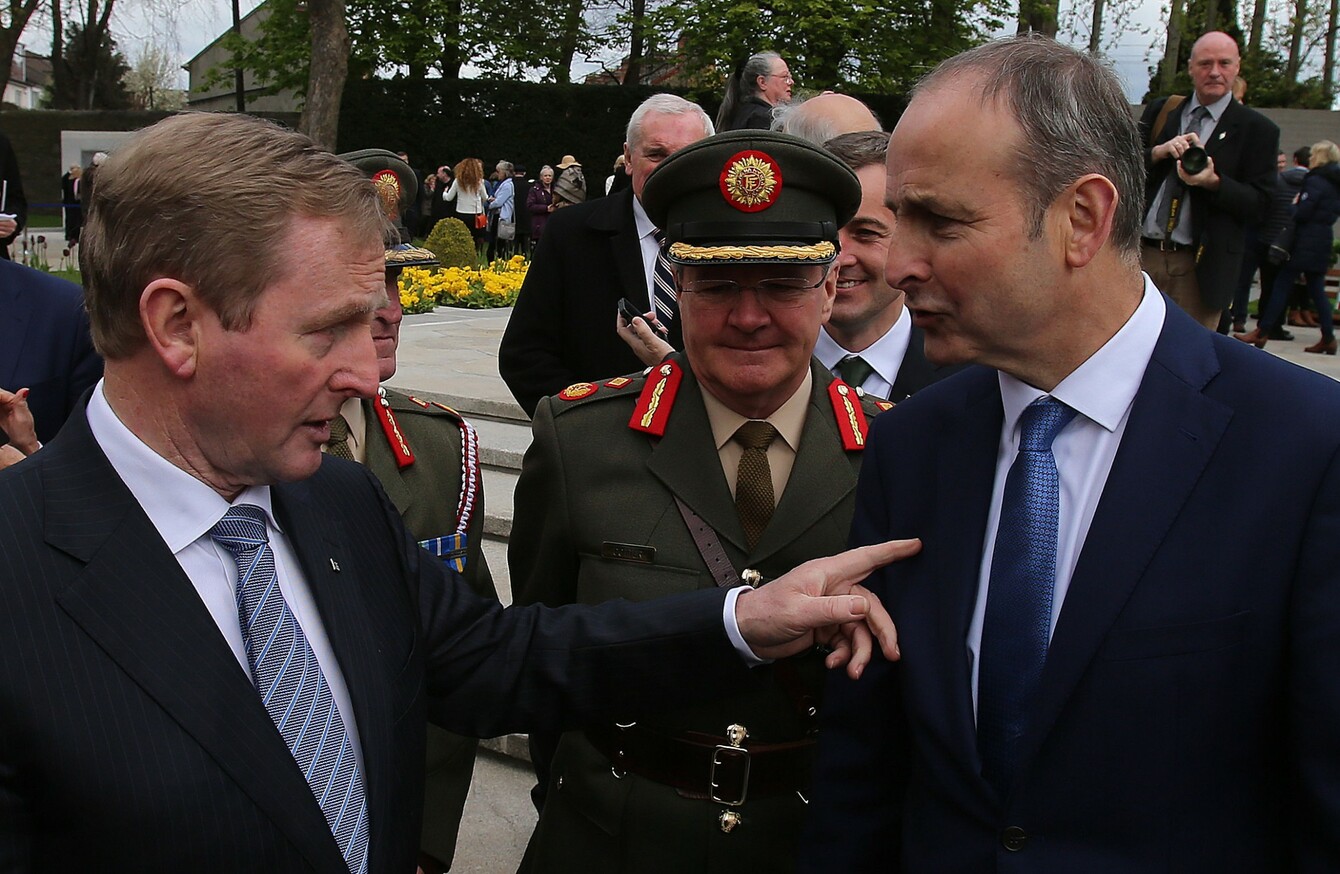 Image: Niall Carson
Image: Niall Carson
Updated: 11.45pm
TALKS OVER THE formation of a government have ended for the night.
There is some speculation that water charges may be suspended for two years, under a new arrangement, as one Fianna Fáil source told TheJournal.ie "progress has been made," and that the negotiating teams would meet again tomorrow.
Earlier, the party had said if no deal could be reached on the charges, it would seek to put the matter put to the Dáil.
Government formation talks between the two Civil War parties resumed today in Dublin's Trinity College - 60 days after the general election was held.
Speaking on his way in, Fianna Fáil's Michael McGrath said the talks had now reached a crucial juncture.
"I think we are in the end game at this stage, so everyone needs to know very quickly whether or not an agreement is possible," McGrath said.
We do believe that it is no longer tenable that Dáil Éireann would not be allowed debate the issue of water and our own party whip has made it known to the government chief whip that we would be very anxious that Dáil Éireann would have a chance to debate the issues that we are debating in this building – around Irish Water and water charges.
He said the party would like to see the debate happen as quickly as tomorrow.
We will vote accordingly in the order of business if that is necessary tomorrow to accommodate such a debate.
McGrath's party colleague Barry Cowen said if Fine Gael didn't want to follow the will of Fianna Fáil, maybe it would follow the will of the Dáil.
Over 90 of the current 158 TDs were elected on a mandate that water charges be abolished or suspended.
Call for a debate
Earlier in the Dáil, a number of TDs – Sinn Féin members, independents and AAA-PBP deputies – pushed to have a debate on water charges.
Fianna Fáil leader Micheál Martin said in response that his party was open to it, just not today. The party has since moved to clarify its position, and said it may facilitate debate tomorrow.
McGrath said this afternoon that his party was conscious of the length of time discussions had taken so far.
He said that if it is not possible "to reach an agreement on some substantive issues including around water then in our view the final arbitrator should be Dáil Éireann in respect of these matters and it would be our preference that the issue would be dealt with by agreement so that an incoming government has a degree of certainty and stability".
When asked if his party was willing to facilitate a Fine Gael minority government without an agreement on water, McGrath said it was Fianna Fáil's preference to have these issues dealt with upfront.
We have put it to Fine Gael time and again that it would better to have an agreement in place.
"In the event that we can't reach an agreement then we will consider whether or not we should proceed and allow a minority government be formed if they can win the support of the independents but it would be on the basis that Dáil Éireann would have the final say."
Stuck on Irish Water
Speaking earlier today, Finance Minister Michael Noonan said Fine Gael and Fianna Fáil may not be able to settle a deal to form a government, confirming Irish Water was still a sticking point.
#Open journalism No news is bad news Support The Journal

Your contributions will help us continue to deliver the stories that are important to you

Support us now
"The compromises that Fianna Fáil want and the compromises that we're prepared to accept, they don't match," Noonan told RTÉ on his way into cabinet this morning.
Both parliamentary parties are taking up strong positions. So it's quite difficult. But we're still talking. And we're in a reasonably optimistic frame of mind about it. But we may not be able to settle it and I think everyone knows the consequences of that.
Urgent legislation on suspended sentences
The government formation talks were not discussed as the acting ministers met today at cabinet. A government spokesman said later that consideration was not being given to bringing in an independent mediator to chair any further discussions.
Emergency legislation to deal with the suspended sentences issue was discussed in cabinet today, but ministers are set to wait until the full judgement on the issue is published tomorrow before proceeding with emergency legislation.
A High Court ruling found last week that certain aspects of the law governing suspended sentences were unconstitutional and it's expected the decision will have serious implications for the criminal justice system.
With reporting by Isabel Hayes