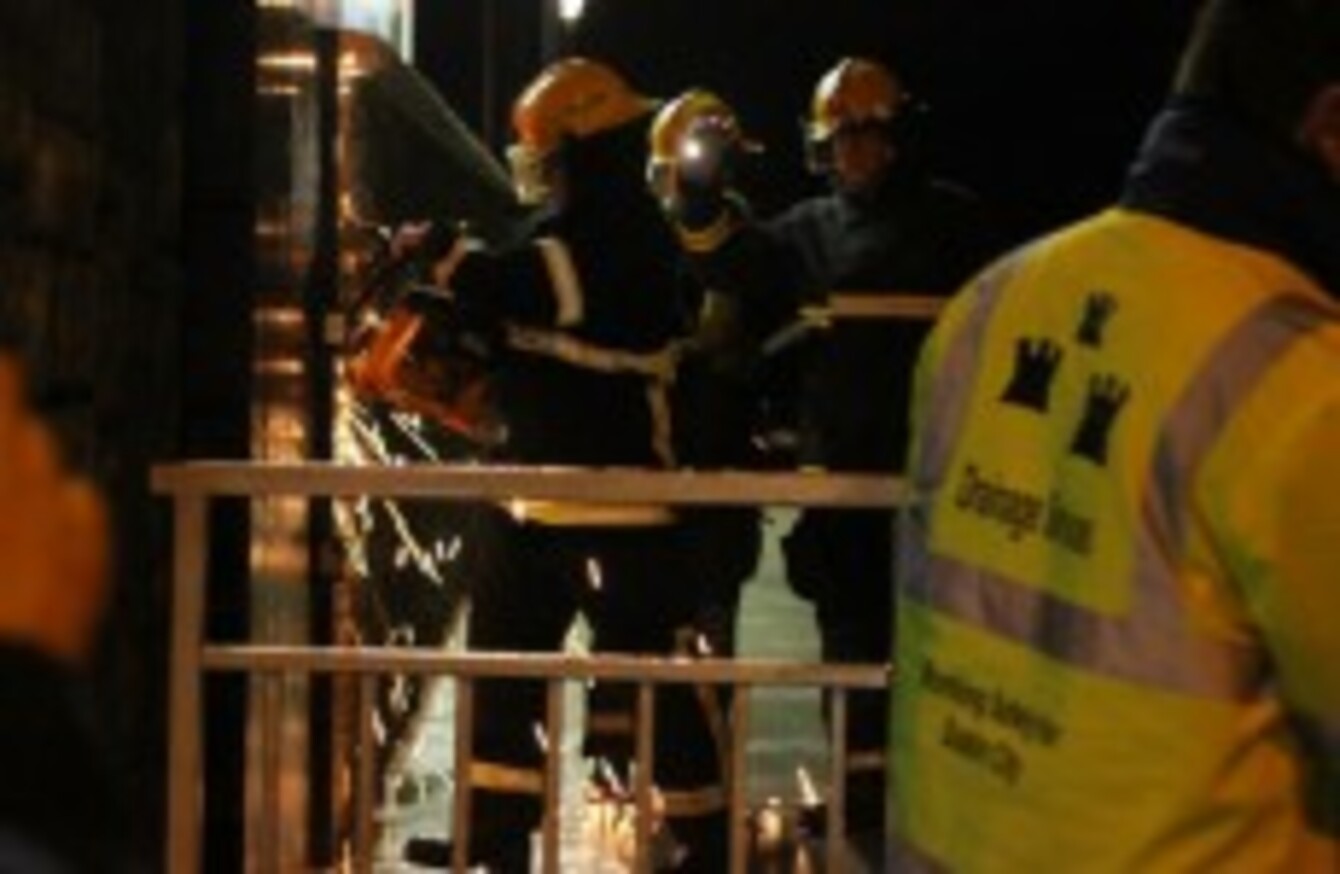 Firefighters work to break the padlocks on the open floodgates in Sandymount last night
Image: Dave Jackson
Firefighters work to break the padlocks on the open floodgates in Sandymount last night
Image: Dave Jackson
Updated, 11.52am
FLOODGATES WERE PADLOCKED open with no way to close them in one area of Dublin as the flood waters rose last night, it has emerged.
Dublin City Council was not able to provide keys to the floodgates at Newbridge Road in Sandymount, which were padlocked in the open position. Residents and the fire brigade were forced to break the locks before tying the gates together against the water, as the mechanism to close them properly was also not available at the scene.
One resident told TheJournal.ie that the incident unfolded at around 9.30pm as the river level peaked in heavy rains.
"Water was coming through the gates at the Newbridge Road entrance," he said, adding that there have been several flooding incidents over the last two decades.
Residents contacted the council but the keys to release the gates were not immediately available.
"One of the residents produced a hacksaw and cut the locks off one gate," he said. "Then the fire brigade arrived with an angle grinder."
It was then possible to close the gates, but they could not be shut completely as the locking mechanism was also not available.
Local councillor Kieran Binchy, who was on the scene, said that the fire brigade had to use ropes to hold the gates against the water.
There was nobody there with the keys and nobody seemed to know where the keys were. It was improvisation by Dublin Fire Brigade which was able to close the gates and prevent Newbridge Avenue from being flooded.
He said a Dublin City Council official had attended the scene and had left to fetch the locking mechanism. It's understood that the gates were locked completely later in the evening.
A spokesperson for Dublin City Council said that the gates had been designed for tidal flooding. He made no comment on whether the keys had been available, but said all issues raised would be addressed in a full review of last night's flooding.
A resident attempts to break the padlock on the open gate before the fire brigade arrived last night (Photo: TheJournal.ie reader)
Cllr Binchy called the situation "ludicrous". "I would like to congratulate Dublin Fire Brigade for their speedy action, and residents in the area who reacted quickly to protect their own homes," he said, adding:
I have very serious questions about the level of preparedness by Dublin City Council. It seems there was very little preparation despite the weather forecast.
Independent councillor Gerard Mannix Flynn also said that planning needed to be improved. "When it comes to these severe weather events, we are not as organised as other countries that are used to them," he said. "But that is no excuse, particularly in areas that are known for flooding."