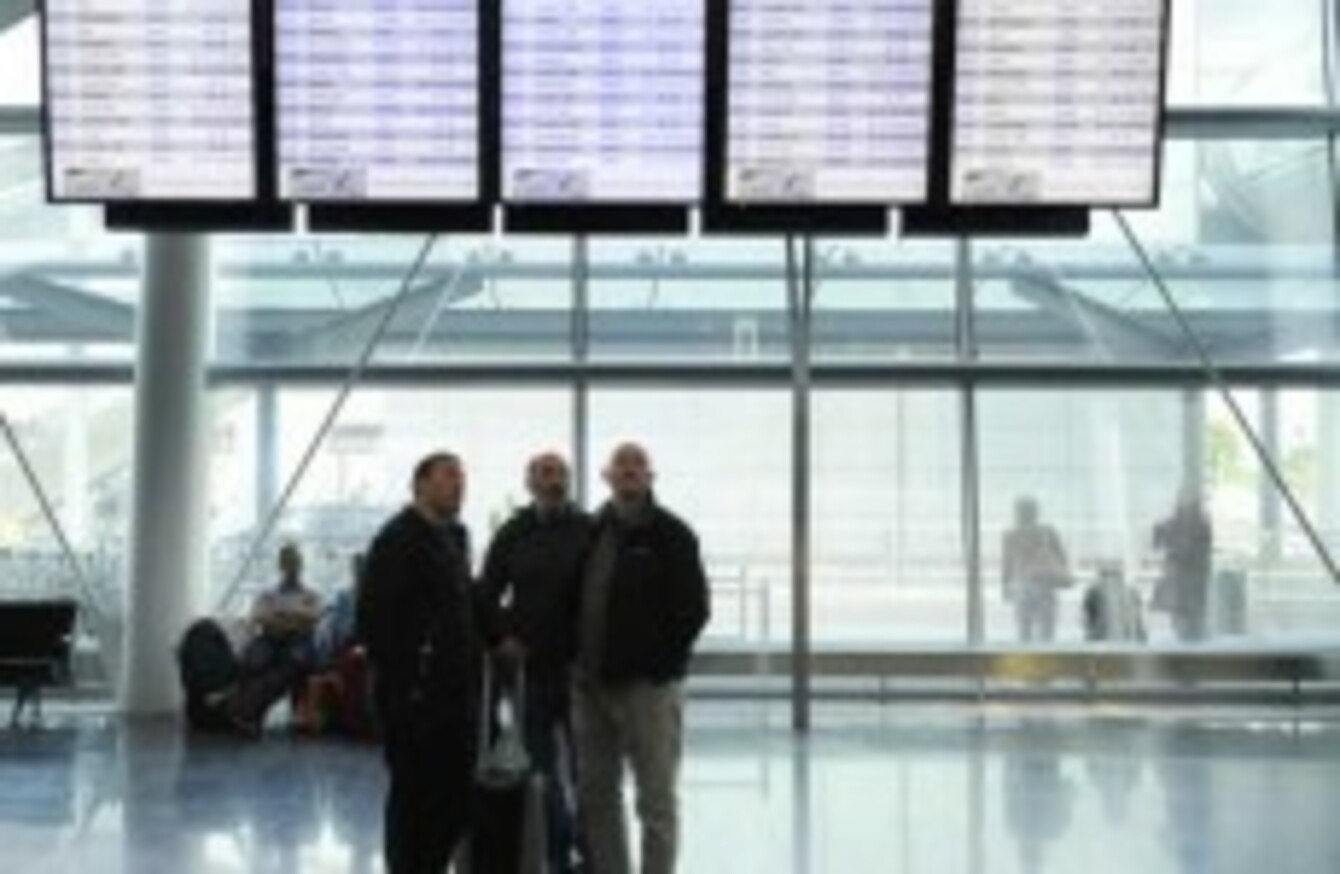 Passengers at Dublin airport today.
Image: Sasko Lazarov/Photocall
Passengers at Dublin airport today.
Image: Sasko Lazarov/Photocall
Updated 10.10pm
THE IRISH AVIATION Authority has said this evening that, based on the latest information, there will be no restrictions on Irish airspace for at least the next 24 hours and that all Irish airports remain open.
In a press release issued at 7.30pm this evening, the IAA said its forecast is based on information provided by the Volcanic Ash Advisory Centre (VAAC). Anyone planning to travel in the coming days is advised to check the status of their flight with their airline and to check the airport they are travelling to.
The ash cloud caused significant disruption to flights in and out of Scotland and other parts of the UK today, with Ryanair this afternoon cancelling its remaining six scheduled flights out of Edinburgh airport today.
The IAA said it is in contact with the VAAC in London, Met Éireann, the Department of Transport, airlines, airports and also European air traffic service providers and will continue to post updates on its website.
The Wall Street Journal reports this evening that the ash cloud is expected to move away from the UK tomorrow, but will affect parts of Denmark and northern Germany.
Today's disruptions
Eurocontrol said today that about 500 European flights were cancelled as a result of the volcanic ash cloud. The disruptions at UK airports are expected to have ended by tomorrow, although some airports in Scotland and northern England could be affected up to 1am tomorrow morning, according to a BBC report.
However, the travel plans of thousands of passengers in the UK have been disrupted because of the ash cloud from the Grimsvotn volcano in Iceland. The knock-on effect for Irish passengers travelling to Scotland and other parts of the UK has become apparent with both Aer Lingus and Ryanair cancelling flights to Scottish airports earlier today.
Scottish airspace at 3.25pm today – closed (via Flightradar24.com)
As well as Scotland, Aer Arann flights between Dublin and Derry were also cancelled this morning, RTÉ reports with Easyjet and Jet2.com cancelling flights from Belfast International Airport.
Ryanair has been sharply critical of the decision to close Scottish airports saying it conducted a test flight over the so-called 'red zone' over Scotland where ash cloud is at a high density and said that "no evidence of ash was encountered in flight or during a post flight inspection."
The airline had hoped to fly planes out of Edinburgh airport today and submitted a request to do so to the IAA, but subsequently cancelled its remaining six flights out of Edinburgh.
The airline has renewed its calls on both the UK Civil Aviation Authority (CAA) and the IAA to reopen the airspace over Scotland and allow airlines to operate flights safely following their verification flight.
However, when contacted by TheJournal.ie this afternoon, the CAA said that it was Ryanair's decision to cancel the remaining flights out of Edinburgh today.
- Additional reporting by Susan Ryan