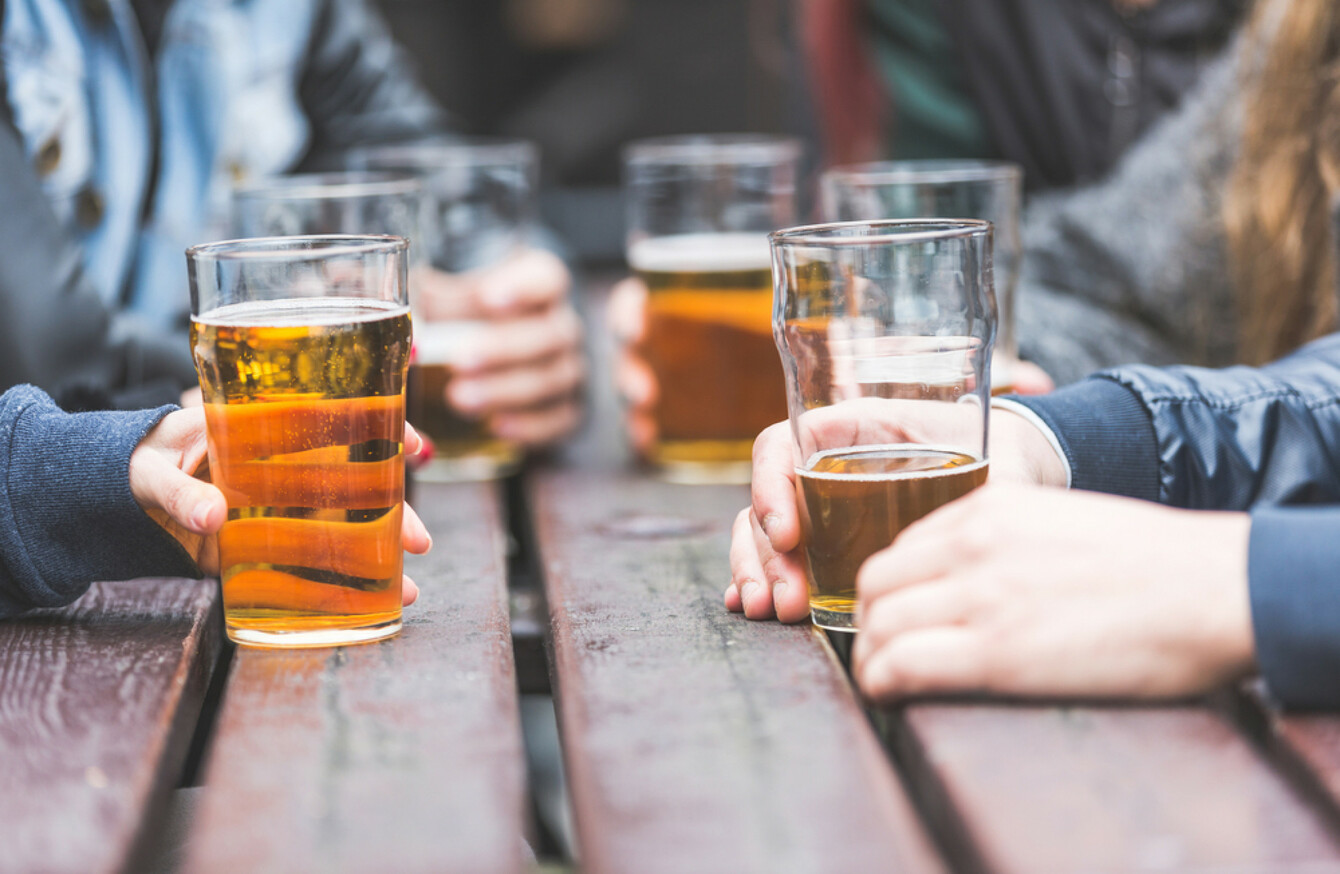 Image: Shutterstock/William Perugini
Image: Shutterstock/William Perugini
BEER MAY BE the top tipple in Ireland, but in recent months some of the industry's biggest brands have been pushing the product in a different direction.
In January, Guinness created its first non-alcoholic lager, Open Gate Pure Brew, while Heineken launched a non-alcoholic variant here two months later.
While the new offerings mark a significant shift for the major producers in Ireland, the rollout of non-alcoholic beer products isn't exactly an overnight change.
Sales of non-alcoholic beer have risen steadily in Western Europe over the past five years and were worth €4.1 billion in 2017, according to market research agency Euromonitor.
Although its overall market share remains relatively low in most countries, Spiros Malandrakis, drinks analyst at Euromonitor, says that the category is seeing "dynamic growth".
"We've seen a rise in 'mindful drinking' over the past few years, boosted by rising health awareness and higher-quality releases," he told Fora.
"About a decade ago, the low-alcohol products that were available were not of a high quality. In the past, the problem with taking out the alcohol was that the flavour profile really suffered.
"But now there have been major developments that allow these products to become much more palatable."
He added that the growing shift towards lower-alcohol drinks is now being driven by younger consumers.
"Historically, low-alcohol products tended to be more relevant to older demographics for health reasons, but in the last few years we've seen a rise in moderation for millennials too.
"It has become relevant across the board and that's why there's been more products in the pipeline."
Despite the overarching trend, Euromonitor noted that in contrast to many European markets, non-alcoholic beer has "not been able to pick up pace" in Ireland just yet.
In 2012, sales of non-alcoholic beer were worth €19.6 million in the Irish market – but that figure has actually fallen every year since, dropping to €16.2 million last year.
But Malandrakis said that with the availability of more products, change could be on the horizon.
"In general, these kinds of trends tend to be spearheaded in key metropolitan cities, like London, New York, Berlin, and then it spreads from there," he said.
"So I think we will also see that growth in Ireland in the next couple of years as well."
Beer sales
Overall, the amount of alcohol being consumed in Ireland is falling, according to a recent report from the Drinks Industry Group of Ireland.
In 2017, average alcohol consumption per adult was down by 1.4% compared to the previous year and by 23% compared to 2007.
Caoimhe O'Brien, sales manager at Carry Out off-license in Tyrrelstown, said that she's seen a growth in sales of non-alcoholic beer recently.
"We've noticed over the past 18 months or so that there's been a huge increase – our turnover of non-alcoholic beer has grown tremendously."
"There's one particular beer – Baltika Zero – that we go through five cases of a week, which for a non-alcoholic beer is pretty much insane."
O'Brien currently sells around 10 different non-alcoholic beers and two or three non-alcoholic ciders, adding that the variety of products available "is growing significantly".
She pointed out that it's not just beer that is being affected by this trend.
"The non-alcohol section is growing exponentially, particularly with sparkling wine and gin. I think it's a section that will continue to grow.
"There's definitely a market for it, whether for health reasons, someone who's driving, or just wants the taste of a beer without the alcohol. It's gonna be way bigger than I think we've anticipated."
Testing the market
But it's not just the drinks giants that are trying to tap into this market – craft beer makers are also the seeing potential for growth in the non-alcoholic category.
O'Brien said that low-alcohol beer from Danish brand Mikkeller and Brew Dog's Nanny State are popular options with her customers.
Closer to home, Wexford's YellowBelly Beer and Black Castle Drinks teamed up to launch an alcohol-free tipple earlier this year – a dry-hopped craft soda called Designated Diver.
Danny Trappe, sales manager at YellowBelly Beer, said that the non-alcoholic beer market is "one of the fastest-growing sectors in the beer world" and so  is not something that the brewery plans to ignore.
"We felt there was a big gap in the market and wanted to see if our alcoholic beverage making experience could be transferable into a new sector," he told Fora.
The company was looking to target craft beer drinkers who might be looking for a non-alcoholic option.
"We sold the beverage in independent off-licences, craft beer bars and hip restaurants that were looking for something a bit different," Trappe added.
He said that it was difficult learning a new production process at the start, and the brewery partnered with soft drink maker Black Castle to get a "crash course" in how flavours work together in a non-alcoholic drink.
Alcohol-free beer is usually made using the same initial process as regular beer, however the alcohol is removed – normally through a heating process.
The beer is then carbonated and flavours can be added, making the process resemble that of brewing a beer-flavoured soft drink.
Designated Diver is now sold out in Ireland – Trappe said that the brewery only produced a small volume at first as it is still "teasing out the market".
However, YellowBelly is planning to produce more in the coming months, with the aim of filling the gap for an alternative craft drink.
"As our volumes grow and we increase our range we will get a better picture on where the market is at," Trappe added.
"Any off-licence owner I've talked to has told me of the growth of non-alcoholic beer in the market, maybe not as much as other countries, but it's still a sector that's worth fighting for."
Sign up to our newsletter to receive a regular digest of Fora's top articles delivered to your inbox.
Written by Sarah Harford and posted on Fora.ie