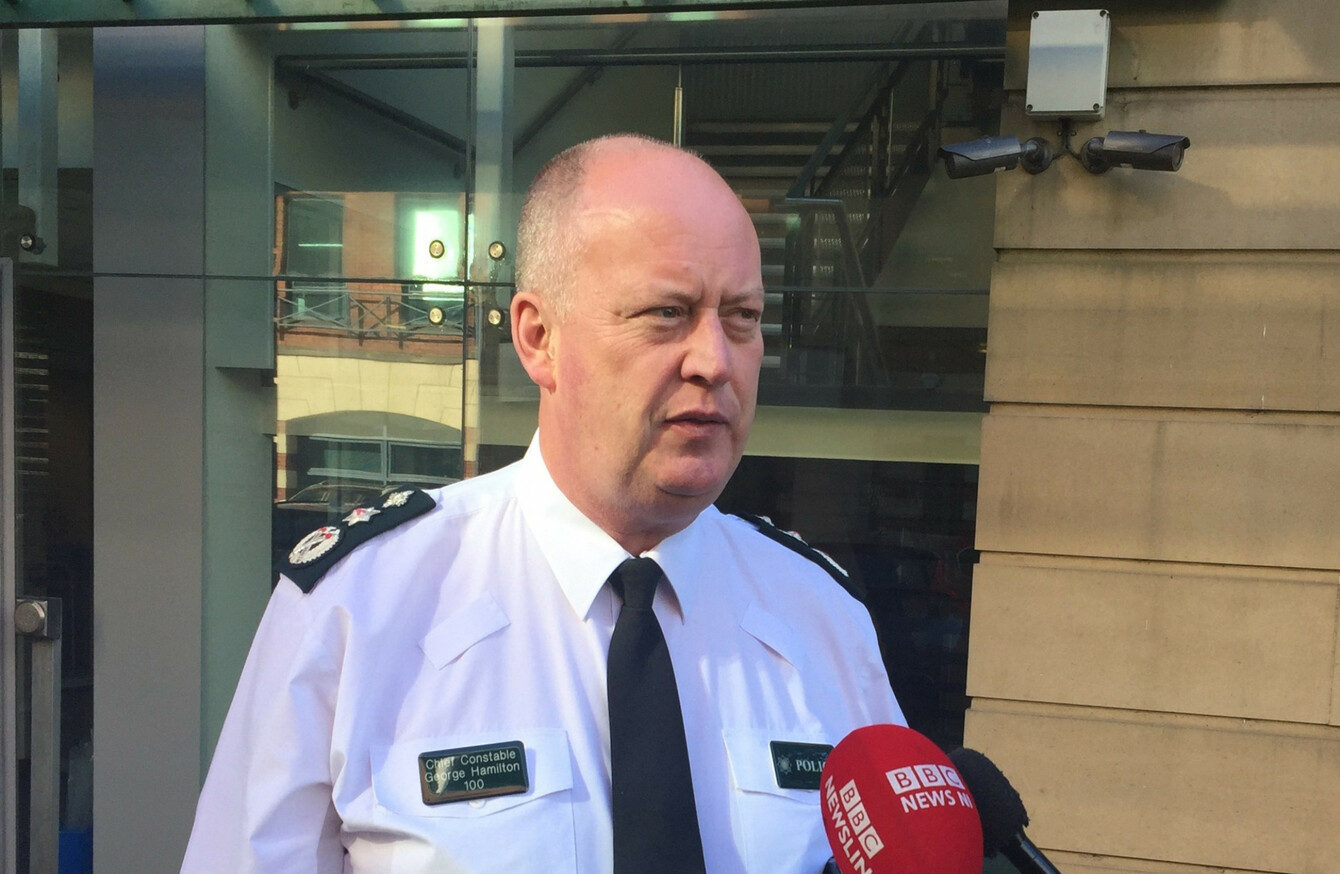 Police Service of Northern Ireland Chief Constable George Hamilton.
Image: PA Wire/PA Images
Police Service of Northern Ireland Chief Constable George Hamilton.
Image: PA Wire/PA Images
THE PSNI HAS confirmed that three of its most senior officers are being investigated by the Police Ombudsman.
The complaints relate to allegations of misconduct by senior police during a criminal investigation by the PSNI into the two complainants, former senior officers, during 2014.
The PSNI says that "acknowledges and supports the need for the Office of the Police Ombudsman to investigate these allegations" and that all officers are co-operating fully with the investigation.
In a statement, the Police Ombudsman says:
A number of allegations have been made. They focus on concerns about how a PSNI investigation in 2014 into allegations of bribery and misconduct in public office was conducted. They include allegations of criminality and misconduct in how this investigation was undertaken.
"The Police Ombudsman has declared this as a "critical incident": our policy defines a 'critical incident' as a matter, the outcome of which could have a significant impact on the person making the complaint, on the police or on the wider community."
The officers being investigated include Chief Constable George Hamilton and his deputy Drew Harris as well as Assistant Chief Constable Mark Hamilton.
The PSNI says all men deny the allegations.
The Chief Constable, Deputy Chief Constable and other officers completely refute the allegations made against them and are strongly of the view that these complex investigations into the complainants were conducted with professionalism and integrity. This position has been fully outlined in the Officers initial response to OPONI.
The allegations surround complaints made by seven people questioned into a case surrounding the awarding of contracts for the sale of PSNI vehicles.
Comments are closed as the investigation is ongoing.