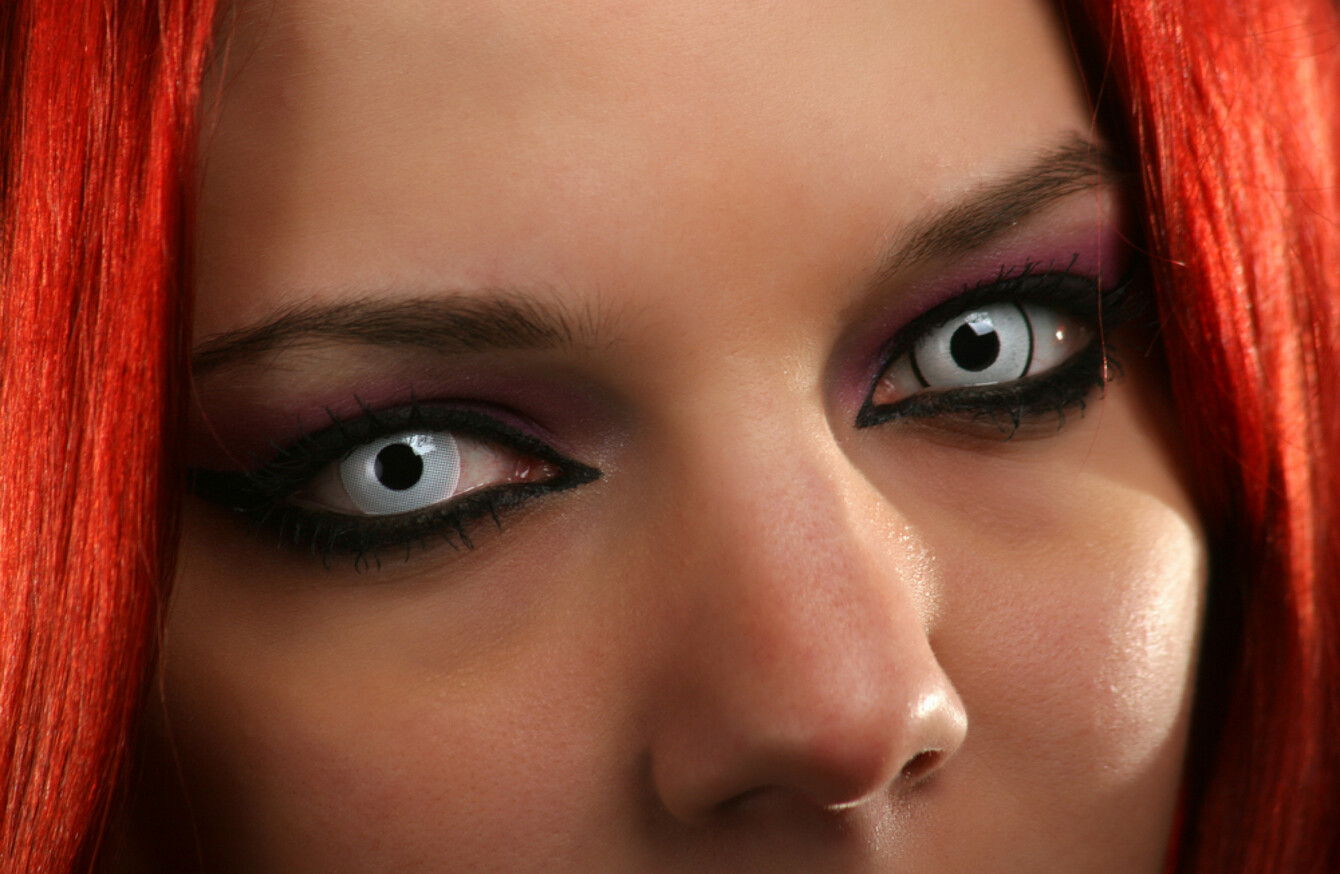 AAR Studio/Shutterstock
AAR Studio/Shutterstock
RETAILERS HAVE BEEN warned not to stock novelty contact lenses in the run up to Halloween.
The products, which carry potentially serious health risks, have become increasingly popular in recent years. However, it is an offence to sell lenses unless a doctor, registered optometrist or registered optician conducts the sale.
There are many risks associated with the wearing of ill-fitting, poor quality contact lenses, including:
Red, sore or dry eyes
Sensitivity to light
Headaches
Blurred or reduced vision
In a statement, Coru, the Health and Social Care Regulator, noted: "Halloween favourites like the 'cat's eyes' or blackout lenses can reduce the peripheral vision affecting mobility, depth perception and balance and would make driving extremely dangerous. Often the packaging contains no warning of these dangers."
The organisation said people often increase the risk of infection by using tap water or saliva to moisten the lenses.
"This dramatically increases the risk of infections which can include bacterial conjunctivitis or a devastating condition called Acanthamoeba keratitis.
"Acanthamoeba is an organism commonly found in tap water and hot tubs. It causes an infection which can lead to permanent visual impairment or in the worst cases blindness," Coru said.
Conviction
Earlier this year, Coru secured the first conviction in Ireland for the misselling of cosmetic contact lenses. Balloon Man Ltd pleaded guilty to two separate offences in the Dublin District Court and was fined €400 for each offence.
Coru inspectors will be monitoring stores and online retailers who sell these products. Any business or individual found to be misselling the lenses faces potential prosecution and fines of up to €500 for the first offence and up to €2,500 on second or subsequent offences.
#Open journalism No news is bad news Support The Journal

Your contributions will help us continue to deliver the stories that are important to you

Support us now
Speaking about the dangers of novelty contact lenses, Ginny Hanrahan, Coru's CEO, said: "Cosmetic or coloured contact lenses are often advertised as a fun product to wear but in reality they are extremely dangerous."
She said contact lenses are medical devices and should only be worn after an examination has been carried out by a doctor, optometrist or optician.
These novelty products can be ill-fitting products and the wearer is not provided with the necessary professional advice on wearing contact lenses correctly. The risks are severe and can cause lasting damage to a person's eye.
"We have already prosecuted for this offence this year and we will not hesitate to use our powers to ensure public safety now and in the future," Hanrahan said.