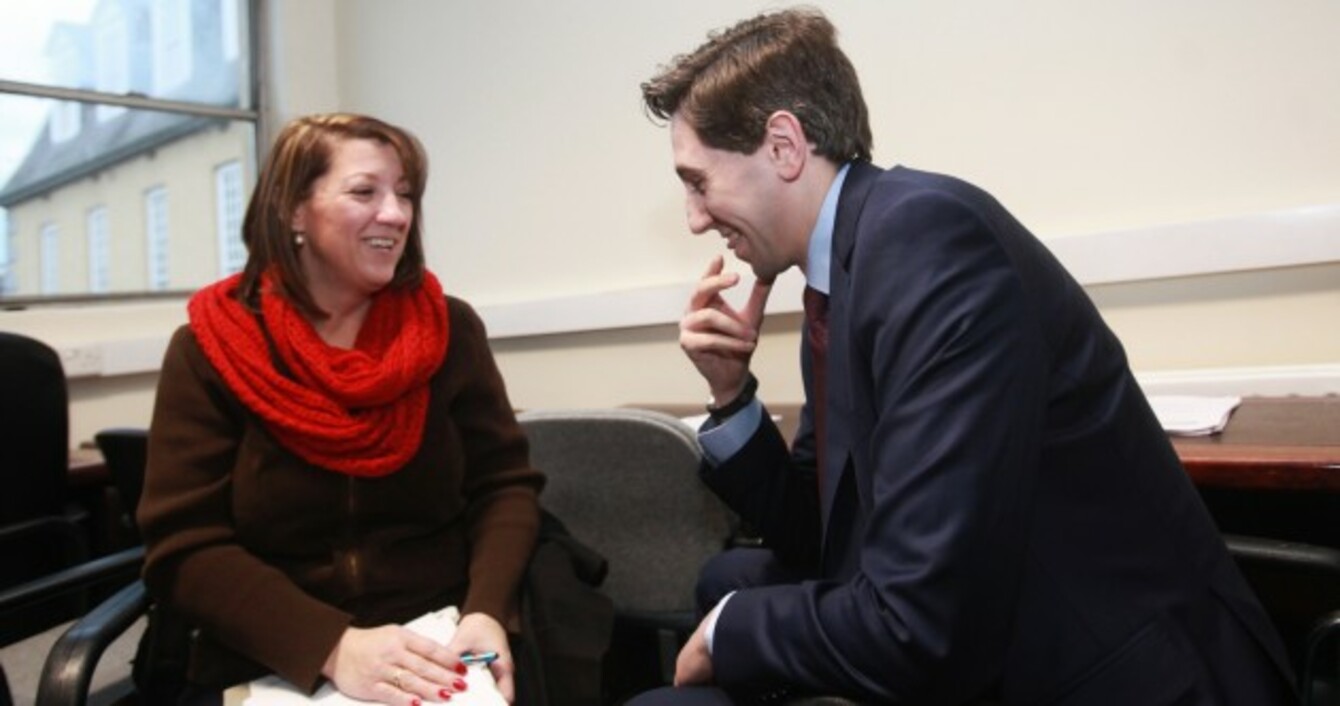 Minister for Health Simon Harris TD as he speaks to Tiffany Webber at Dr Steevens' Hospital in Dublin today.
Image: Leah Farrell
Minister for Health Simon Harris TD as he speaks to Tiffany Webber at Dr Steevens' Hospital in Dublin today.
Image: Leah Farrell
Updated 8pm
DESPITE THE HEALTH Minister Simon Harris being on a mission to fill some 1,000 vacancies in the Irish health service, only 36 people turned up to the first day of a HSE recruitment drive yesterday.
The HSE is hosting three open recruitment days for nurses and midwives in Dublin over the Christmas period.
Yesterday, just 36 people turned up to the first day of the drive, while there were over 52 attendees today.
There are an additional 20 people registered to attend the final day tomorrow.
Open for business
During the one-stop recruitment drive, candidates are interviewed and job offers are made on the day.
Yesterday, there were 19 job offers, with another 25 successful candidates for nursing jobs today. A similar event being run in Waterford today has seen 13 candidates being hired today.
All job offers are subject to satisfactory clearances by the HSE.
Rosario Mannion, HSE National Director of Human Resources, said nurses from around the world attended the event in Dr Steeven's Hospital near Heuston Station in Dublin.
There is quite the variation. We have had a significant amount of attendances from the UK. We've had a number from the US, from Boston, we've had some from the Dublin region, from Cork, Kerry and the north west, so quite a variation.
This specific initiative is targeted at people who are home for Christmas and may be thinking about returning.
We want to get the message out there that we are open for recruitment, we have permanent posts, it is a very attractive place to work there are plenty of benefits.
Relocation package 
Nurses who decide to move back to Ireland will get a €1,500 relocation package, in addition to a salary of €35,000.
Speaking to the media, Health Minister Simon Harris said he wants people to know that the Irish health service is open for recruitment and that there are full-time jobs available.
Today is just the start, said the minister, who added that further recruitment drives will be rolled out around the country next year, with another such event taking place in Easter.
I am not suggesting there is any magic wand or silver bullet but what I am saying is we want 1,000 more nurses working in the Irish health service by the end of 2017.
Harris said Bring Them Home campaign, which aimed at attracting Irish nurses abroad to return home, only managed to bring back 88 nurses. He said today's figures were encouraging.
Many nurses abroad want to come home, they want to come home for family reasons, for community reasons, they want to be back with their parents with their families, with their communities.
My message to them is the Irish health service needs you back, the Irish health service wants you back.
However, when asked by TheJournal.ie if he was satisfied with the package on offer for returning nurses, the minister said nurses he has spoken to talk about wanting to "be back in their own country after years of not being able to get a job in this country".
The minister admitted there are a number of broader issues at play when it comes to ensuring that Ireland is an attractive place to return to.
High rents 
Specifically mentioning the rental sector crisis in Ireland, Harris noted comments made by Housing Minister Simon Coveney in The Irish Times today in which he said workers based in key city centre jobs, such as hospitals, will have their incomes assessed to see if they qualify for a new scheme that will offer them cheaper rent.
You saw obviously what the government did in relation to rent just before Christmas and you will have seen comments from my colleague Minister Simon Coveney about wanting to have affordable rental areas. I think that is a very sensible thing and something I fully support.
However, today's recruitment drive takes place against the backdrop of the threat of possible industrial action in the new year.
Strike action threat 
Yesterday, Siptu announced it is to ballot 25,000 of it health service workers. Earlier this month, the Irish Nurses and Midwives Organisation (INMO) announced the result of their nationwide ballot, with 90% of nurses voting in favour of strike action.
Speaking about the INMO ballot, he said:
I regret the outcome of their ballot I note that the Lansdowne Oversight Committee has instructed that the management – the HSE and the Department of Health – would meet with the INMO to discuss the issues surrounding recruitment and retention.
He said this will take place in advance of the INMO executive meeting in the middle of January.
I would hope that if all sides put their mind to it and do everything they possibly can that we can find a way forward.
Harris said his primary interest were the patients.
Industrial action is not in anyone's interest – it is not in the interest of staff and it is certainly not in the interest of patients.
In relation to the Siptu ballot I must say I am disappointed that Siptu have decided to ballot.
I would encourage Siptu, a very large trade union, to use the mechanisms available to them within the Lansdowne Road Agreement to engage with the HSE
The minister also took today's event to announce that delayed discharges in Irish hospitals have reached a low of 436.
The number has fallen from a recorded high of 832 in October 2014.
"We have been putting an intense focus on this in the Winter Initiative, providing additional home help hours and community supports and it's great to see real results for those patients who no longer need to be in our hospitals. This has an important impact on the hospitals themselves too, making more beds available for sick patients and reducing the waiting times to access those beds," he concluded.