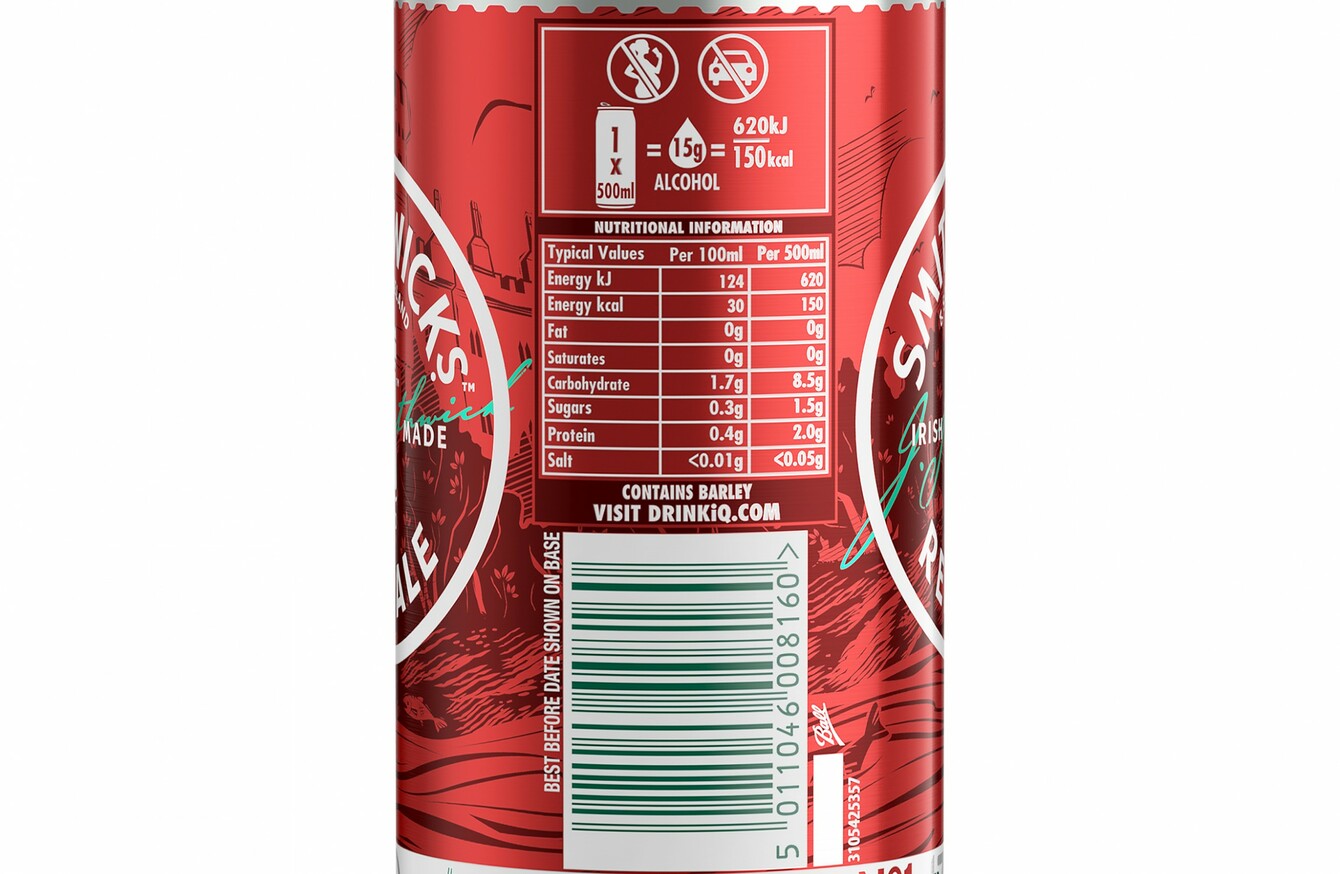 Image: Diageo
Image: Diageo
THE RED ALE-style beer Smithwick's is to include information on the amount of calories and alcohol it contains on every can and bottle by the end of the year, making them the first brand in Ireland to do so.
The new standards for its information labels mean customers will be told additional information on calories and alcohol content per serving, as well as drink driving and drinking during pregnancy warnings displayed in a consumer friendly way.
Diageo Ireland, Smithwick's distributor, announced today that the changes are set to come into force by the end of 2016. The alcohol giant says it hopes to see the new labelling standards across its entire Guinness range in early 2017.
Diageo's Johnnie Walker is also expected to include the information on its Red Label by the end of this year, which will see the labels be shipped across the entire globe. Oliver Loomes from Diageo Ireland said:
"Diageo Ireland is implementing this new labelling standard to provide consumers with clear information about what's in their glass.
This information comes as part of our commitment to providing the best possible information for consumers, empowering them to make informed choices about what they drink.
The move has been praised by both Andrew Doyle, Minister of State at the Department of Agriculture, Food and the Marine, and Aidan Cotter, chief executive of Bord Bia.
New EU Regulations
This announcement comes to the backdrop of possible EU rulings requiring all drink brands to include nutritional information on its packaging.
A report into how these regulations would work and and what these labels would have to display had been expected at the end of 2014, but was delayed twice because of a number of factors, including the disagreement over the exact definition of 'alcopops'.
There has also been a lack of action from the EU in terms of a centralised policy relating to alcohol-related injuries and deaths after its previous strategy expired in 2012.
Last year, 20 public health organisations resigned from the European Alcohol and Health Forum (EAHF) after the EU's Health and Food Safety Commissioner Vytenis Andriukaitis expressed doubt that an EU strategy on tackling alcohol-related harm would be published.