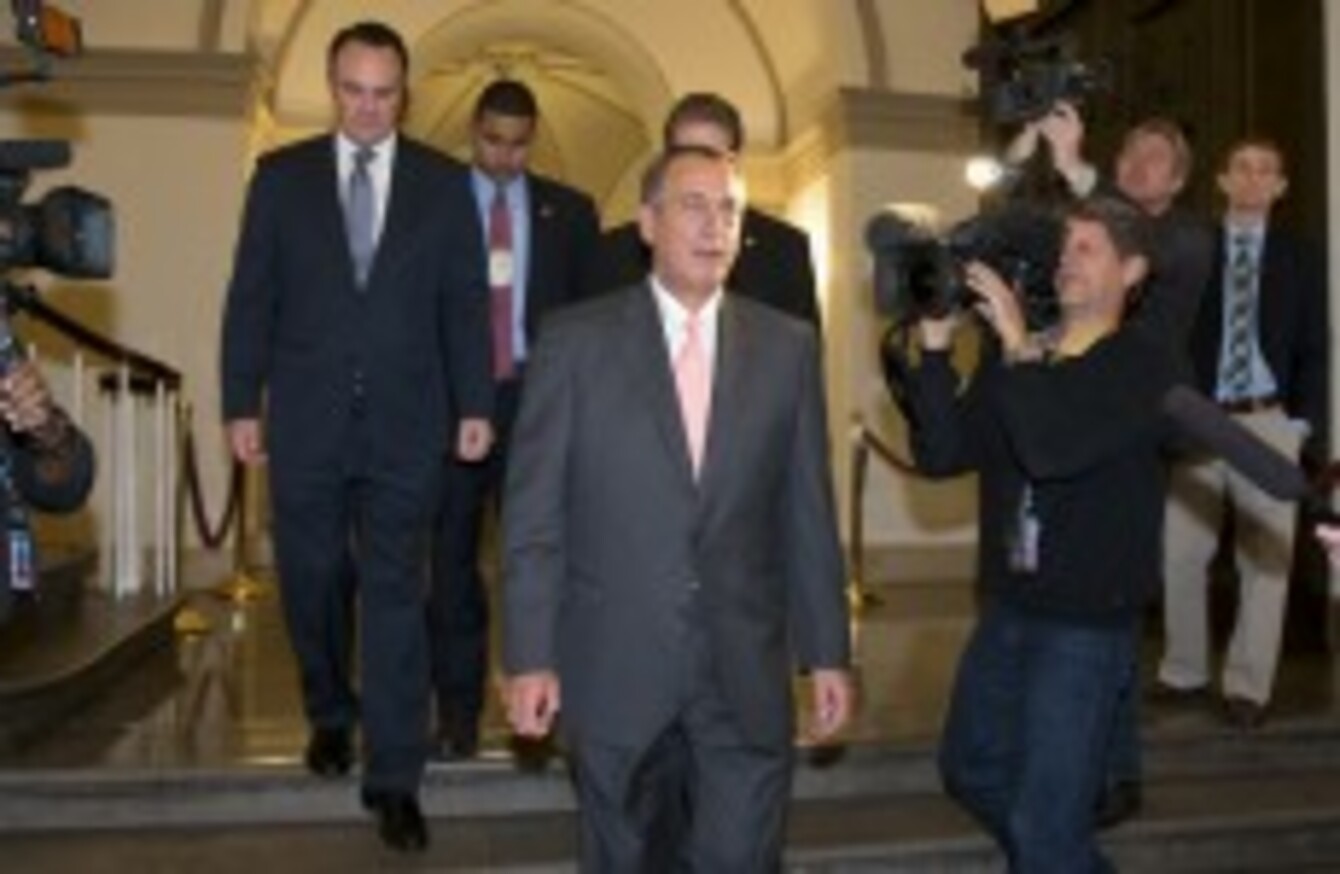 House Speaker John Boehner departs the Capitol en route to talks with the President
Image: J. Scott Applewhite/AP/Press Association Images
House Speaker John Boehner departs the Capitol en route to talks with the President
Image: J. Scott Applewhite/AP/Press Association Images
HOPES ARE RISING for a breakthrough in the political impasse crippling Washington after "constructive" talks between President Barack Obama and top Republicans on a short-term fix to stave off a debt default.
After days of deadlock, Republicans proposed a six-week extension of US borrowing authority in return for an agreement by Obama to negotiate on a budget that would restart federal operations, which halted on 1 October.
Talk of a possible deal sparked optimism on Wall Street, with the Dow Jones Industrial Average gaining more than 300 points or 2.2 percent. The tech-heavy Nasdaq exchange was also up over two percent.
The White House said yesterday that Obama would be open to a short-term debt ceiling hike to avoid the United States defaulting on its debts after a 17 October deadline.
But aides said he would prefer a longer term extension and would not accept any measure which contained partisan conditions to hold him to "ransom".
The president also wants Republicans to pass a temporary budget to reopen the government, bringing hundreds of thousands of federal workers back to their desks, before he gets into detailed budget negotiations.
Obama sat down for 90 minutes at the White House with House Republican leaders, who quickly returned to Capitol Hill where second-in-command Eric Cantor offered an upbeat report on the talks, despite no deal yet being struck.
"It was a very useful meeting, we had a constructive conversation," Cantor told reporters, adding that both sides would consult aides and continue discussions later.
The White House was more measured, making clear that Obama was still seeking a deal that would both reopen the government and extend the debt ceiling.
"After a discussion about potential paths forward, no specific determination was made," a statement said.
"The President looks forward to making continued progress with members on both sides of the aisle."
Senate Republicans are due to meet later today.
- © AFP 2013.