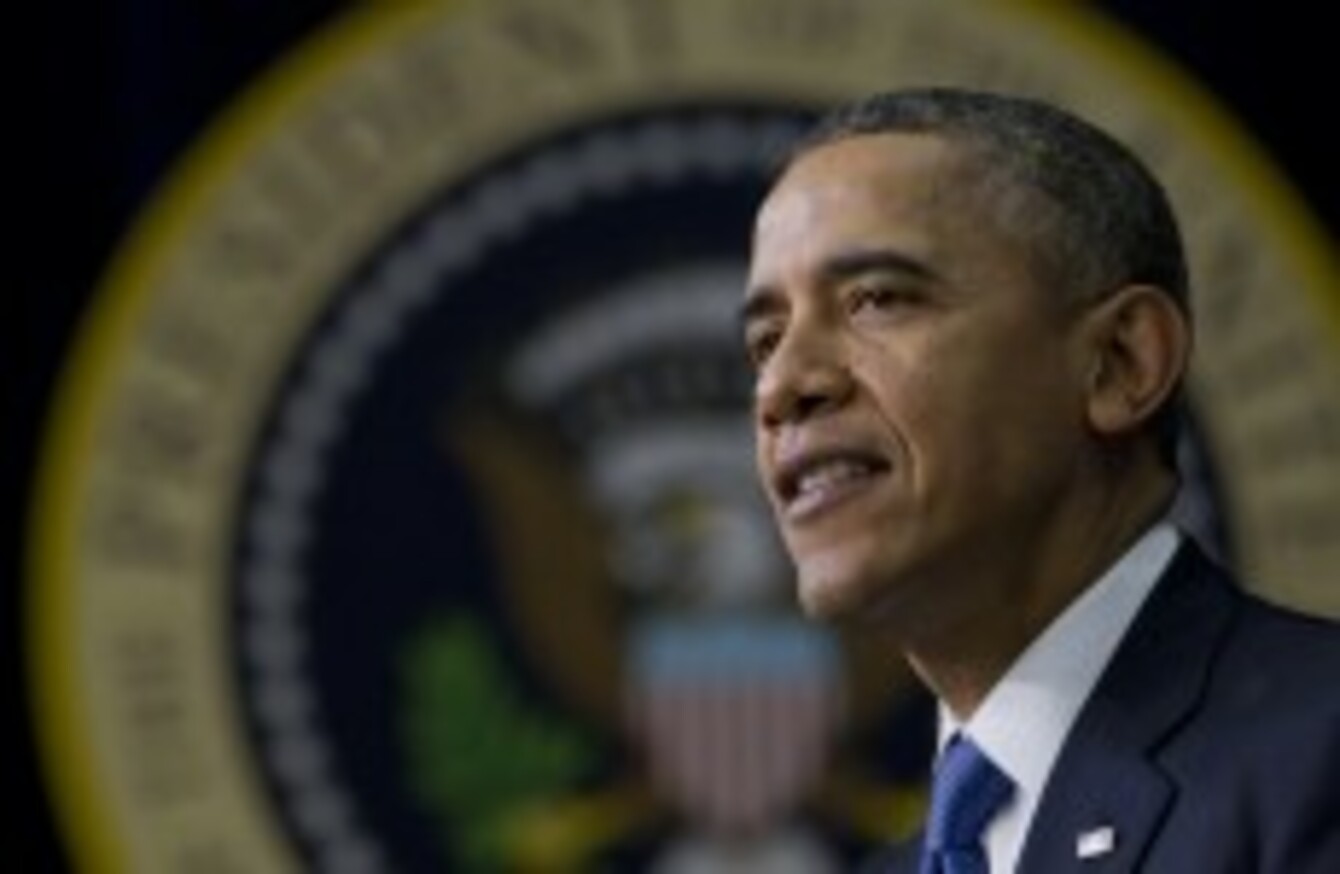 Image: Carolyn Kaster/AP/Press Association Images
Image: Carolyn Kaster/AP/Press Association Images
BARACK OBAMA'S HEALTH care law hit its enrollment deadline today, not as the disaster once feared but still a political albatross for the US president and his Democratic allies.
Although sign-ups for first year Obamacare plans are ending, it will be months before it is clear whether the law has expanded coverage to those who lack it and made medical assurance affordable.
The health care law is Obama's signature domestic political achievement and the most sweeping social reform in decades in the United States.
Yet its passage and implementation ignited a fierce partisan battle and the law highlighted the deep political and ideological divisions cleaving the United States.
Obamacare drained the president's political stock and its unpopularity threatens to help Republicans put a stranglehold on Congress in November's mid-term elections.
Still, the administration mounted a last-minute push today to swell enrollment numbers.
Demand was so heavy that the federal Obamacare website was jammed, with potential customers redirected to a phone line or asked to leave an email address so they could be contacted later.
Rocky rollout
After a rocky rollout last year caused by a malfunctioning Affordable Care Act (ACA) website, enrollments in health care exchanges have accelerated.
The White House said last week that six million people had signed up for Obamacare, which forces people to pay a fine if they do not buy insurance and provides subsidies to low income customers.
That put the administration within striking distance of the seven million figure it set as a benchmark for success by the end of March.
The late surge cheered the White House.
(Pic: PA Images)
Staff Thomas Sundoval, left, assists Jaime Sanchez, center, 50, and his wife Carmen Castro, right,, 50, during a health care enrollment event at AltaMed Health Insurance Resource Center.
The president himself called from Europe last week to exhort volunteers to leave "no stone unturned" in the drive for sign-ups.
Republicans, meanwhile, rubbished administration claims.
"I think they're cooking the books," Republican Senator John Barrasso told Fox News Sunday.
Judgments on Obamacare are being hindered by a lack of detail in enrollment figures.
It is unknown how many young people have signed up, an important indicator since they are needed to subsidize higher costs of older, sicker patients.
If Obamacare pools skew too old, the cost of premiums could rise next year.
Also unclear is whether everyone who registered for a health plan actually paid for it.
Another unknown is what percentage of those signing up had no prior coverage.
Knowing that is important because the law's bedrock goal is to provide health care for over 40 million Americans who lack it.
Last minute push
Making the Obamacare rounds Monday were Vice President Joe Biden, Health and Human Services Secretary Kathleen Sebelius, who appeared on various television and radio shows.
A White House official said 27,000 "navigators" were on duty in 8,600 community health centers to speed sign-ups.
The events are a culmination of a push which saw Obama appear in unorthodox venues to push the law, including on online comedy show "Between Two Ferns" with "Hangover" star Zach Galifianakis.
As a whole, the health care law remains unpopular: a recent Pew Research poll found that 41 percent approved of it and 53 percent opposed it.
The partisan breakdown of the poll tells the political story, eight percent of Republicans supported the law while 72 percent of Democrats approved of it.
Republicans have lambasted what they see as an unacceptable government power grab in the private health care market.
And they seized on the administration's struggle to sell the reform, especially Obama's discredited vow that if Americans liked their health insurance plans they could keep them.
Obamacare threatens to do more than dent the president's approval ratings, now hovering around 40 percent.
Democrats battling to cling on to Senate seats in traditionally conservative states face a barrage of negative advertising slamming their previous votes in favor of Obamacare.
But the law seems certain to remain a fixture in American life.
Should a Democrat win election in 2016 to succeed Obama, he or she will have a veto to protect the law.
And a future Republican president might reflect on the political pain inflicted on Obama by his bid to reform health care and steer clear.
- © AFP 2014.