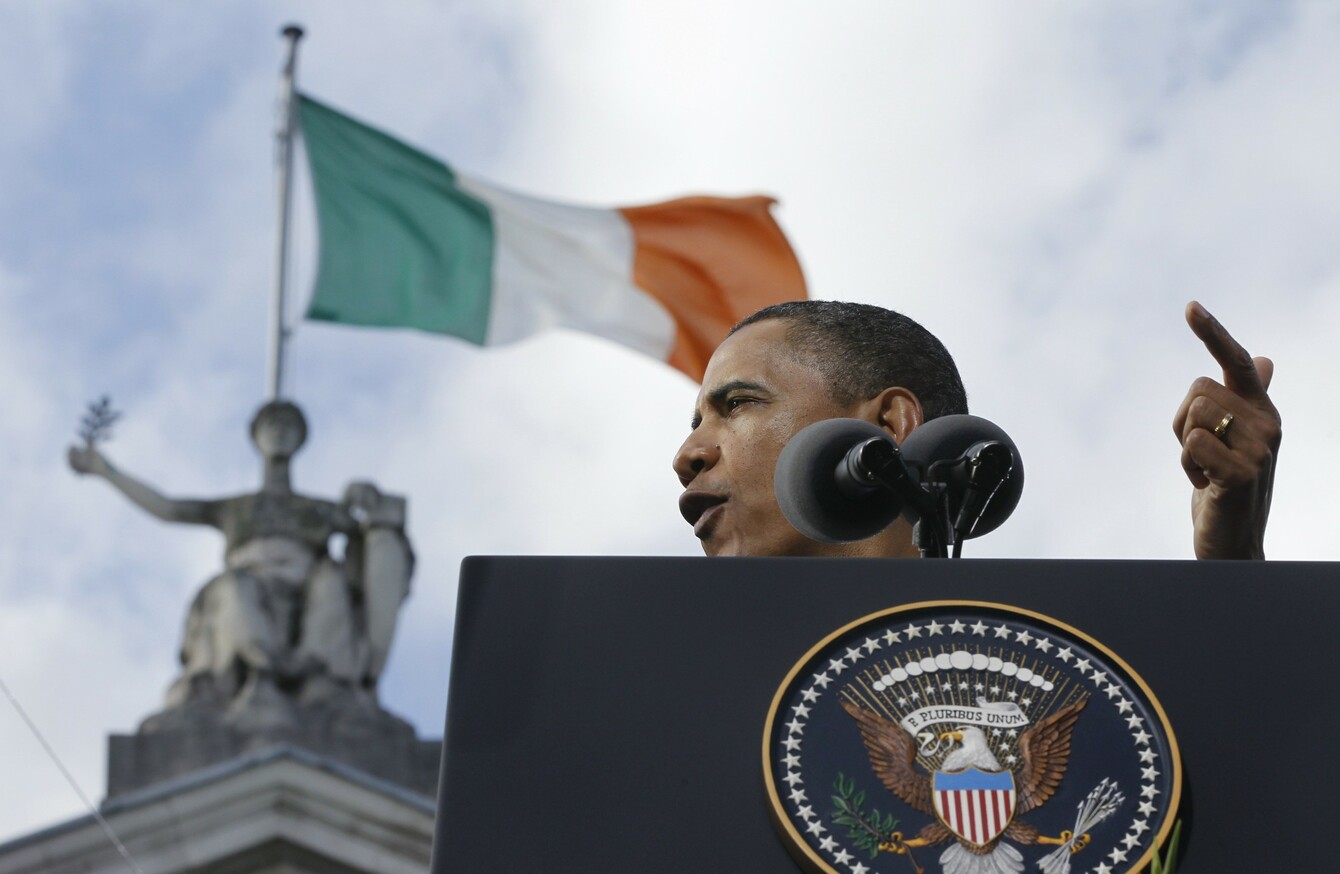 Barack Obama when he visited Ireland in 2011.
Image: Charles Dharapak AP/Press Association Images
Barack Obama when he visited Ireland in 2011.
Image: Charles Dharapak AP/Press Association Images
LAST NIGHT, DUBLIN City councillors decided to grant Barack and Michelle Obama the Freedom of Dublin award in a close-run, heated vote.
Councillors voted 30 to 23, with four abstentions to grant the former US President and First Lady the award.
The motion was put forth by Lord Mayor Brendan Carr, but faced bitter opposition from the Anti-Austerity Alliance-People Before Profit and the Workers Party, among others, who walked out of the council chamber in protest after little time was given to debate the motion.
Opponents to the move argued that measures that Obama had taken as president, such as the authorisation of drone strikes, large scale deportations and the support of his cabinet to overthrow the Honduran government, disqualified him from being considered for such an award.
"They'd be delighted to come over"
Speaking on RTÉ's Morning Ireland, Carr defended the decision.
He said: "There have been some failings, and Barack Obama himself has accepted these failings. He inherited a very difficult scenario coming in from George Bush which had to be cleaned up.
He signed orders against torture, he opened the door for refugees coming from the Syrian crisis which is something that this country hasn't yet opened up to. He's done an awful lot to try and break down barriers between different communities and different religions.
When it came to whether the Obamas would actually want to come and accept the award, Carr said that he had received encouraging signs so far.
"The indication we've been given is that they'd be more than delighted to come over," he said. "They want to accept the freedom. They have a lot of time for Dublin.
They came here before when we were in the heart of our recession and gave people a bit of hope.
"I think this is a good way of welcoming two people that have done a lot to try and unite the world."
As for a timeframe on when they would come, Carr was more coy but said he is hopeful it can happen this year.
A "political stunt"
Several councillors walked out of the council chamber in protest at the lack of debate given to the issue.
Anti-Austerity Alliance councillor Michael O'Brien said: "Anticipating that a number of councillors would oppose this proposal and would seek to bring home to him some uncomfortable truths about the Obama Presidency, the Lord Mayor disgracefully obtained prior agreement from the leaders of Fianna Fáil, Fine Gael, Labour, Sinn Féin and the Independent group that his proposal would take place without debate or discussion.
Nauseated by tonight's spectacle myself and other left councillors walked out of the chamber in protest.
Labour councillor Dermot Lacey, however, accused O'Brien and colleagues of engaging in a "political stunt".
He told TheJournal.ie: "I've been on the council for 23 years, and awarding the Freedom of the City has never been something that has been debated.
#Open journalism No news is bad news Support The Journal

Your contributions will help us continue to deliver the stories that are important to you

Support us now
"People who are going to get the freedom of the city may be unwilling to come and receive the award if they were aware they faced such opposition."
He added that awarding the Obamas this title was the "right thing to do" and that was demonstrated by contrasting Barack's approach with that of his successor Donald Trump.
"Disgraceful and undemocratic"
On this same topic, Independent Councillor Mannix Flynn told TheJournal.ie that the Lord Mayor's conduct was "undemocratic, outrageous and absolutely disgraceful".
He claimed that the motion had been "railroaded" through the council, and it had been engineered to prevent debate.
He said: "This is an honorary position which 23 councillors have voted against awarding. Are they now not going to attend the ceremony? What kind of message does that send out?"
He added that the motion passing in such a manner marked a "dark moment" for Dublin City Council, and that this issue was "not over yet", before calling on Carr to step down as Lord Mayor.