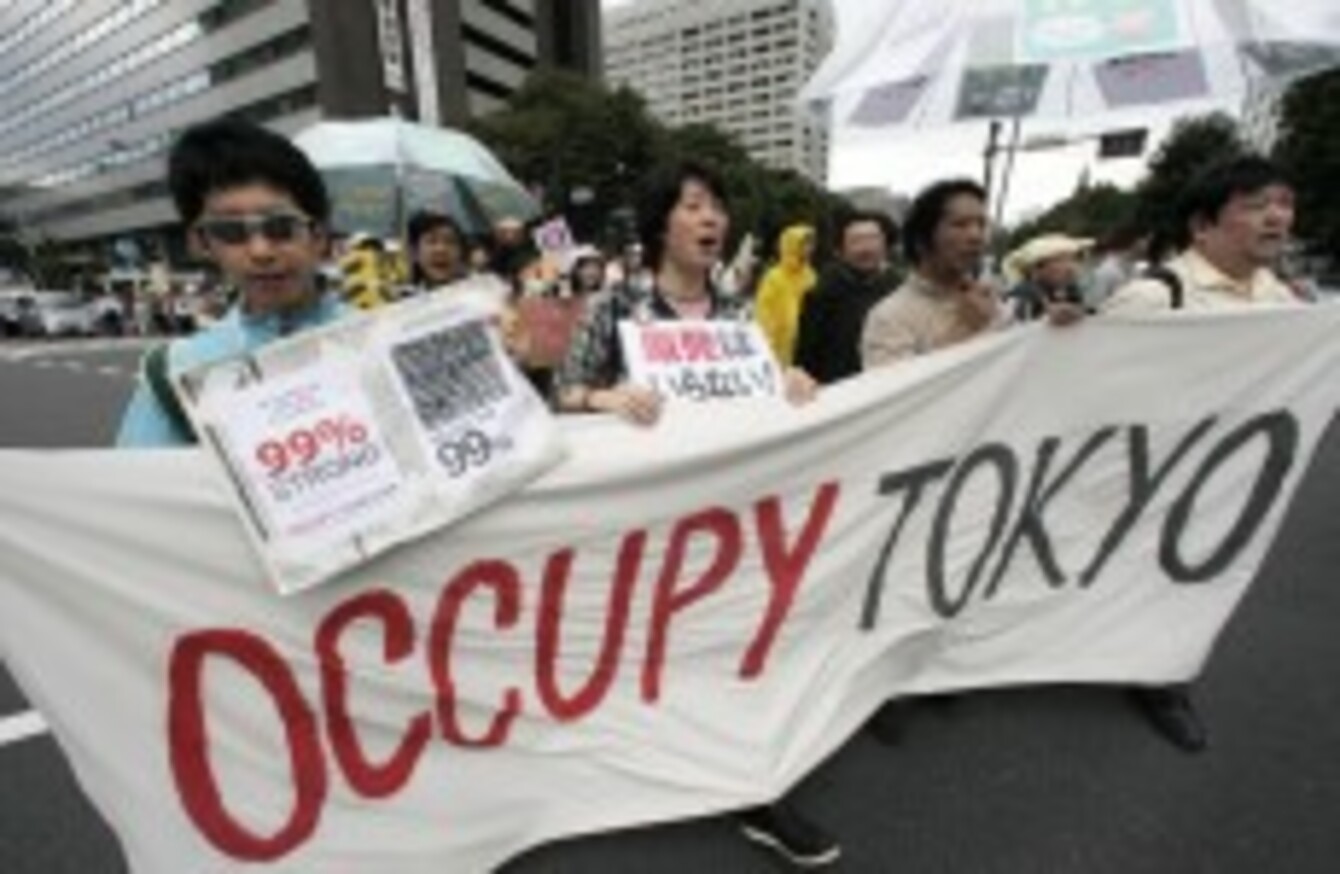 Participants march through Tokyo's Kasumigaseki administrative district during the Occupy Tokyo protest earlier today
Image: AP Photo/Itsuo Inouye
Participants march through Tokyo's Kasumigaseki administrative district during the Occupy Tokyo protest earlier today
Image: AP Photo/Itsuo Inouye
A PROTEST WILL set off from the Garden of Remembrance in Dublin city centre at 2pm this afternoon as part of a global day of action.
Those who have been taking part in Occupy Dame Street at the Central Bank in the city will be taking part in the rally, which is aimed at expressing "outrage at the loss of our rights at the hands of big corporations, financial institutions and the political class".
The protest will move from the Garden of Remembrance to the Occupy Dame Street site, which has been in place for a week.
Rallies are taking place in more than 80 countries around the world, inspired by the Occupy Wall Street protests and ongoing demonstrations in Spain. Rallies are taking place in Tokyo, Sydney, Melbourne, Hong Kong and Taipei and are expected to spread around the globe throughout the day.
An activist holds a placard during an 'Occupy Tokyo' rally in the Roppongi district of Tokyo today (AP Photo/Itsuo Inouye)
Protesters gather in front of the Reserve Bank of Australia in central Sydney (AP Photo/Rick Rycroft)
"The 1st general assembly" at Occupy Melbourne. Image @RedDragon1917 via Twitter
Yesterday the Occupy Wall Street movement won a postponement on their removal from their base, but clashed with police during their victory celebrations.
The Occupy Dame Street camp in Dublin City centre. Image: Juju Huckabee via Facebook