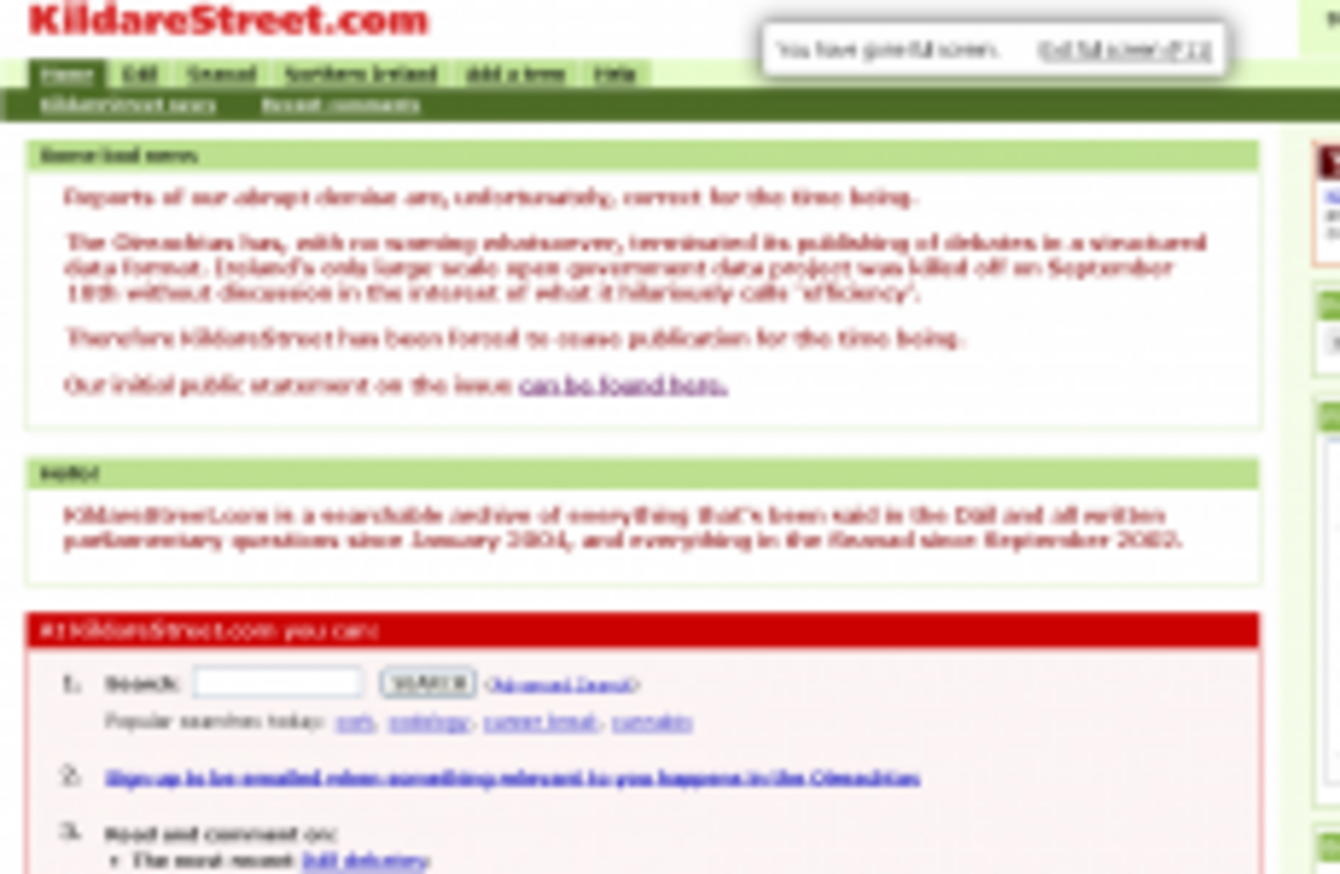 KildareStreet.com has been rendered defunct by the Oireachtas' transition to a new debates website which lacks the necessary features.
KildareStreet.com has been rendered defunct by the Oireachtas' transition to a new debates website which lacks the necessary features.
LEINSTER HOUSE authorities have said they are hoping to meet with the administrators of the popular KildareStreet.com debate-tracking website to resolve a technological impasse that has left the site unable to read Oireachtas debates.
The heavily-trafficked site, managed by a small team of volunteers, has been left unable to track Dáil and Seanad debates after the transition between two Oireachtas websites meant the necessary functions to manage KildareStreet.com were essentially wiped out.
Beginning from this week, transcripts of all Oireachtas debates – whether in the Dáil, Seanad or at committee level – will not be published on the existing Oireachtas debates site, debates.oireachtas.ie, but instead be available on a separate site: oireachtasdebates.oireachtas.ie.
The previous debates system allowed users to access debate records in several ways, including a highly-detailed XML feed which was converted by KildareStreet.com into a useful site that breaks down the contributions of each member in ways not readily available elsewhere.
The new version, however, has no similar automatic XML function – without which the only way to catalogue a politician's contribution to debates would be to scrape the text from the new Oireachtas site. This would be immensely time-consuming if done by hand, and could take several months to automate.
The changeover is part of cost-cutting moves by Oireachtas authorities involving a reduction in the amount of work outsourced to independent companies.
Previously a private company was contracted to convert Oireachtas transcripts, which were compiled through the Lotus Notes data management software, into an XML format which was then used to power the Oireachtas website as well as KildareStreet.com.
This will no longer be the case, however – with the new debates site, which is more directly integrated with the Lotus Notes system, now going without any XML compatibility.
'Significant long-term savings'
A circular from the Oireachtas communications unit has advised TDs and Senators that the Debates office had switched sites "in order to achieve significant long-term savings". This involved switching from publishing the debates in XML format to HTML, the programming language used to display webpages.
"This change has caused problems for Kildarestreet.com as they cannot use their XML-based software with our content," the circular read.
This was contested in a statement posted by KildareStreet.com administrator John Handelaar, who argued: "Since there is no longer any XML data feed (or any other data feed) to capture, we challenge him to cite whatever magical software he imagines can capture a vacuum".
The statement explained that about 35 per cent of the site's traffic came from IP addresses allocated to users within the government – a fact which illustrated the reliance of official parliamentary and governmental users on the site.
"The new Oireachtas debates website does not have a search engine of any kind, is hostile to disabled users, is riddled with bugs which lead users to dead-end error pages, and has been intermittently offline since launch," Handelaar criticised.
"It is impossible to link to a particular statement, or to follow a particular topic, or to get email alerts of any kind," he added – highlighting functions which were available through his own site until it was rendered defunct.
It remained unclear at the time of writing, however, whether the Oireachtas' intentions included plans to add XML functionality to the new site, so that KildareStreet.com could be revived using its existing technologies.
The difficulties with the site have been raised by several TDs, including independents Stephen Donnelly and Catherine Murphy, and was discussed in the Seanad yesterday by senators Jillian van Turnhout, Terry Leyden and Thomas Byrne.
KildareStreet.com is built on code also used by TheyWorkForYou, a site which offers similar debate-tracking features for debates in UK parliaments including the Northern Ireland Assembly.