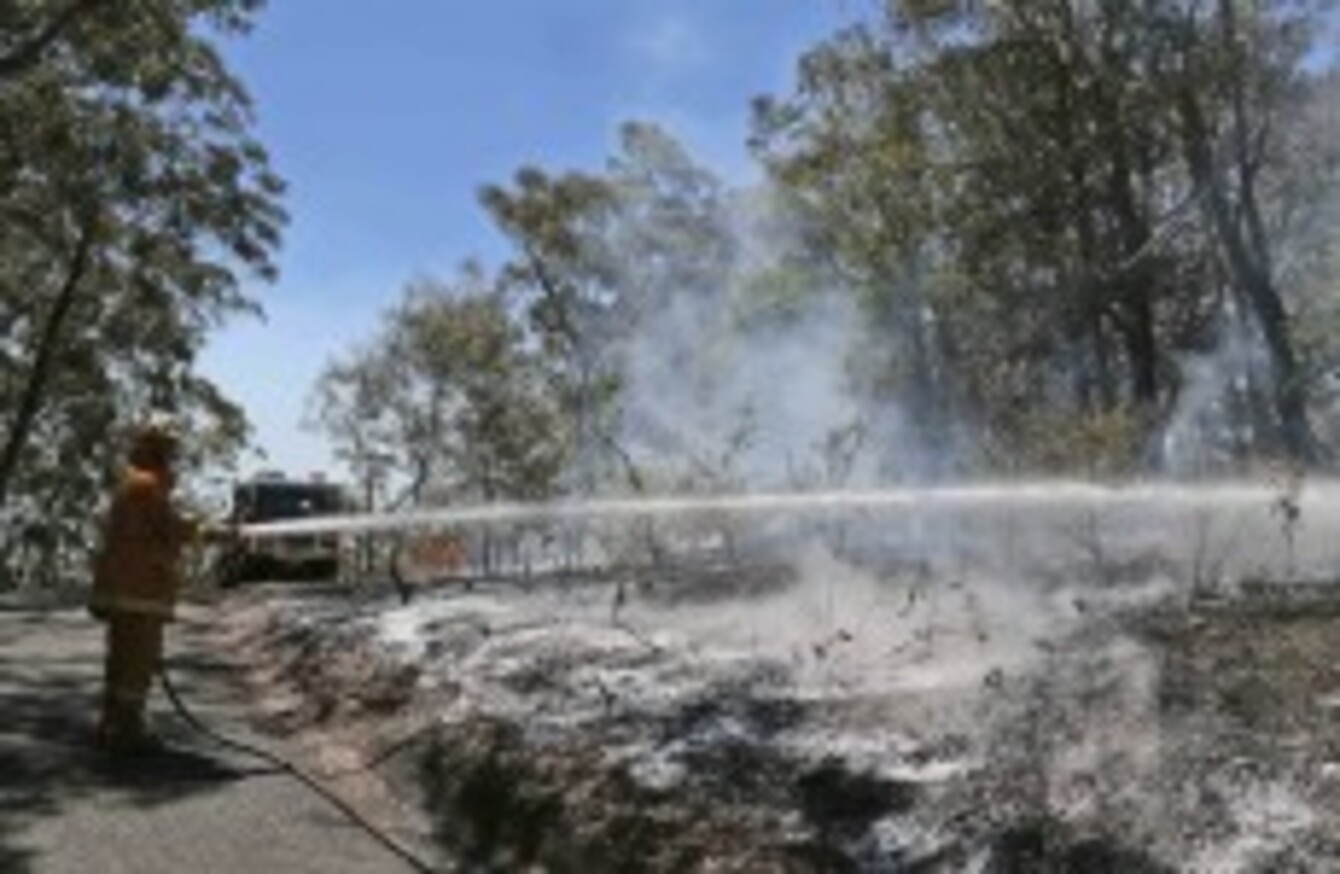 File pic of fire fighting last year.
Image: AP Photo/Rob Griffith
File pic of fire fighting last year.
Image: AP Photo/Rob Griffith
A MAN DIED and some 50 homes were razed after a fast-moving wildfire swept through the outskirts of western Australia's Perth, officials said today.
The blaze, thought to have been started by a fallen power line in the city's wooded fringes on Sunday, was fanned by hot, strong gusts that saw 20-metre (66-foot) flames tear through residential streets.
Fire zone
Fire and emergency authorities said 49 homes had been confirmed lost but warned that some 30 percent of the fire zone still needed to be searched and damage reports could increase.
Fears over the safety of four people missing in the blaze eased late today after officials said they had been accounted for, leaving the disaster with just one victim – a 62-year-old man who collapsed on his roof during fire preparations.
Hundreds of residents fled their homes for evacuation centres and were anxiously awaiting news. Some said they had only seconds to escape.
Officials said the blaze had been contained but not controlled, and warned that there was still a risk to life and property if conditions shifted.
Strong gusty south-westerly winds complicated efforts as the battle continued into Monday night, with 275 firefighters working to douse flames which have already burnt through 650 hectares.
A disaster appeal was launched for victims, with the Western Australia state government pitching in Aus$1 million (US$905,000).
Acting premier Kim Hames said:
These fires have caused terrible destruction and I want to offer my sincere sympathy, and the state government's condolences, to people who have lost their homes and possessions.
He paid tribute to fire crews for saving an estimated 400 homes in the inferno's path in "catastrophic" fire weather.
Given the extreme weather conditions and intensity of the fire, fire crews did a remarkable job to save the homes they did.
Perth sweltered through a heatwave over the weekend with temperatures reaching 44 degrees Celsius (111 Fahrenheit).
That heat system is now moving east across the continent, with temperatures in excess of 40 degrees forecast in Adelaide and Melbourne this week.
Hospitals and emergency services are on standby with forecasters warning of "severe to extreme heatwave conditions".
Some swimming pools, shopping centres and public libraries will offer extended opening hours, and the Red Cross will make regular calls to at-risk residents, particularly the sick and elderly, to check on their welfare.
Wildfires are a common feature of Australia's December-February summer months, with a devastating firestorm in 2009 killing 173 people and razing thousands of homes in south-eastern Victoria state.