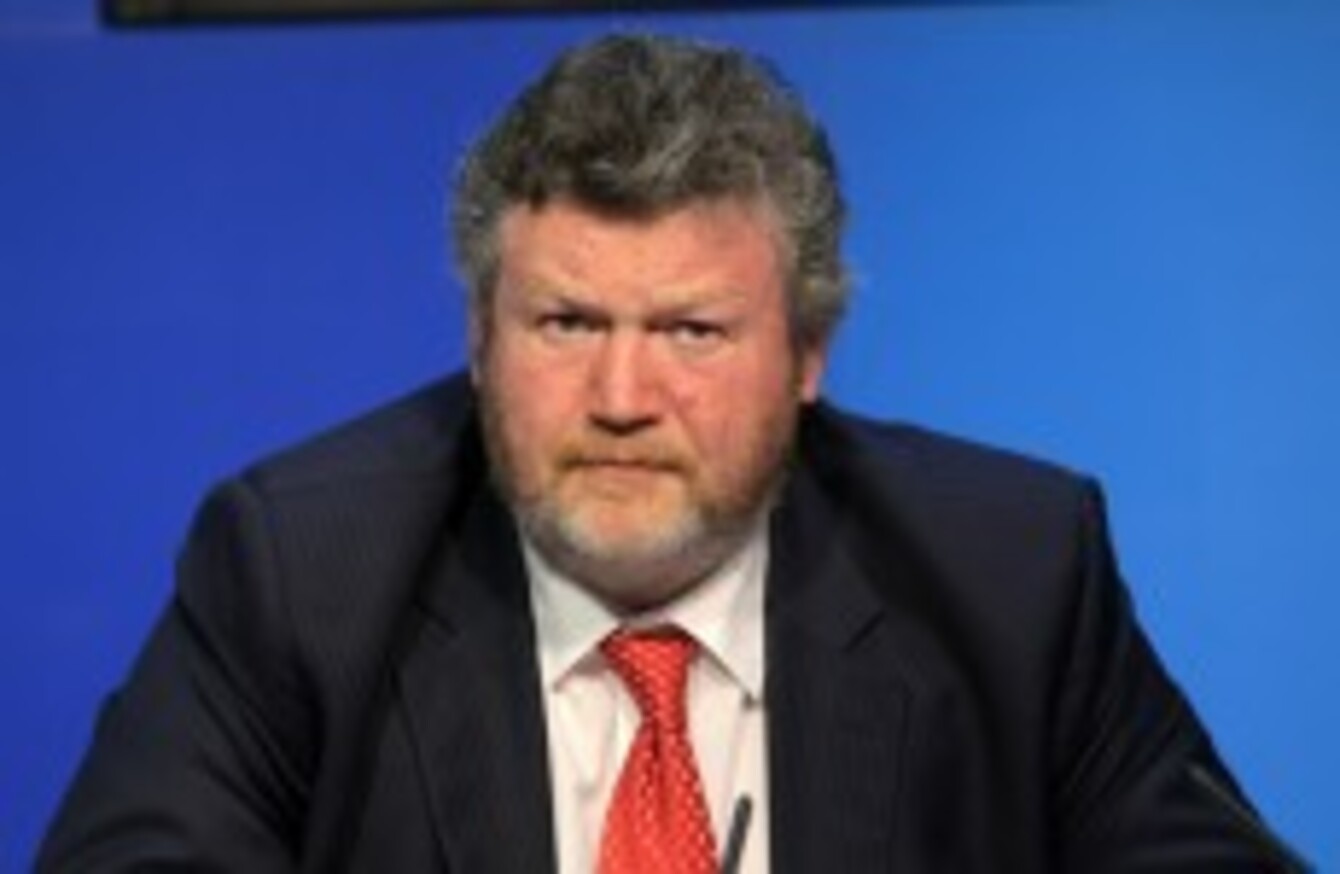 James Reilly has been under pressure since the latest round of HSE cutbacks were announced last week.
Image: Sam Boal/Photocall Ireland
James Reilly has been under pressure since the latest round of HSE cutbacks were announced last week.
Image: Sam Boal/Photocall Ireland
Updated, 12:38
THE DÁIL'S two main opposition parties have confirmed they are to table motions of no confidence in health minister James Reilly when the Dáil returns from its summer recess in two weeks' time.
Both Fianna Fáil and Sinn Féin will table motions calling on Reilly to step down when the Dáil reconvenes on September 18.
Fianna Fáil's health spokesman Billy Kelleher said it was necessary for Reilly to step down for the sake of the health system – while his Sinn Féin counterpart Caoimhghín Ó Caoláin said the latest round of cutbacks were "plunging the health services into deep crisis".
"Since Minister James Reilly took over responsibility in the Department of Health, it has been a story of disappointment, disruption, dysfunction and chaos," Kelleher said.
All confidence in Minister Reilly and his leadership of the Department of Health has now gone. I would call on him to live up to the promise he made before the election, when he said that the day he withdrew services with nothing in their place he would walk away.

"If he refuses to go, my party will be tabling a motion of no confidence in the Minister immediately upon the resumption of the Dáil.
Ó Caoláin said Reilly had "left it to the HSE to announce the latest harsh cuts and he had to be shamed out of hiding to answer the wave of justified criticism".
"This Minister has since claimed, incredibly, that the health cuts in budget 2012 did not lead to loss of services, despite the fact that hospital and nursing home beds have been closed and services reduced across the hospital system," Ó Caoláin argued.
And now the Minister presides over cuts to home care, home help and personal assistance, targeting the old, the sick and the disabled.
The moves come after Labour party chairman Colm Keaveney admitted the latest package of health cuts announced last week were "totally unacceptable" – and claimed that the party was preparing for a general election amid rising tensions with its Fine Gael coalition partners.
Transport minister Leo Varadkar sought to play down the tensions this morning – who accused some Labour figures of "throwing shapes" and said Keaveney's reservations were not shared by Labour ministers in cabinet.
Usual Dáil procedure would see the government table its own counter-motion expressing confidence in Reilly, which frustrated Labour back-benchers would be more likely to support than any motion actively calling for Reilly to step down.
If the government opts to do so, the vote would likely be taken in government time at some point during the Dáil's first week back from recess. The house is currently scheduled to reconvene two weeks from tomorrow.
If no counter-motion is tabled, the Fianna Fáil motion would probably be debated first, during the party's allotted private members' time the week after. It is thought that Sinn Féin does not have any allocation of private members' time until the first week in October.